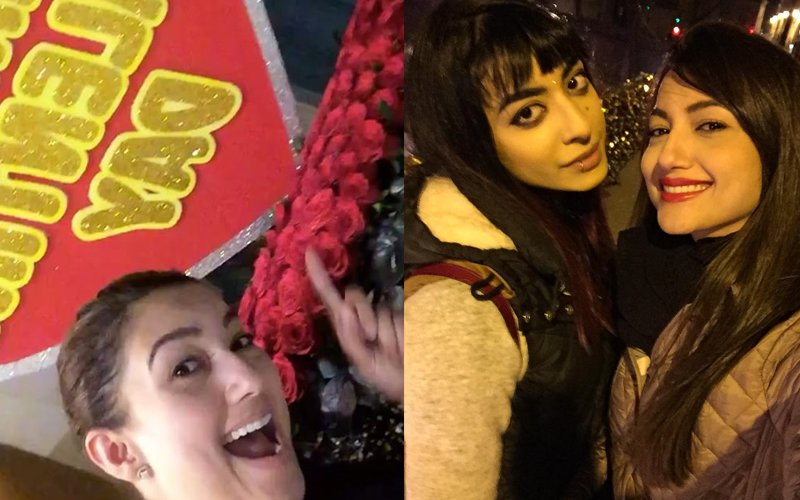 Yesterday, Bani and Gauahar were celebrating Valentine's Day in a rather cool way! They were celebrating Anti Valentine's Day.


Later in the day, Gauahar posted on her Instagram handle a very loud and clear heartfelt message for Bani J. That's what it reads:

"When your joy knows no bounds!!!!!!#bestestSURPRISEever ...... The craziest kinda anti valentine's day love!!!!! I love you BANI ...... @banij#yourKINDAcrae ..... N you already know what kinda love I wish for you........ In sha Allah .... Hoping it's possible!!!!! Lawl ...... may Allah bless you now n forever more!!!!!! #happypuppy!!!!! #100mostbeautifulroses on a heart shaped stand that's my height!!!!! (sic)."


Always the one to stand by Gauahar, Bani J replied to it by saying, "Always want to see your smiling just like this... I'm trying to make up for not being around for you past 3 months. My kind of crae love. Now you know :) haha as does all of the digital world lawl. #familia #reallove @gauaharkhan (not just for anti v day)"



We wonder what kind of love is Gauahar hoping for and what Bani is hinting to when she says the entire digital world knows about it!
Gauahar and Bani, were having a ball recently in UK. Bani's sister lives in London and Gauahar's brother too is a resident of the British capital. So, the two not only bonded with their siblings but caught up with each other's families as well.

Gauahar and Bani's friendship is growing stronger with time. The two constantly keep expressing their love for each other on social media. During her stint in the Bigg Boss house, Bani J kept referring to Gauahar as her milestone support. Even Gauahar prayed hard for her victory. The two seemed quite emotional and disappointed when Bani J lost out to Manveer Gurjar in the Bigg Boss finale.

Well, let's just hope whatever Gauahar and Bani are secretly hoping for is fulfilled for them!



Thumbnail Image Source: instagram/gauaharkhan