HORRIFYING STORY: Kapil Sharma = Alcohol + Disrespect + Disdain + Narcissism + Cruelty + Violence
Kapil needs a Reality Check RIGHT AWAY! The Kapil Sharma Show team has disintegrated, the quality of output is sinking. Is it a lost case?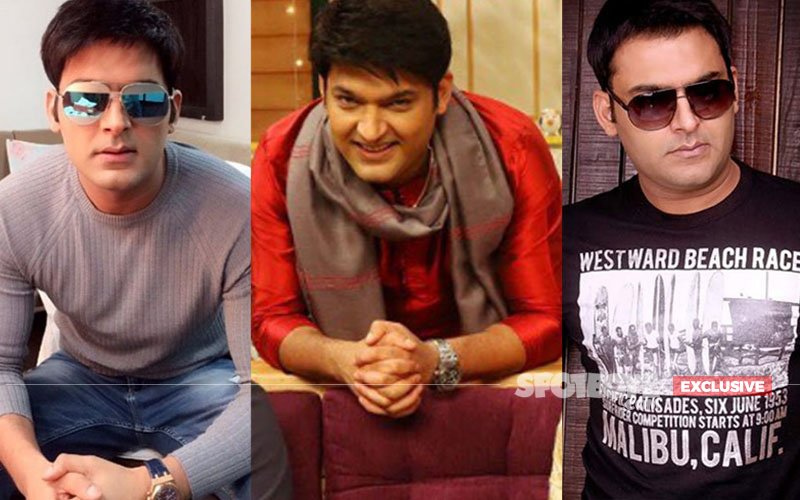 Skeletons are tumbling out of Kapil Sharma's show after he beat up Sunil Grover in a flight, and while it may seem to be a stage of laughter, there is anguish, fear, chaos and filth backstage.
Sources close to the show have now told SpotboyE.com that 'bahut jyada hawa aur ahankar bhar gaya hai Kapil Sharma mein. He has started drinking a lot more than he can handle and become unbearable'.
The time is right to do a Psychologists' Dissect on this man.
Leading psychologist, Dr Harish Shetty, says, "There is a bottleneck in growth when a good person is on his way to become great. Many people cannot negotiate this bottleneck, which is why we see many good people but few great people. Now, success itself is an intoxication. If we mix it with another intoxication called alcohol, we can get emotionally hijacked. We might stop analysing responses and behave without any rationale. We might even have a sense of omnipotence, we might be ecstatic all the time and remain not bothered about our surroundings, we suffer an emotional blackout. This gets precipitated if one is a celebrity because he/she is surrounded by sycophants who never tell him/her what is really right and wrong."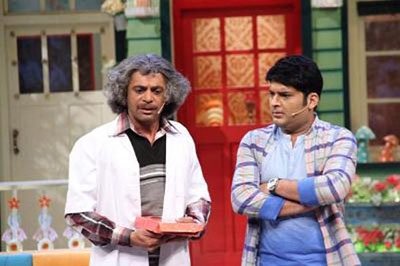 Image Source: zersey
Another leading psychologist Dr Salma Prabhu, when contacted, told SpotboyE.com, "Success can do such things. What's more dangerous is if it is coupled with alcohol. Success and alcohol is a heady mix."
"There is no association that success drives you to alcohol," she explains, "A lot of unsuccessful people also consume alcohol, but a successful man is prone to partying and long meetings which may drive him to getting addicted to drinks. But why mix alcohol with success? Why not mix humility? Take the case of Amitabh Bachchan, who has tasted the most success. Have you and I ever heard of any such episode on Bachchan's front?"
Is drinking a status symbol? Says Prabhu, "It was at one point of time, but not today. Aaj log yoga aur meditation ko status symbol maante hain." Kapil, are you there?

"I was just watching TV ten minutes before you called and Virat Kohli was telling the story of his fitness and discipline. Would Virat have been so successful if there was no method in his life? Success goes away if you don't have discipline in you," Prabhu adds.
Does Kapil have a drinking problem which causes deviant behaviour in him? This was the last thing that should have happened to such a talented man, if it has indeed happened.
Following the incident, Kapil had tweeted:

Mika Singh, who was present at the party, had tweeted back: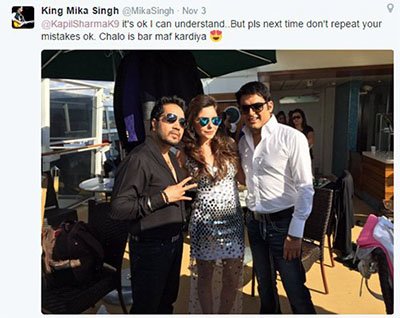 But we wonder if Kapil's inebriated states tend to bring the real Kapil out? Woh kehte hain na, daru peene ke baad aadmi kaafi kuch sach ugalta hai. Prabhu says, "I am speaking here only as a psychologist and I don't know Kapil's background. But you see, he makes you laugh at someone's cost. Now if you do such a thing day in and day out, you don't need a psychologist to tell you that it can become a part of you."
Misuse of power? Prabhu says, "Yes. Think of it, Kapil makes you laugh at someone's cost. He does not respect any of his teammates in the show. Look at Raju Srivastav, he is so humble and his humour is so nice. I don't know Kapil's background and I speak only as a psychologist, but speaking such lines day in and day out can become a personality trait in that person."
Is there hope for such people or is it a point of no return? Says Shetty, "Yes, I have come across sports persons and politicians who have realised on their own that they are destroying themselves."
The Film City set of The Kapil Sharma Show gives you a creepy feeling if you visit it now, it's all dark and quiet.
The show has slipped from No. 2 to No. 6 for two consecutive weeks.
Is this the beginning of the end of Kapil's popularity? Or will Kapil reform himself? Stay on SpotboyE.com and it won't be long before you know.


Thumbnail Image Source: instagram/kapilsharma