Karanvir Bohra Shares A Cute Pic Of Daughter As She Completes 3 Months; Gets Emotional And Says, 'Proud Of Many Things In Life, But Nothing Beats Being A Father'
Karanvir Bohra gets emotional as he shares a cute pic of his daughter turning 3 months old. Check out!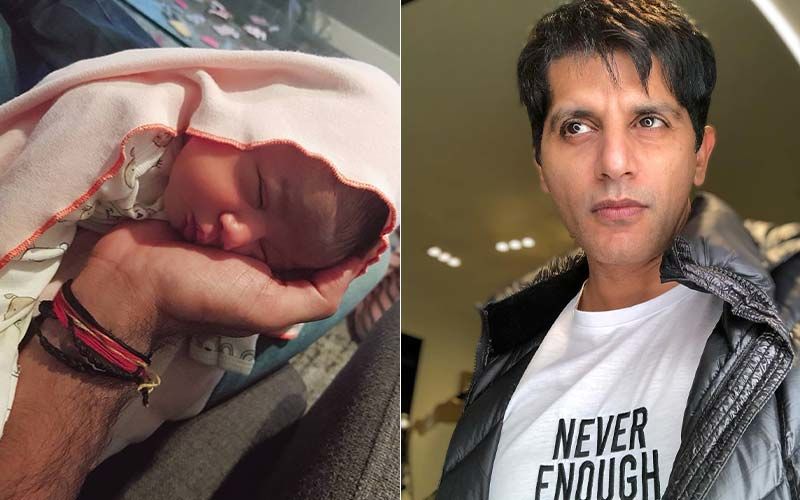 Karanvir Bohra recently took to his Instagram account and shared a picture of his third daughter as she turned 3 months old. The actor got emotional and mentioned that there are many things he is proud of but nothing beats being a father. Wishing her a happy birthday, Karanvir also wrote that he wants to cherish every moment he gets to spend with her.
"Happy 3 months my angel @snowflake282219 they way your mum @bombaysunshine was feeling emotional about you, my feelings are same too.. You are going to grow up so fast and poof! You will be a teenager... I want to cherish every moment I get with you, I'm proud of many things in life, but nothing beats being a father I'm your #superdad #happybirthday once again."
For the uninitiated, Teejay Sidhu had earlier posted two adorable pictures of her baby girl and also penned an emotional note. She wrote, "I have days where I just cry. Maybe it's the pregnancy hormones. Apparently it takes some time to get back to normal - my body healed so fast, but my emotions are still raw. I was fine a few minutes before I took this picture, but then I started thinking..." Teejay added, "One day this child will be seventeen. She'll go off to college somewhere, maybe far away. Or she may go off to travel the world. She will make life decisions on her own. She will be excited and say, 'Mom, I'm grown up now!'"
"And I will feel sad. A grown-up will be standing in front of me, but all I will see is my baby Vanessa, who I used to hold like this. I will remember how small and sweet and helpless she was, how she depended on me for everything, how she'd smile and my heart would melt. I suppose I should just enjoy this phase, and not overthink. But sometimes, I'm just an emotional Mom. I can't help all that I feel, all that I go through. And I wonder if it's just me, or does this happen to everyone? Do others also feel like they're losing their children even before they've grown. #motherhoodunplugged #randomthoughts #mydaughter #myworld," added Teejay.
Image Source:Instagram/KaranvirBohra