Kaun Banega Crorepati 13: Amitabh Bachchan Reveals Having A Body Double Perform Breakfast Asana In Coolie No 1, Ritesh Deshmukh Has A Hilarious Reply
Shaandar Shukrawar episode of Kaun Banega Crorepati 13 was graced by Riteish Deshmukh and his wife Genelia D'souza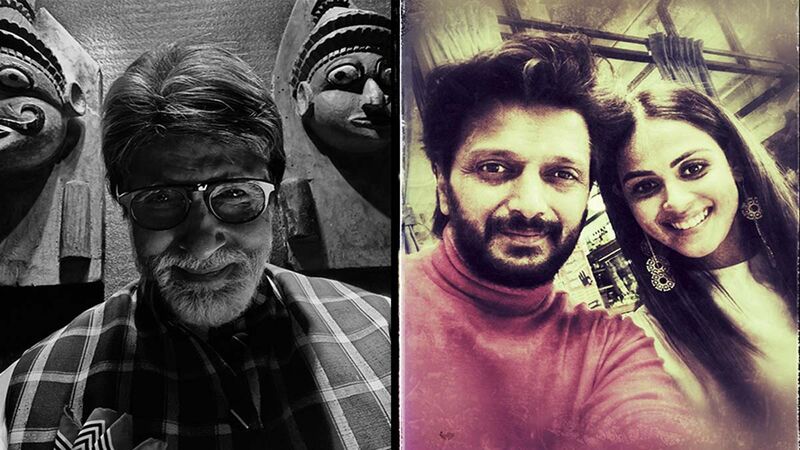 Shaandar Shukrawar episode of Kaun Banega Crorepati 13, saw celebrity couple Riteish Deshmukh and his wife Genelia D'souza gracing the show. Two had a gala time on the show with the megastar and show's host Amitabh Bachchan, the couple was heard sharing some anecdotes from their married life. During the episode, Riteish Deshmukh recalled Big B's iconic scene from the movie, Coolie No. 1. The young actor in particular spoke about 'Breakfast asana'. This was followed by the senior actor spilling the beans about the same.
Praising Manmohan Desai for his vision, he called him a magician, though Big B was not in favour of this scene, the filmmaker assured it will be loved by the audience. And it happened. In the scene, the actor was supposed to prepare an Omelette following the instructions for the recipe narrated on the radio channel. Rati Agnihotri kidnapped by the actor, changes the channels with a health channel being played. Where the radio jockey is asking to stretch legs and Big B's character follows the same. The actress again switches back to the food channel, thus leaving Big B wondering how he will break in the egg in such a position.
Hence, the filmmaker got into the picture a body double, who stretched his legs, on behalf of the actor. Big B continues, yet another person was made to sit behind the actor, who folded his legs and kept it on Big B's back. Thus, compelling Ritesh to come up with a hilarious reply, he said, "Sir, pehli baar aisa hua hoga ki kisi ne aapko taang di"
Though Big B told the director it was incorrect, the director asked him to shut up, assuring it will be a historic scene. Ritesh responding to this wrote, "Sir, vo medically galat tha par emotionally right tha."
Ritesh and Genelia won Rs 25,00,000, which would be used towards improving the paediatric cancer care and the treatment catered at the Tata Memorial Hospital.
Image Source: Instagram/geneliad/amitabhbachchan