Kishwer Merchant's Husband Suyyash Rai Reacts To Karan Wahi's Comment On Pehredaar Piya Ki
Hours after Karan Wahi blasted the producers of the show Pehredaar Piya Ki, Suyyash Rai, who plays one of the leads in the show, responds to his comments on Instagram. Check out the full story...
He wrote, "Dear producer and channel .. i understand we cant make shows like how i met ur mother and friends, and honestly i dont expect us to also ,but for the love of god and for the reason we all got in this industry plz dont sell me stupidity in the name of content whch gives trp because honestly noone is watching this . Leave aside other people i think the fraternity only dsnt . I wish and pray well fr everyone whose a part of this show also but it wud be great if we started enjoying our work and not just working because we dont have an option... Not to sound arrogant but we can be better than this (sic)."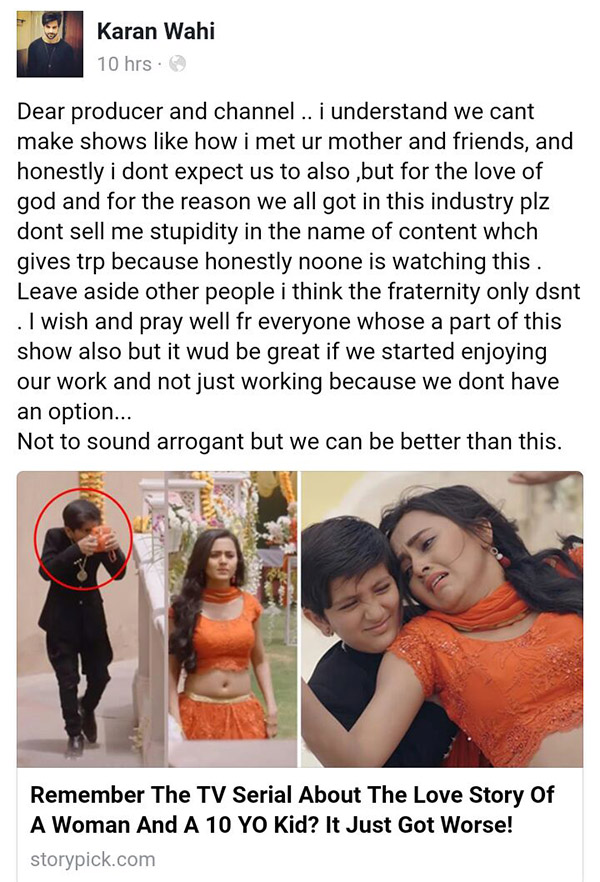 Karan Wahi Blasts Pehredaar Piya Ki Producers For Selling Stupidity
A few minutes back, Suyyash Rai, who plays fiance of lead actress Tejaswi Prakash responded to Karan Wahi's comments albeit politely. He wrote: "Pehredaar Piya Ki ❤️ ❤️ @tejasswiprakash baby smile :) plz ❤️
Guys watever @imkaranwahi said its his pov no1 can question him neither me nor you guys.
But this doesnt change the fact that WE the whole team of #PPK we love this show and we all have worker really hard for it and we still are andddd we will ❤️ our motive is to entertain you guys not promote child marriage or anything.
This show is different , plz dont judge it and jump onto conclusions 🙏🏻
If a channel like @sonytvofficial has approved the show they must have thought something right ??? Even d producers must have thought a lot before making this and investing soo much money 🙏🏻 its my req to all,plz watch it first and then decide :) maybe m wrong MAYBE :) but lets wait n then decide.
Love to all ❤️❤️ n thanku for sucha good response for the frst epi .❤️ @tejasswiprakashbaby smile :) plz ❤️"
Sony's new show Pehredaar Piya Ki has been making headlines for its 'absurd' storyline ever since the trailer released. The show has also been accused of promoting social evils and justifying the act of ogling and stalking women.

Suyyash tweeted, After watever has happened...lemme tell u something ..nothing is gonna change wat @karan009wahi means to me...we hve already spoken abt it (sic)
After watever has happened...lemme tell u something ..nothing is gonna change wat @karan009wahi means to me...we hve already spoken abt it🤘🏻

— Suyyash Rai (@suyyashrai) July 19, 2017
Thumbnail Image Source: starsunfolded, instagram/affan27102007 & instagram/imkaranwahi