Kumkum Bhagya September 12, 2019, Written Updates Of Full Episode: Abhi Saves Disha From The Smugglers
Abhi comes there and snatches the gun from Negi's hand, keeps it in his mouth. He hits him and police comes there to arrest the goons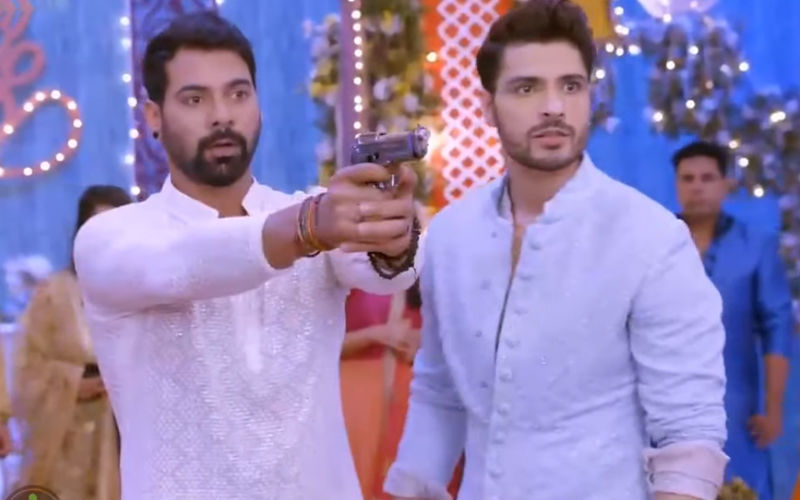 Tonight, the episode begins with Pandit ji asking everyone to come forward for havan. Dadi also calls everyone for the same. However, Disha tells Dadi that she will leave now but Dadi asks her to stay for some time. Purab, on the other hand, thinks it is good that Aaliya didn't notice his conversation with Disha. Aaliya thinks Purab doesn't know that she has heard their conversation.
Negi asks Pandit ji to start the havan fast. Meera frees herself after she gains her consciousness. She calls the police, but call remains unattended. Prachi comes out of washroom and Meera tells her about smugglers plan. When Pandit ji is about to put the powder in the havan, Meera comes there and asks Pandit ji to stop. Meera alerts everyone and asks Prachi to put water in the havan. Prachi puts water but the Goon holds her. Ranbir comes there as a saviour, he pulls her towards him and saves her.
On the other hand, Sahil holds Rhea on knife point and threatens to kill her. Rhea says they are not smugglers but have come to kill me. Negi threatens to slit her neck. Aaliya takes a pot and throws on Sahil. Rhea gets saved and everyone starts running. Later, everyone starts beating the goons, but Negi holds Disha at gun point. Purab asks him to leave Disha. Negi threatens to kill her if anyone tries to act smart. Purab asks him to leave her. Abhi comes there and snatches the gun from Negi's hand, keeps it in his mouth. He hits him and police comes there to arrest them. Abhi says Ganapati Bappa Morya!
After that, Shahana and Prachi goes back to their house. Pragya introduces them to Sarita's grandson Rishi. He then tells that he got a job in Mr. Mehra's company and offers to drop Prachi to her office on his bike. She says will meet in office and leaves.
Disha at her house, thinks Purab still cares for her. Later, Hrithik comes at her place and tells her that he broke up with Veronica. He wanted to stay at her place but Disha takes him out and asks him to stay at a hotel.
Purab goes to his room and tells Aaliya that Abhi slept. Aaliya tells him that she understands why he wanted to risk his life for Disha. She asks him to sleep and lie on bed. Purab keeps looking at her.
Image Source:- Youtube/
Haddimariguddisuthi