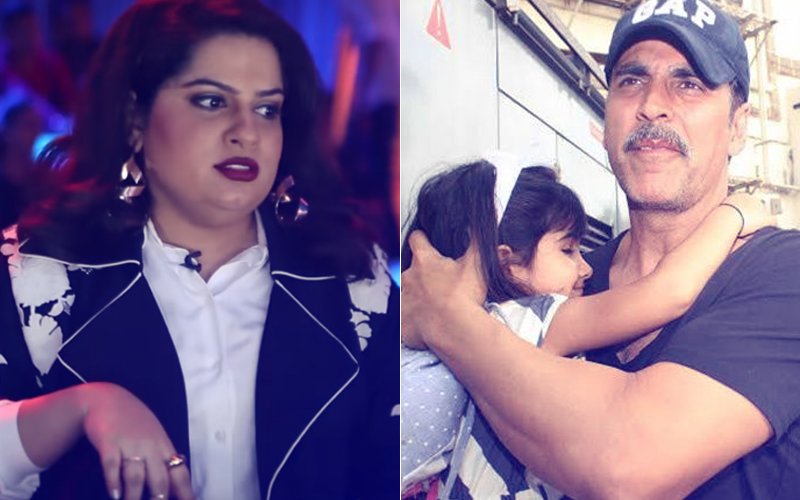 Mallika Dua has once again hit back at Akshay Kumar in a series of posts on Twitter.

She began with asking, "Was it the single most vile act of inappropriate behaviour? No. Was it enough to make one uncomfortable? Yes. Would the superstar be offended had someone jokingly said to his daughter, 'Nitaara ji, aap bell bajaaiye main aapko bajaata hoon'? - Most probably (sic)."
She moved on to saying, "Is Kareena Kapoor not entitled to speak about things because she played Chameli? Is Vidya Balan not entitled to speak about things because she did The Dirty Picture? The people who shame us for the characters we play are the same people who make it okay for a Bhupendra Chaubey to speak to Sunny Leone the way he did. Shame on you. Fortunately, you can't stop us (sic)."
She added, "This isn't about Akshay Kumar. This is about every big Bollywood star and every other big shot, who cannot tell the difference between charm and harm. This is about every big celebrity who thinks his colleague enjoys being grabbed by the waist and twirled without her consent. This is about workplace etiquette for everybody, men and women included, and about understanding the idea of professional communication so we don't make someone uncomfortable in their place of work, unintentionally or otherwise (sic)."
She added "Well,this shit makes us uncomfortable AF and we hate it. However, we are not the emotional fools most take us to be. I refuse to act on impluse and jeopardise my career for a race of crass alpha males with license to make us cringe. It amounts to commiting suicide just cause every second person in the world is an asshole or not crossing the road because accidents happen. So, yes we are 100% complicit in letting it pass, sometimes for our own sake (sic)."

Mallika was getting a lot of backlash from Akshay's fans on social media telling her that the superstar had said it in jest, and didn't mean any harm.

For those who've come in late, the clip that the Mallika Dua and her father Vinod Dua are referring to has Akshay telling comedienne while ringing the golden bell, "Mallika Ji, aap ghanti bajao main apko bajata hoon."


This comment infuriated Vinod to no extent and he took to Facebook to blast Akshay. He said, "I am going to screw this cretin Akshay Kumar for telling his co worker Mallika Dua that "aap bell bajao main aap ko bajata hun" at 5:26.This is his sense of humor and language. Star Plus..wake up..(sic)."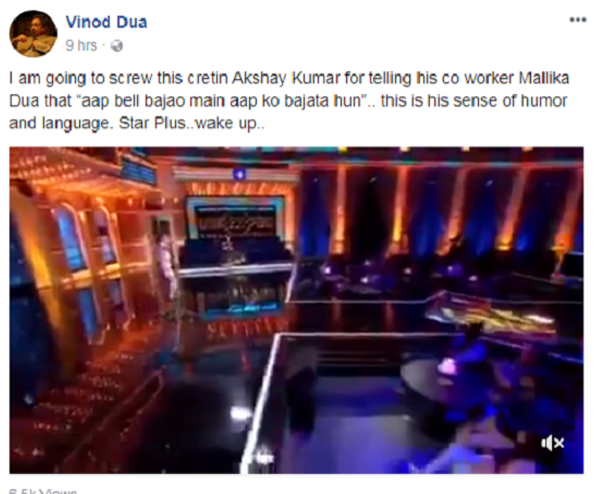 Vinod Dua Blasts Akshay Kumar On Facebook

Even Mallika went ahead to share the same views as she shared her dad's post by saying, "HEY! Quick question. Does anyone find 5:26 funny? Charming? Entertaining?? #FamilyEntertainment #GEC (sic)."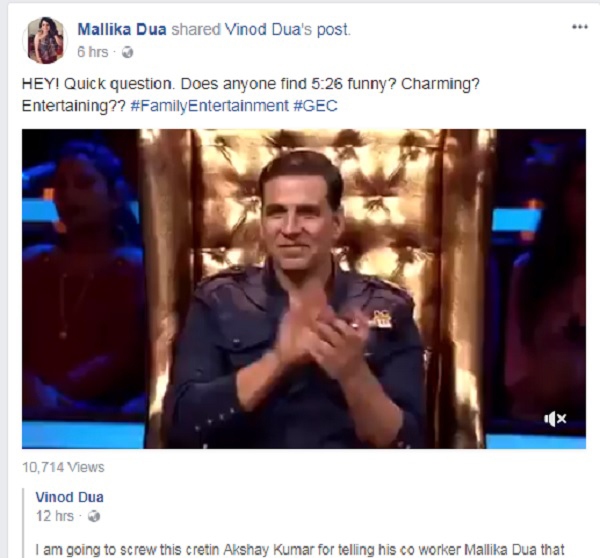 Mallika Dua Shares Her Father's Post

Speaking to a section of the media, Vinod demanded for an apology from Akshay. He said, "I don't expect an apology from Star Plus as they have not aired this episode. But I expect an apology from this fellow (Akshay)."

Let's wait and watch what Akshay has to say about the whole matter.

Thumnail Image Source : youtube/trendingtv & newsdog