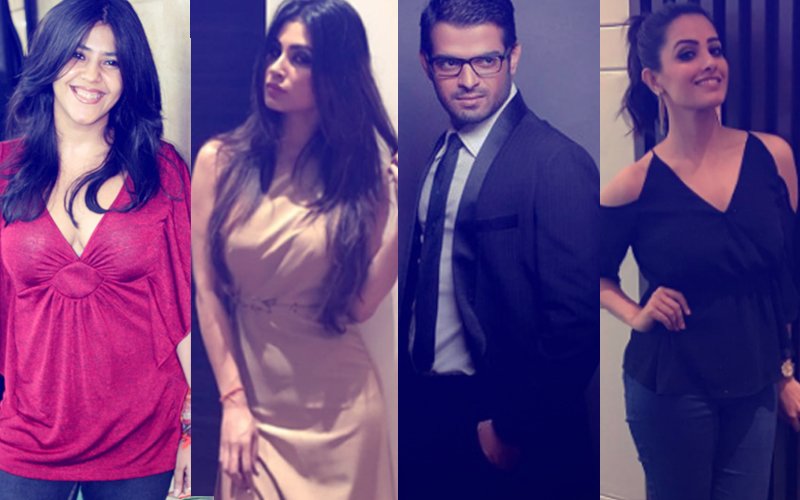 Ekta Kapoor has managed to get her friends to talk about their respective half-relationships on Instagram. Her next big offering Half Girlfriend, starring Arjun Kapoor and Shraddha Kapoor, releases on Friday, May 19.

First up it was Mouni Roy, who posted, "For you @ektaravikapoor
! Wishing the whooolee team of #HalfGirlfriend all my love & luck. And would further request @iamsanjeeda & @karanvirbohra to speak about their respective #Halfs
🏻‍♀️! (sic)."
She went on to nominate Sanjeeda Sheikh and Karanvir Bohra.

Then Ekta put it up saying,"Thanks @imouniroy love ur #halfrelationships these r mine @krystledsouza @anitahassanandani (sic)."
Ekta nominated Krystal D'souza and Anita Hassanandani.

Then it was followed by Karan Patel. He said, "@rohitreddygoa and @alygoni .. i nominated you two as my #HalfRelationships aka my #HalfGirlfriends so now its your turn to do so and all of us have a date on #19thMay n we are watching #HalfGirlfriend
...! (sic)."
Karan nominated Aly Goni and Rohit Reddy.

Rohit Reddy was quick to respond. He posted saying,"Nominating @ektaravikapoor and @niasharma90 as my #halfgirlfriends!
Rohit went on to nominate Ekta Kapoor and Nia Sharma.

Aly Goni too was quick to respond. He posted saying, "So here I go.. my half relationship
and I nominate @divyankatripathidahiya @krishna_mukherjee786 @arjitaneja and @mrunalofficial2016 come one guysss
#halfgirlfriend #halfRelationship
🏼 (sic)."
Aly went on to nominate Divyanka Tripathi, Krishna Mukherjee, Arjit Taneja and Mrunal Thakur.

Adaa Khan also gave in her opinion. She posted saying, "#halfgirlfriend#halfrelationships @maany_manav@sudhaachandranDear....
I nominate @srishtyrode24 and @aashkagoradia for Half relationship challenge
️
️ @ektaravikapoor love u
(sic)."
Next, Adaa nominated Srishty Rode and Aashka Goradia.

Arjun Bijlani also went ahead to give his opinion. He posted saying, "Along with @sanayairani and @imouniroy I also nominate all of u to post about ur half relationships and tag me and @ektaravikapoor .#halfgirlfriend (sic)."
Arjun nominated Sanaya Irani and Mouni Roy.

Anita Hassanandani also took to Instagram to post about her half-relationship. She posted saying, "#Halfgirlfriend #Halfrelationships @aditi_bhatia4 @ruhaanikad @bharti.laughterqueen
(sic)."
Anita nominated Aditi Bhatia, Ruhaanika Dhawan and Bharti Singh.

So let's wait and watch as to who else goes ahead and posts about their respective half-relationships.

Do you have any half relationships? Share your videos on our Facebook page.

Thumbnail Image Source: celebritysexstories,instagram/imouniroy/anitahasnandani & imagenes