Navjot Singh Sidhu DITCHES Kapil Sharma, Doesn't Turn Up For The Shoot
After Sunil Grover, Ali Asgar and Chandan Prabhakar, The Kapil Sharma show's Sonakshi Sinha (Noor) episode was shot without Navjot Singh Sidhu...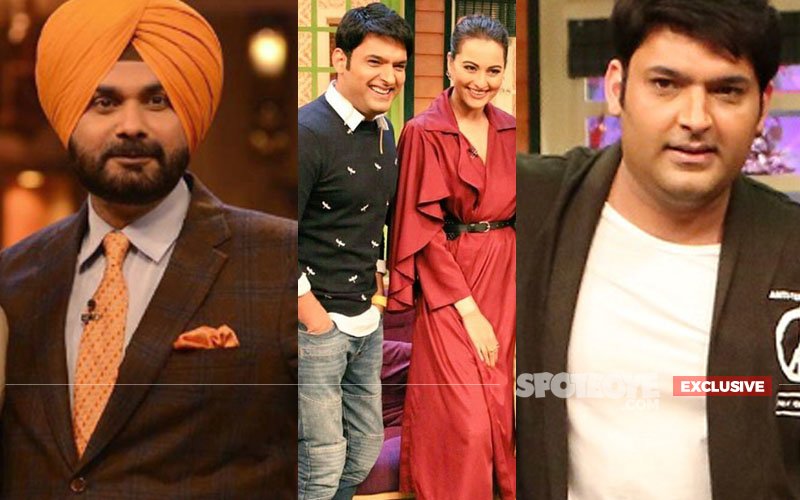 If you have ever made a castle with playing cards and seen it fall apart gradually with one jolt, then the present situation of The Kapil Sharma Show will surely remind you of the same.
The team (whichever few members are left) shot for its latest episode last night. The guests scheduled for the show were- Sonakshi Sinha and Amaal Malik. However, at the last moment Amaal Malik said he can't make it to the shoot for reasons best known to him, which left Sonakshi as the only guest on the show. Nevertheless, the shoot started with Sonakshi alone.
The next big thing which we got our attention was that there is NO Sidhu Paji seated on his big black leather chair among the audience. SpotboyE.com got talking to people and found out what was the reason for his absence.
We hear that Sidhu's schedule is choc-o-block nowadays with his political career keeping him busy during the day time. If he is shooting for Kapil's show, then the only time he assigns is from 10:30 pm till 4 am. This is obviously taking a toll on his health.
BUT that's not the only reason (in fact it's probably a miniscule reason) for his absence yesterday from the shoot. This has layers to it- first one is related to Kapil Sharma's demand of banking episodes as much as possible. Mr Sharma's upcoming film Firangi is taking most of his time, leaving him with very few days to shoot for The Kapil Sharma Show and that's why he wants to shoot as much as possible in less time.
This is pressing other artistes as well to schedule their diary in a very cramped way. Yesterday, Sidhu was busy with a rally show in Delhi entire afternoon. A night before he had shot for the comedy show with Bappi Lahri as the guest and then Kapil scheduled Sonakshi's shoot again last night. Of course, this left Sidhu with no time to rest.
The second layer unfolds to Sidhu being upset with Sunil, Ali and Chandan's absence from the show since a long time. Sources say that he is really not enjoying the show without them anymore, even in the recent episodes, his body language and laughter is not like it used to be before. He seems low and hesitant.
With such a hectic schedule (thanks to Kapil Sharma) and lack of interest to shoot anymore, Sidhu chose to stay back and didn't fly to Mumbai to shoot for the last episode.
We tried contacting Sidhu to ask him why he didn't make it to the shoot. At first he picked up our call, we narrated him our side of the story and asked for confirmation, he heard it all but hung up saying he CAN'T hear us. When we called again, he cut the call. We sent him text messages again narrating the story (grabs of the messages are below) but he chose not to respond.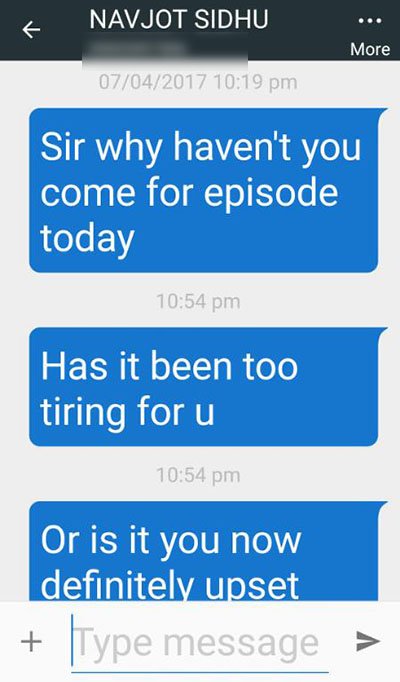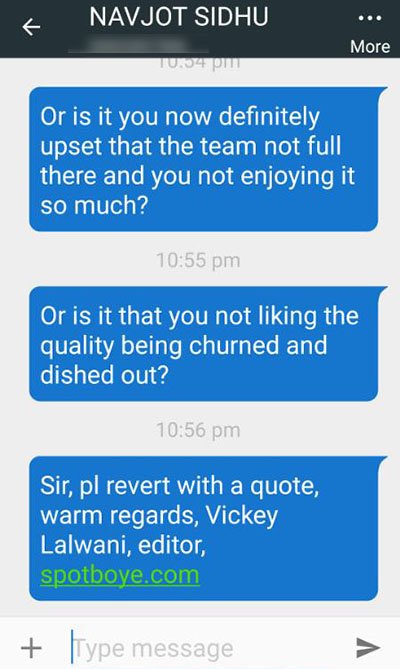 You may recall, that a few days back
Sidhu had reprimanded Kapil Sharma during a shoot to get his act together
. This was done on the day he shot with Raju Srivastav, Sunil Pal and Ahsaan Qureshi. This was the second occasion that Ali Asgar, Sugandha Mishra, Sunil Grover and Chandan Prabhakar had not reported
on the sets after the flight-fight
. After that, the shoot was cancelled. Sidhu had a very serious talk with Kapil in front of his crew saying 'Kapil, what are you doing?' and his tone did not exude any warmth and happiness.
As far as the shoot with Sonakshi Sinha is concerned, it was quite average and dull- just like it's been past few days.


Thumbnail Image Source: thekapilsharmashow143