Shweta Tiwari's Daughter Palak Speaks On The Taxi Driver Who Unzipped In Front Of A Lady Passenger- EXCLUSIVE!
It was her post on social media that created the storm in the tea cup and now, she is even speaking out. Bravo Palak!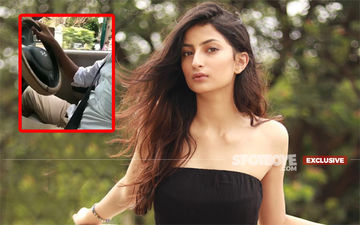 The passenger in question is 21-year-old girl named Debaleena Saha, a law student and blogger from Mumbai. She captured the video on her phone and posted it on Instagram. And then, Shweta Tiwari's brave 18-year-old daughter Palak put it out on social media. This belled the cat and what followed was nothing but outrage against the obnoxious driver who need to see a therapist ASAP.

A well known celeb lensman too had meanwhile tweeted about this, whom we told you about in the story we published on July 1. Neha Dhupia, Kartik Aaryan, Mandana Karimi among others reacted. Neha said in her post, "This is sick! Sick! Sick! I'm so sorry Debaleena that this happened to you. Such a shame and so disturbing. This man should be behind bars ... no two ways!!!," while Sonnalli Seygall wrote, "Sick! Horrifying! Thank you @viralbhayani for posting this"
But perhaps the one to be lauded the most is Shweta Tiwari's 18-year old daughter Palak. SpotboyE.com spoke to Palak exclusively at length. Said Palak, "There's really not much to say in an instance like such, just the thought that there are men out there that consider this acceptable or think this is an okay thing to carry out is repugnant to me. I relate to this scenario because before anything else, I'm a regular college going student, for whom this can very much be a very plausible conundrum. I am a frequent cab user, and to think there are cab drivers out there who are given the job of dropping someone's daughter, sister, or mother to said destinations comes with an immeasurable amount of assumed responsibility. She may just be an object to the man who's untowardly scanning every inch of the woman's body, but that woman is someone's whole world. I really from the bottom of my heart want to believe that if people just consider women, and girls as people that are so filled with purity and love that even a dastardly act of rape will make their bodies innately create a life, a person that beholds the power to literally conceive life from scratch just with her blood and care, they'd realise the reverence they deserve.

Women, are a fragment of the universe, they've been given the right to create. Mistreating a woman, is mistreating the universe, it's mistreating God.
Having said that, I personally have never had to deal with a scenario as such. All drivers that have very kindly lend me their services have also been very true to their honour and manhood and never once have I felt unsafe while travelling in my city.
So while I take this time to shun any man that disrespects a woman, I also want to give a much needed salute of appreciation to the men that have stayed true to their character, and made not just me but millions of women feel safe every day. Thank you for being the light that gives us fortitude in these disconcerting times."

Rewind: Narrating the incident on her social media feed, Debaleena had written, "It took me hours to think if I should share this or not, but I am sharing it now, (Before you judge me based on what I was wearing I was wearing normal jeans and top) We were on our way from Siddhivinayak temple, We took this local taxi( worst decision ever) taking my mom & sister to Nariman Point on my way from Dadar. This driver as soon as I got into this local taxi, opens his zip ,was staring at me objectifying & was stimulating his genitals ( I wish I could record that) every time he took halt on signals. Making me feel so uncomfortable, it was morning 9:30 am. Being in Mumbai I always felt safe and have never come across any such situation before.

It's called safe city, but if people like this can make someone like me who is local resident of this city go through this, I wonder what women coming from other city could have gone through, it's not the city to be blamed but such people , Yes I got down abruptly in middle and no he wasn't letting us get down until I forced voice, I said this where I could see Mumbai police around, later he started saying sorry, stating he was poor but excuse me, being poor doesn't give you right to sexually harass someone. What if it would have been late evening, me alone in this same situation. I always heard about all this until today I experienced this shit. Update – FIR is filed and I didn't share this to feel victimised but to make all the women out there feel powerful and raise their voice when & where needed. I would suggest you guys to not board this taxi MH01 BT7115. Shame #speakup #raiseyourvoice"

While the taxi driver was later arrested (hope he is not out on bail by now), we wonder when we will have harsher punishments for sexual offenders in our country.


Image Source:- Instagram/palaktiwarii/viralbhayani
They say the best things in life are free! India's favourite music channels 9XM, 9X Jalwa, 9X Jhakaas & 9X Tashan are available Free-To-Air. Make a request for these channels from your Cable, DTH or HITS operator.