Preggers Debina Bonnerjee Does A Headstand In Her Third Trimester With The Help Of Her 'Strong Partner' Gurmeet Choudhary
Debina Bonnerjee does headstand in third trimester of her pregnancy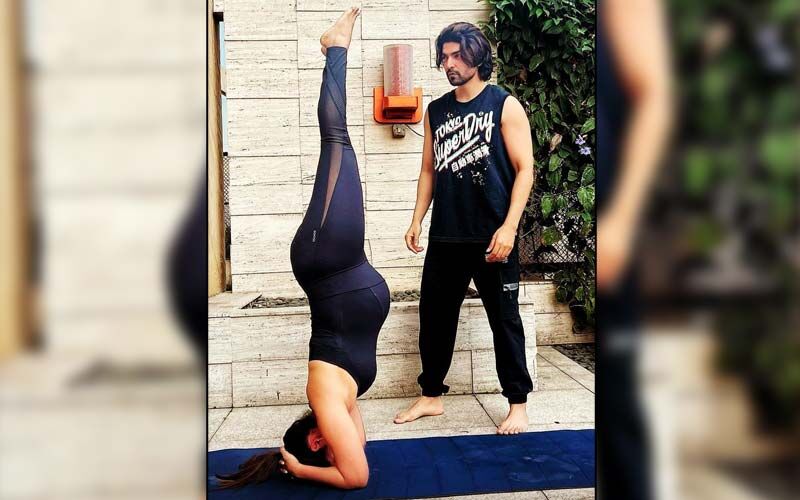 Debina Bonnerjee and Gurmeet Choudhary are all set to become parents. Ever since announcing the pregnancy news, Debina has been sharing pictures and flaunting her baby bump. On Monday, Debina shared a picture of herself that shows her doing a headstand with the support of hubby Gurmeet Choudhary. She also penned a note along with it.
She wrote in the caption, "When life turns you UPSIDE DOWN... simply adjust your view. "ALSO TO BE NOTED, I HAD A STRONG INVERSION PRACTICE BEFORE I WAS PREGNANT. I DIDN'T GET KNOCKED UP AND THEN Thought, 'HEY, GOING UPSIDE DOWN WOULD BE A COOL PHOTO." Also.... (mama's intuition always ALWAYS trumps any other "rule." If it doesn't feel right, don't do it!)"
On the other hand, Debina recently shared pictures from her baby shower. She looked beyond beautiful in a red outfit as she flaunted her baby bump.
Debina and Gurmeet had announced pregnancy in February. The actress had shared a picture with Gurmeet and captioned it, "Becoming 3. Choudhary junior coming soon. Seeking your blessings." The couple received a lot of love from their fans.
Image Source:Instagram/DebinaBonnerjee