Salman Khan's Bigg Boss 10 Is A Haven For Love & Vengeance
What more can you expect from a house with a comfortable common bed and a filthy jail? SpotboyE.com got a tour of the (in)famous Bigg Boss House in Lonavala and we can reveal the tricks the show-runners have up their sleeve to grab eyeballs this time after the last season's slump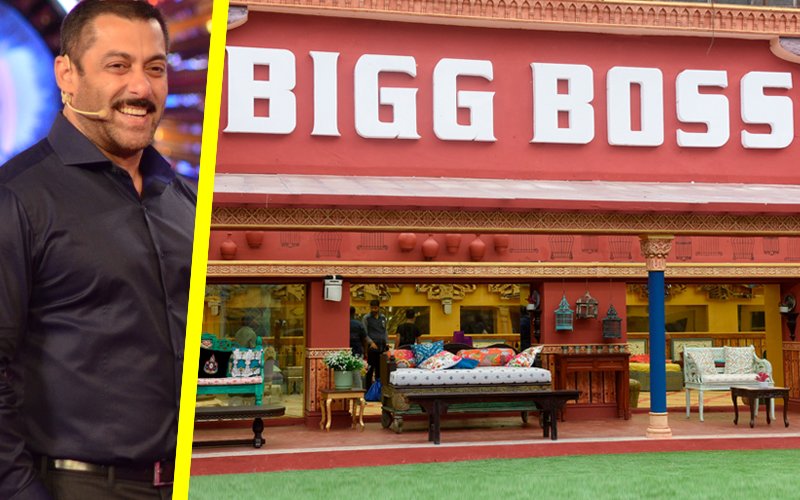 It was when I was blindfolded and stood next to a journalist that one crew member tells us, "When you enter, don't look left or right, just go straight." Why? "… Because there isn't anything on the sides. You will look stupid on camera." Good point. But there is nothing to worry. The huge expanse of building that lay ahead of us with bold Bigg Boss standing atop, was enough to keep us focussed to look ahead. And that is just the exterior.




The first ten minutes inside, it is the Modern Indian Palace themed extravagance that hits you. It also means that this year's content has got to be spicy enough to prevent young house-proud viewers from easy distraction. The common room and bedrooms have swapped places and now looks like what happens when an artist with golden paint goes crazy all over town. Moroccan candle lanterns fill every nook and corner, unless they are occupied by exquisitely embroidered floor mats, cushions and carpets. Interestingly, most of the girls were besotted by the decor - touching and feeling them - while the young bachelors cringed at the grandiose of it all. The sole married male in the group nodded along - short of saying this is what happens when you hire an enthusiastic interior designer and don't stay in budget.




A stark contrast to all of the above is a tiny area outside. Equal attention, if not more, is provided to the jail area. Two beds devoid of bedsheets or pillows and aluminium plates and mugs alongside cobwebs and rusted metal were used in abundance. The camera was the sole object that looked clean enough to touch. Here's a special mention to the washroom that accompanied it. Detailed paint work (potty-themed) splattered all over the 'indian toilet' and the walls gave it a disgusting look and feel. So much so that the people who eventually were jailed inside, felt a distinct 'stink' from the unused washroom. Possibly psychological, but every bit brilliant.




All these observations kept us occupied until the next pair of contestants walked in. We guessed it to be about 10 minutes, but only people like Anirban (a crew-member who had earlier refused to reveal his name due to 'policy' but over-enthusiastic journos like me eventually figured it out. Never mind the details.) might know that accurately. The pair, as expected, went all gaga over the decor and eventually landed in the kitchen, soon to realise that our only means of refreshments were water bottles (with the brand name pulled out) and a mini-fridge filled with Appy Fizz. However containers filled with tea, sugar and milk were placed for pure sadistic pleasure as the stove refused to work.




What seemed like an hour later, the fourteen of us had sufficiently introduced ourselves to the rest. Interrupting the fun was the familiar resonating Bigg Boss' voice booming over our heads. It was time for nominations, he said. But it will be double this time and will be out in the open. Easily, the journo who said he is missing his two year old was chosen by the majority to be voted out. Another young chap, barely in his 20s came second because apparently the boy wasn't being too social. I too was nominated with a couple of votes. While I sorted out my issues, the ones with more votes were seemingly upset. Very interesting, considering we were just entertainment journos without any contract to bide by or money to lose, battling an unfair nomination process that was decided in just a matter of few hours. Perhaps with a few more votes, I too would have felt dejected. But that is what happens when a group does that to you, I suppose.




Few more hours passed by without much fanfare. People were mostly huddled around in the bedroom, because strangely, most of the places to sit aren't as comfortable as it looks. However, we do expect a lot of action in the common 7-seater bed once the series commence. Meanwhile, we were content with the single beds. We chatted around, spoke about pleasant interviews, infamous stars, tacky celebs, ill-mannered ones, and everything else a bunch of journos locked inside a room would talk about. A few games were played before one got bored and the group dispersed. But in the process there were clear demarcations. The kitchen and cooking seemed to be headed by a young girl, while there evolved two teams. Both had leaders, irreverent members and followers. There was a clear entertainer who was neutral to the teams forming around. Few were loud and expressive and some clearly despised the noise and ruckus. A couple of them kept to themselves. And while everyone participated and got along in the stipulated time, I bet there would have been covert plans and slandering chats in every room if we were locked a couple of hours more. Perhaps by nightfall, a heated argument even.




Meanwhile, lunch time was fun. Vegetarians and non-vegetarians had loved the food, there were no fights for the limited amount of gulab jamuns and the shortage of rotis was well managed. Everyone was gung-ho until a moth decided to come and die in my plate. Rest in peace, lunch.

But it was the task later that set the ball rolling. The contestants were to come on the make-shift stage and showcase a talent using props provided. The catch? Well, the nominees that the contestants voted out, became the judges. So I, along with four other targeted were now the ones with power. Our responsibility was to make sure that we present every contestant with a tag provided - 'Eye-candy', 'Thappad', 'Bakwaas', 'Smart', 'Boring' etc. It also had two deadly banners 'Jail' which meant we had to send two unfortunates souls there. One was easy, the other required a rematch. While with the rest of the contestants, we could clearly see who emerged proud and victorious, who sulked and who was the spoilt sport.

Fun fact: If you plead enough, Bigg Boss will play songs for you. But he won't do the same if you ask him to release the jailbirds early from prison. Rules are rules.

Even more so when one of the prisoners decided to break free. He was immediately asked to hop back in and just to spite him, his partner (the obedient one) was let out early. He meanwhile was released moments before our time inside ended.

But all in all, the six hours inside the house is a treat to a mad scientist researching social behaviour. With the right manipulations, there are enough reasons for best-friends to part in a few days, strangers to be life-long enemies and in worst case, happy-go-lucky people to develop anxiety. The locked house, with an abundance of insects (which can fly to the darnest of places) can easily turn from fun to pain. In a matter of hours, a chai enthusiast was miserable without the beverage, apparently someone had started flirting and I too might have divulged personal details which the outside world should be oblivious to. That's the thing, even countless cameras peering into your soul in every corner, it is easy to forget that you are in a glass house, where everything is recorded. But that is exactly where the fun lies, isnt it?





Thumbnail Image Source: Manav Manglani