Salman Khan To Shah Rukh Khan & Akshay Kumar: Competing With My Bigg Boss Will Be Tough
Salman Khan, Shah Rukh Khan and Akshay Kumar are coming up with their respective shows on TV. At the launch of Bigg Boss 11, Salman candidly told the media present that SRK and Akshay will find it difficult to compete with his reality show. Read on...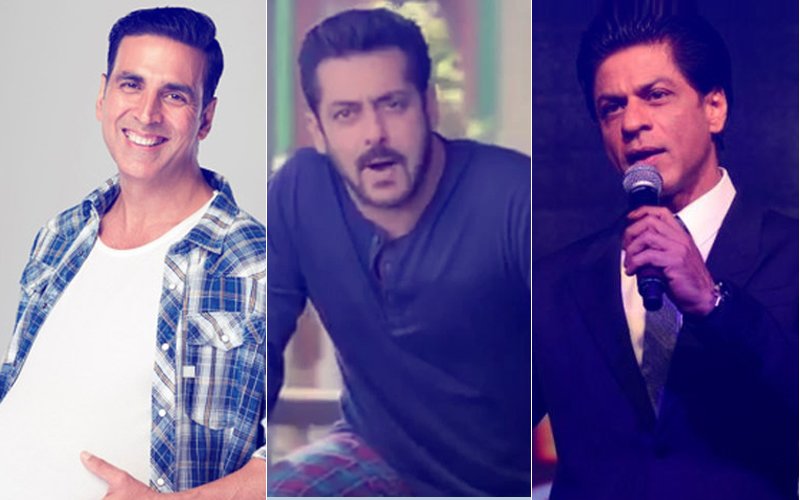 Salman Khan
has never been one who would shy away from talking about his peers like
Shah Rukh Khan
,
Akshay Kumar
, etc. Last evening at the grand launch of Bigg Boss 11, when Salman was asked about his contemporary stars who are also going to host shows on different channels pretty much at the same time as Salman, he was all open to talk about his superiority over them.
"I think Shah Rukh and Akshay are amazing. Shah Rukh is a great host and so is Akshay. He has also got an amazing comic timing and is quite witty. On the other hand, Shah Rukh has his own personality, his own style, swag, and charisma. I think it's going to be quite a tough competition," said Salman. And then with a mischievous pause, he added, "for them," before breaking into an infectious laughter.
Now that's classic Salman Khan humour for all of you.
Salman has been a veteran at hosting TV reality shows, as he has been doing Bigg Boss for the past 7-8 years now. It was when Salman began hosting Bigg Boss that the show suddenly got a hike in viewership. Salman has been the driving force behind the success of Bigg Boss for the last many seasons.
This season of Bigg Boss will see the contestants competing with prying neighbours. The concept is unique and promises to be fun. On the other hand, Shah Rukh is all set to turn host with the popular international show, Ted Talks. And Akshay, in his own sense of humour, is the host for The Great Indian Laughter Challenge.
Let's wait and watch as to who among the three superstars manages to get the maximum TRPs. Stay hooked onto SpotboyE.com as we bring you the weekly TRP report soon enough.

Image Source: Instagram/Salmankhanrocks, Desijhol & Ensuddi