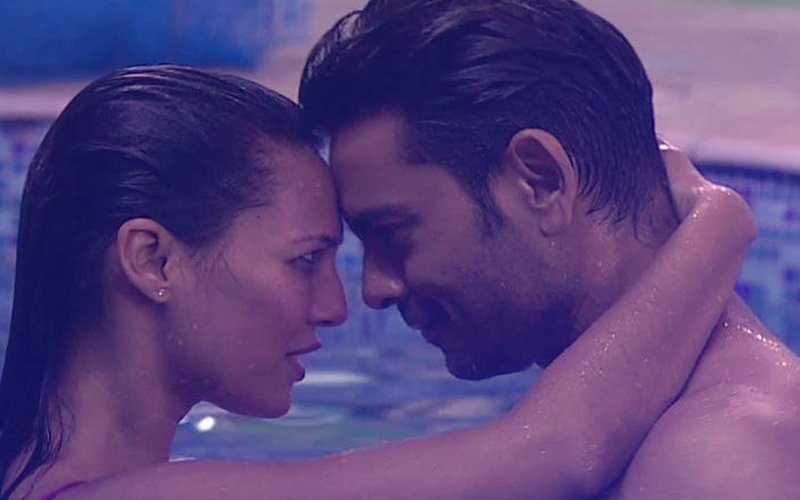 The lovely Rochelle Rao has married her handsome fiance, TV actor Keith Sequeira. Buzz is, the marriage happened on Saturday.

Rochelle, who happens to be a former Miss. India contestant, got married in Tamil Nadu.

Rochell Rao And Keith Sequeira Share A Cute Moment From Wedding
Rochell Rao And Keith Sequeira Gets Hitched
After their engagement last year, Rochelle had given her FIRST interview to SpotboyE.com. She had said, "For the engagement, Keith wanted to whisk me away to snowy mountains." We wonder where Keith wants to whisk her away for their honeymoon.
Colors had asked Keith to propose to Rochelle in Bigg Boss, last year (Uff!). But Keith didn't want to do any publicity stunt. He loved Rochelle from the core of his heart and he was not looking for any attention. On February 14, 2017, the lovers got engaged.
To quote more from that post-engagement interview, Rochelle had told us: "Our families were in the loop that we will soon get engaged. It's just that Keith wanted to take me to snowy mountains. I asked him to go. He hadn't told me what he had in mind! I thought that I would rather be in Mumbai because recently I have travelled quite a bit for work. But he shot back saying that he couldn't go without me. That's when it struck me that perhaps he had something special in mind.

We love Rochelle and Keith. Rochelle had been extremely candid in that interview and even revealed that she plans to tie the nuptial knot in early 2018.

Rochelle is an opinionated girl and never hesitates to speak her mind. Not too long ago, she had uploaded some interesting pictures on her social media account talking about body shaming as well as imperfections. The lady in question had also been vocal about depression, recently.


Speaking then to SopotboyE.com in another EXCLUSIVE interview about imperfections, she had said: "Sometime ago, I had put on a bit of weight. And people started posting comments about it on my social media handles. At first, I let it pass. But there came a point when those comments got a bit too much, if you know what I mean, and I decided to do something about it. I felt it was my body and people had no right to go on and on... It is easy to just hit back on social media and say 'we should do something about it'- but what? So I thought about it for many days and decided to take the first step. Men who get frustrated in their lives- and there are many- end up molesting and raping women.Half of those are frustrated because they can't match the beauty that they see in the woman whom they offend sexually."

Keith had then supported Rochelle and reposted some of her thoughts. We hope that Keith continues to support her and they live happily hereafter. Congratulations, Rochelle and Keith!


Image Source: instagram/keithsequeira & instagram/rochellerao