Shilpa Shinde and Hina Khan's war is far from over. Days after former defended herself over the porn link that made headlines and the latter slamming her for sharing the link to the video, comes in the news that Shilpa's fan has threatened to leak Hina's MMS on social media.

Check out the tweet: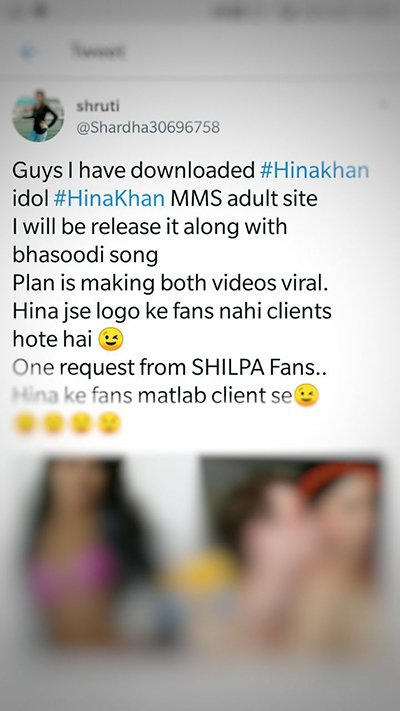 No sooner did the tweet go viral, Hina's boyfriend Rocky took to Twitter to blast the 'fan' in question. He tweeted, "So to cover their dirt, they are throwing Shit everywhere just as expected. Nonsense logics and comparisons n obv abuses to make it louder but lemme break your dream , it's not affecting at all. U like ur idol still make no sense and have no sensible explanations over the issue!"
His tweet further read, "Yes to make your selves happy and illogically content your void, your Idols and their media handlers (back to life) are promoting hate/abuses/anarch just like it's still BB11. There is no WKV to cover your filth anymore. And btw don't lemme start on who wants promotions and how."
"Chalo abb apas me humari burai karo aur khush raho ,that's what u'll evr b,so go on live ur life n do a better job while ur at it,dear 'Trolls' bcoz U still don't matter,we actually laugh at u n ur nonsensical comments,whn we read'em tht is,don't forget to go love yourselves." read part 3 of the tweet.
Let us tell you that when the fan in question threatened to leak Hina's MMS, the actress' brother Ashutosh Shinde requested them to stay away from such doings.

Check out the tweet:


Image Source: Twitter/@shindeashutosh/@JJROCKXX