SHOCKING TWIST! Anupamaa SPOILER: Kinjal Puts Condition To Have An Extramarital Affair To Forgive Paritosh
Kinjal will learn about Paritosh's extramarital affair and would put a condition to have an extramarital affair forgive him, in the upcoming episode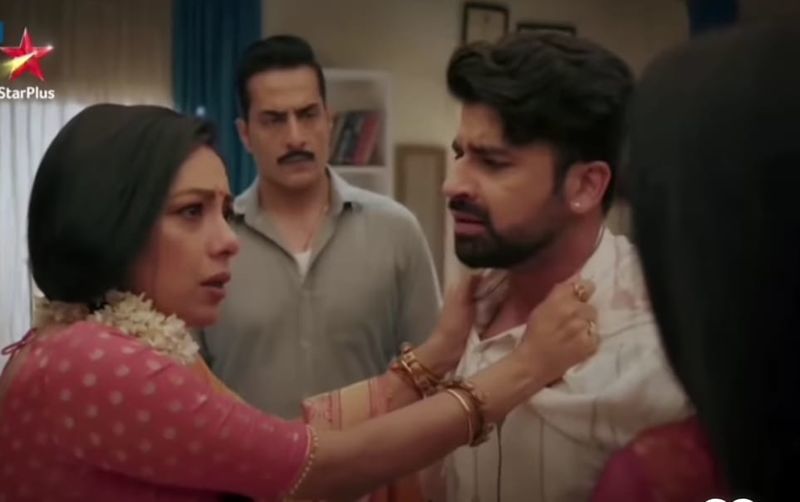 Anupamaa has been topping the TRP charts ever since it premiered on Star Plus. The titular character Anupamaa played by Rupali Ganguly has become a household name. The show has received immense love from the audience as it showcases a story of a woman who tries to become independent. The daily soap has a loyal audience who does not even miss a single episode and even watch it on repeat.
The current track is quite interesting as Kinjal has given birth to a beautiful baby girl. The entire Shah family is beaming with happiness for the arrival of the newborn. On the other hand, Rakhi Dave finds out that Paritosh has cheated on Kinjal and had an extramarital affair with another girl. Kinjal is discharged from the hospital and the naming ceremony of the baby is organized at Shah's house.
Meanwhile, in the last episode, the newborn baby girl is named Arya by Anupamaa and Vanraj. Everyone is happy and dancing during the ceremony when Anupamaa learns about Toshu's extramarital affair through a voice note. She confronts him about the same to him.
On the other hand, Toshu is not ashamed of his wrongdoing and even tells Anupamaa that he is not in love with that girl. He is a man and there are needs which had to be fulfilled. He will never leave Kinjal and he loves her. He tells Anupamaa not to disclose this to anyone and hide it from Kinjal. By the time Rakhi overhears this and she also requests Anupamaa to not tell this to Kinjal. But, Anupama disagreed with this.
In the upcoming episode, when Toshu is seen telling Kinjal that he is the best father and husband and will give everything to his family. Paritosh even adds saying that Kinjal should not doubt him whenever he goes out of Ahmedabad for work.
Anupamaa loses her self-control and shouts at Paritosh. Everyone sees Anupamaa angry and asks her what's bothering her. Toshu makes different excuses to escape.

On the other hand, Paritosh is not able to accept his mistake and says that his mother to not make a mountain out of a mole. He even taunts Vanraj and Kavya and makes excuses for physical needs. When Vanraj tries to make Toshu understand his mistake but the latter lashes out at his father and taunts him that he also cheated on his mother. Vanraj will slap him and will reportedly throw Toshu out of the Shah house.
When Kinjal comes to know about this, she is ready to forgive Toshu on one condition. She puts the condition that she wants to have an extramarital affair for time to pass. Paritosh shouts at Kinjal and she gives him a befitting reply.
Well, one thing is clear the upcoming episodes have high-voltage drama, twists, and turns in store for the audience.
Image Source: SpotboyE