Shubhangi Atre Aka Angoori Bhabhi Recreates Sridevi's Mr India Look
Sridevi's jovial and energetic parody of Charlie Chaplin in Mr India cannot be forgotten, and TV's beloved Angoori Bhabhi is all set to make us relive the iconic scene in Bhabiji Ghar Par Hain...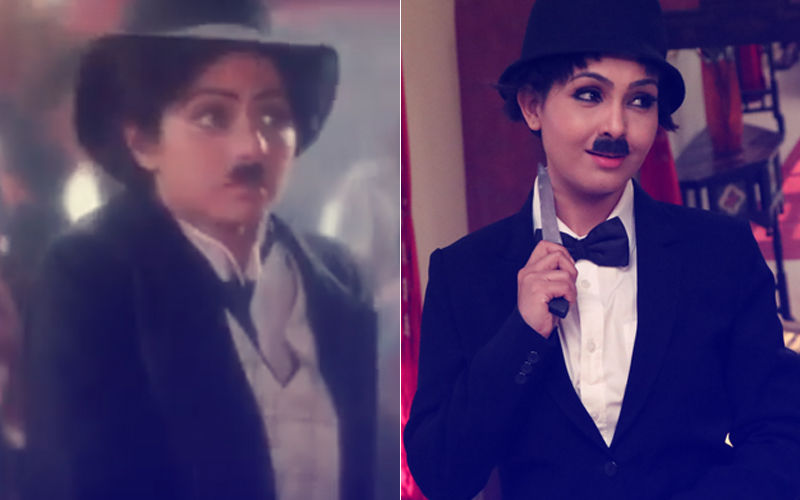 Giving her fans a visual treat and surprising them once again, the adorable Angoori Bhabhi, played by Shubhangi Atre, from &TV's Bhabiji Ghar Par Hain will now be seen in a different and unconventional look.

The actress will ditch her vibrant and shimmering sarees to don the look of the famous comedian, Charlie Chaplin. Dressed in black and white with the perfect moustache, hat and cane, Angoori Bhabhi surely does justice to the look. Imitating the iconic Chaplin smile and his style of walk, she will also take viewers back to the fond memories of the late super star, Sridevi in the Hindi film, Mr. India.

Talking about the same, Shubhangi Atre aka Angoori said, "Srideviji stood out in all her performances, especially that of Charlie Chaplin in Mr India. A mere resemblance to her character itself would mean a lot to anyone and I consider it a real honour that I am getting an opportunity to do so. She has been a true role model for so many of us including me and it is with great pride that I am attempting to bring back memories of her time."

Commenting further about her new role and appearance, the actress said, "Angoori is quite capable of doing such pagalapanti! I had suggested the Charlie Chaplin look to the team and I am thrilled to play this character. Playing the legendary comedian and being able to perfectly enact him is a huge challenge. Viewers have often seen Angoori in her traditional attire and this would be a starkly different avatar. I am really curious to know what viewers will think about Angoori's new look. In terms of comedy and entertainment, they can surely expect much more throughout this track."

Bhabiji Ghar Par Hain is set to witness a light-hearted, but emotional feud between the simple and innocent Tiwari ji and the bubbly Angoori Bhabhi. On being blamed by Tiwariji for losing her 'romantic spark', Angoori decides to consult Ammaji on a way to win her husband back. Bizarre solutions are suggested, leading to trouble for Angoori.

Dressed in her new appearance, will Angoori be able to figure out a way to win Tiwariji's heart?


Image Source: youtube/themovies