Sunil Grover Hurls A Shoe Back At Kapil Sharma, On Social Media
Sunil Grover's latest Instagram post has layers. It's not just a picture but probably his subtle reply to what Kapil Sharma did to him during their infamous flight scuffle...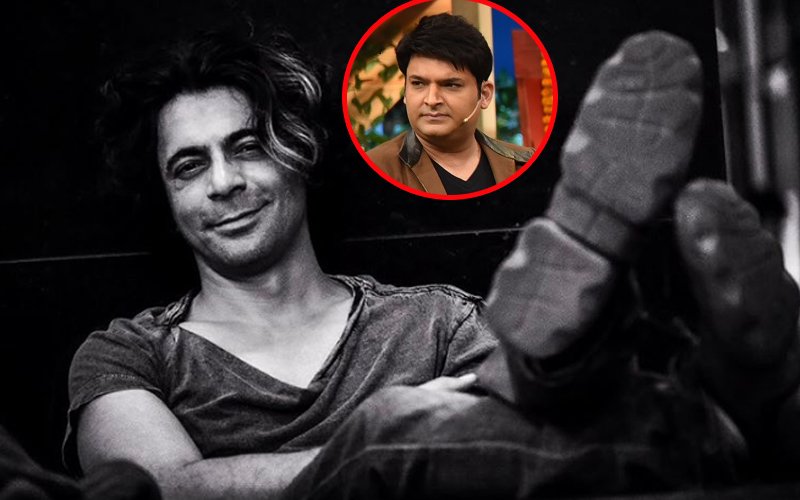 Had life been normal, the way it was before Kapil Sharma committed his life's one of the gravest mistake, Sunil Grover's picture which he just posted on his Instagram account would have gone unnoticed.

BUT, now the situation is different. Sunil and Kapil's each move has a story behind it, whether they say it aloud or not, people are decoding their coded messages easily. One of them being this: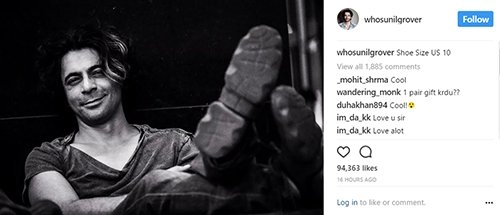 Well yes, Sunil Grover posted this picture where he is seen sitting with legs crossed and his shoes in focus. The caption reads, "Shoe Size US 10".

As we all know by now Kapil Sharma ill-treated his entire Team while on board an Air India flight (AI 309) from Melbourne to Delhi on March 16, where he not only hurled abuses at them but also flung his shoe at Sunil Grover.

Now with Sunil Grover posting a picture focussing on his shoes, is Sunil trying to tell Kapil Sharma something?

Recently, Twinkle Khanna penned a sarcastic piece taking a dig at the Kapil Sharma controversy, which she headlined as, '30000 ft up, even scotch and slippers are lethal weapons'.

As things stand today, The Kapil Sharma Show is just about surviving-with low TRPs and a few cancelled shoots adding to the channel's misery. Sunil Grover, Ali Asgar and Chandan Prabhakar haven't turned up for the shoot since the incident took place. Last week, Navjot Singh Sidhu also didn't turn up for the shoot where Sonakshi was the celebrity guest. We hear that Sidhu has been driven from pillar to post due to Kapil's selfish interests of completing his film Firangi and hence requiring a quick bank of episodes, owing to which Sidhu has to fly down from Chandigarh at short intervals.

Coming back to Sunil's post, guess his shoe size will be remembered for long by Kapil Sharma.


Thumbnail Image Source: instagram/whoissunilgrover & Manav Manglani