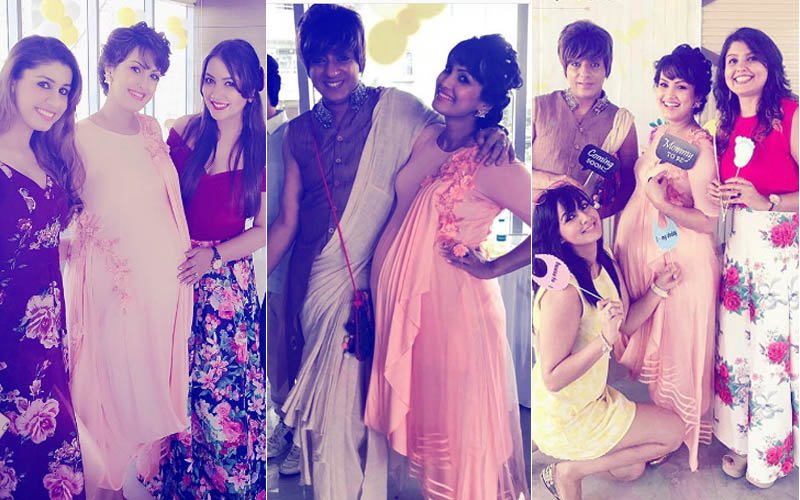 Karan Mehra and his lovely wife Nisha Rawal will soon have a little bundle of joy in their arms. The much-in-love couple celebrated Nisha's baby shower with their close ones.
Karan, popular as Naitik Singhania from Star Plus 'Ye Rishta Kya Kehlata Hain', shared the good news a few months ago with his fans and last evening, the couple indulged in some great celebration to mark the arrival of the little munchkin, who is due in June.
Nisha was looking absolutely cute in a pink gown with an adorable baby bump, while Karan also matched up to his ladylove in a peach shirt. Here are some candid pictures and videos from her baby shower:
Now that looks like a fun-filled evening.
The couple, who married in 2012, is expecting their first child. Interestingly, in the past, there were constant rumours about Nisha's pregnancy. At that time, Nisha had clarified, "Over the past year, there have been a lot of rumours about my alleged pregnancy. Now, I think it's time to put them to rest. Karan and I, currently do not have any children, and we will share our happiness with the world whenever we do."
And when the time came, the duo did share the happy news with their fans on social media with an adorable post, which read, "Here's putting all speculations about my weight gain to rest: Yes our 1st baby is on the way & we are on our way to bringing a new life on this planet, need all your good wishes. P.S.: I hope the privacy of my pregnancy journey will be respected and I won't be asked over n over again to make posts on the same and shall be given space to post at will."
We're sure the fans can't wait for Karan and Nisha's little wonder to come to this world.

Thumbnail Image Source: instagram/karnish_adorer