Uorfi Javed Files FIR Against Man Demanding 'Video Sex' Who Threatened To 'Cyber Rape Her; Rakhi Sawant Rushes To Help-SEE POST!
Uorfi Javed has even filed an FIR against the man who demanded video sex from her and she has even shared pictures of her WhatsApp chats on her Instagram handle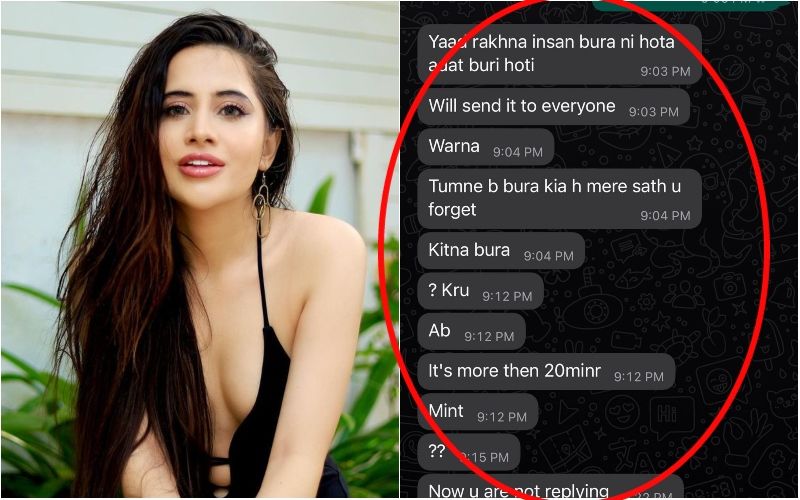 Bigg Boss OTT fame Uorfi Javed is popularly known for her risque fashion and she has often faced brutal trolls and criticism for her rather bold outfits. Netizens have labelled her several vulgar words, but that has never stopped her. If you know Uorfi, one thing is certain: she will never go down without a fight. Something similar happened recently. The fashionista penned a shocking long note on her social media on Sunday, claiming that she is being harassed by a man and being threatened with morphed pictures.
ALSO READ | OMG! Urfi Javed Is Extremely Unwell And She Has Been Hospitalized Due To High Fever; Fashionista To Undergo Few Tests-REPORTS!
Well, it did not stop there!
Uorfi went a step ahead and shared a picture of the accused, followed by her WhatsApp chats with him. The 24-year-old has even filed an FIR against the man who demanded video sex from her.
Taking to her social media handle, she wrote: "So this man has been harassing me for so long and now I had it. 2 years back someone morphed my photo and started distributing it, I had already filed a police complaint about that 2 years back and I went through hell at that time. This man got a hold of that picture and had been blackmailing me to have video sex with him or else he will distribute the picture on various Bollywood pages and ruin my career. Yes, he was blackmailing me to cyber rape me (that's the word for it)."
Uorfi also seemed disappointed with the way Mumbai Police is handling the case. "I filed an F.I.R on 1st at Goregaon police station @mumbaipolice. It's been 14 days no action has been taken till yet ! I'm so so disappointed. I had heard so many good things about @mumbaipolice but their attitude towards this man is weird. Even after informing them that he has done with to idk how many women, still no action," she wrote.
She called the accused a threat to society and shared that he is now freely working in the Punjabi film industry.
Interestingly, Uorfi received assurance from Rakhi Sawant as the latter commented, "Ok tell me to need any help I'm always with u."
On the professional front, apart from her bold and unique fashion statements, Urfi is known for her work in shows such as 'Bade Bhaiyya Ki Dulhania', 'Meri Durga', 'Bepannaah' and 'Puncch Beat Season 2'.
Image Source: Instagram