Varun Sood Shares His FIRST Post After His Split With Divya Agarwal, Actor Heads To Delhi To Be With His Family-SEE PHOTO
Varun Sood has headed to Delhi to spend time with his family post his breakup with Divya Agarwal
Bigg Boss OTT winner Divya Agarwal and her actor boyfriend Varun Sood have called it quits after four years of their relationship. On Sunday, the actress left her fans shocked after she announced their separation in a lengthy Instagram post. While announcing her separation from Varun, Divya stated that her 'decision to end the relationship was her choice and that Varun will always be her best friend'. Their fans, since then, have been left heartbroken and are curious to know how the actor is coping with his breakup.
Taking to his Instagram stories, Varun Sood has shared his first post after his split. He informed his fans and followers that he is heading to his home in Delhi. Well, he should be around his family during these testing times. Varun shared a photo of his packed suitcases and wrote, "Ghar Jaa Raha Hu."
Meanwhile, after the news of their breakup went viral, fans blamed Varun for cheating on Divya by having an affair with Madhurima Roy.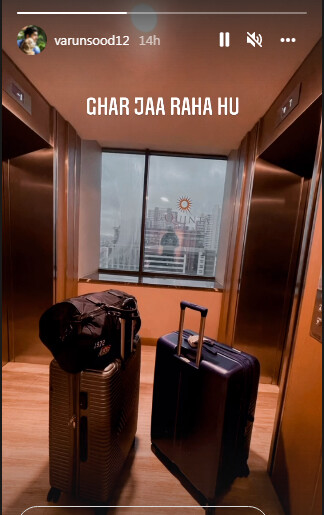 Divya, however, came out in his support and clarified that Madhurima is not the reason behind their breakup. Calling 'Varun' an honest man, she tweeted, "Dare anyone say anything about Varun's character.. not every separation happens because of character! He is an honest man! It's my decision to be alone no one has the right to speak anything rubbish ! It takes a lot of strength to take decisions like these in life! Respect."

Image Source: Instagram/Varun Sood