War Is On! Shilpa Shinde Blasts Vikas Gupta, Says "Har Kutte Ke Din Badalte Hain"
It's not over yet! Shilpa Shinde gives it back to Vikas Gupta, threatens to leak his phone calls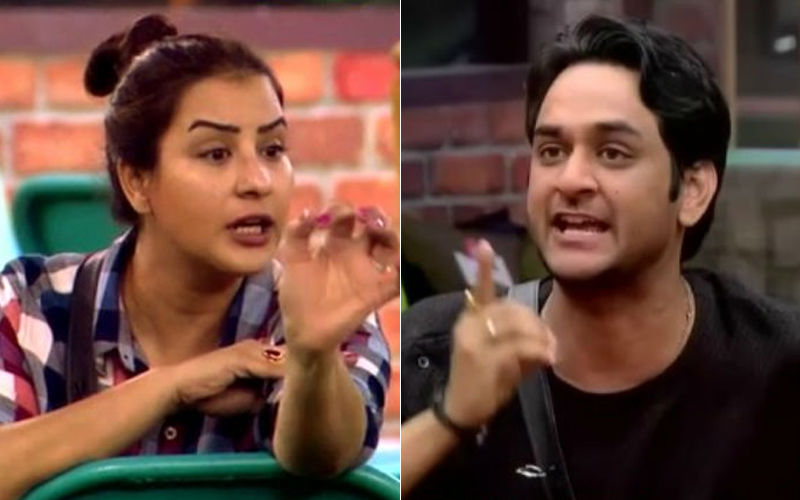 The situation between Shilpa Shinde and Vikas Gupta is getting uglier with each passing day. Foes who turned friends inside the Bigg Boss 11 house have turned enemies again. This season, the two were invited by Bigg Boss for a short stay in the house. And after exiting, clearly all is not well between them.
Talking about it,
Vikas Gupta told SpotboyE.com exclusively;
"Shilpa Shinde and I never became friends. I have always admired her as an artiste. In Bigg Boss, she came with a story ki unko ghar pe bithaya, kaam ka issues, but I think, Salman Khan had already told her that I wasn't at fault. In fact, she also accepted it in her winning speech. But ab agar unhe abhi bhi kuch cheezon se takleef hai to main kuch nahin kar sakta. I messaged her saying that I was hurt because of what she thought about me. I also told that I wouldn't bother her if she has so many issues with me. Her problem is that she gets instigated. When you know someone closely and people tell you something, why can't you just pick up the call and clear stuff?"
The Ace Of Space host also mentioned, "She is sitting at home by her choice and I know that. She can get great work but she chooses not to. My energies are dedicated towards good work, so I really don't care Twitter pe kaun kya likh raha hai".
But Shilpa Shinde didn't stop at that as she attacked the producer-director again by calling him the TV mafia and accused him of snatching people's work. Supporting Shilpa Shinde, her best friend Arshi Khan also made allegations on Vikas of snatching her opportunity to be a part of Bigg Boss 12 and Khatron Ke Khiladi. Reacting to which Vikas took to his Twitter page and wrote, "Please think beforeyou tweet Shilpaji. You told me never to trust these two completely even after Bigboss, vikas Ji and you got influenced to this level that you are ending up damaging all that you have built up after such a long time. Atleast care about the people who love you🙏
Please think before you tweet ShilpaJi You told me never to trust these two completely even after bigboss vikas Ji and you got influenced to this level that you are ending up damaging all that you have built up after such a long time. Atleast care about the people who love you🙏 https://t.co/W3YhFblcyv

— Vikas Gupta (@lostboy54) 16 December 2018
He also spoke to a section of media saying, "I don't know why she is playing to be a victim again and Bigg Boss is over, no one is voting so why to do all this to come in limelight?"
Reacting to which Shilpa Shinde has now posted a selfie video saying, "My real fans know what I was inside BB house and how I m outside.. Ppl think that BB11 is over, the fight should also get over... but such things don't get over so easily... yes the fight in BB11 was not for the show, it was and it is my fight to find justice for myself."
My real fans know what I was inside BB house and how I m outside.. Ppl think that BB11 is over, the fight should also get over.. but such things don't get over so easily.. yes the fight in BB11 was not for the show, it was and it is my fight to find justice for myself.. pic.twitter.com/TfwpspgD2x

— Shilpa Shinde. Risk everything...Regret nothing... (@ShindeShilpaS) 18 December 2018
In the video, Shilpa Shinde is seen calling him a double standard person and clarifying what were the exact words of Salman Khan when he said Vikas wasn't fully responsible in your case. She also mentioned, "I have a call recording where you are saying we treat Balaji actors like this sab theek rehte hain. And reveals he used to take drugs inside the house and warns him saying har kutte ke din badalte hain."

We wonder what Vikas Gupta has to say on this?

Image Source:-filmibeat, india.com