WHAT? Pregnant Jennifer Winget's Baby Bump Is Now Showing!
Only in the show Beyhadh. Not in real life. We saw her with a big baby bump on the sets when she was doing the promo shoot. Daddy Kushal Tandon was taking good care of her
Jennifer Winget was on the sets of Beyhadh on Thursday and we were round the corner. She was very conscious of her baby bump, but it was only for the Beyhadh fast forward track.

You know that her character Maya is pregnant in the show, and it will show on your TV screen soon when Beyhadh takes a 6-month leap.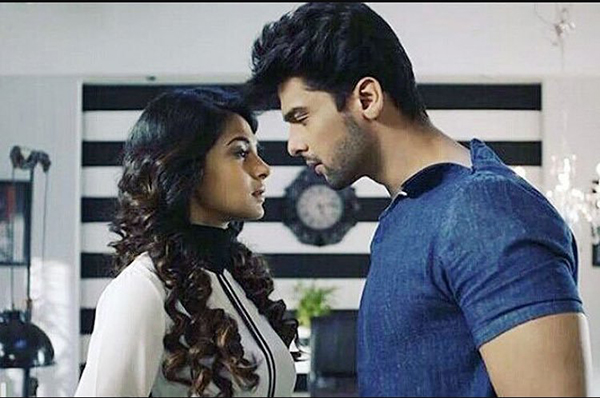 Jennifer Winget And Kushal Tandon In A Still From Beyhadh

Remember we were the first to tell you that Beyhadh (aired on Sony) was slated for a leap, when we also told you first that Maya tries to kill her mom in the show but Arjun (Kushal Tandon) bursts on the scene in the nick of time? Rewind: Maya goes all out to gain Arjun's sympathy. Since Arjun is supporting Saanjh, Maya wants to divert Arjun's attention towards her. To get his attention, Maya tries to kill her own mother, Jhanvi. She feels that Arjun is giving a lot of attention to Saanjh because her father death, hence a death in her family would also draw his attention. Meanwhile, she comes to know that her mother is helping Saanjh to collect evidence against her. Maya tries to drown Jhanvi in the bath tub and try to kill her. But don't worry Arjun will burst in on the scene and rescue his mother-in-law.



Jennifer Winget And Kushal Tandon In A Still From Beyhadh

Okay, so now, Maya will be shown expecting her first baby. Daddy, of course, is her husband in the serial, Arjun. It's not going to be that 'beyhadh' that she has an extra-marital affair.

Beyhadh is expected to have several twists and turns in its leap version. You can bet your last ruppee on the fact that Sony is going all out to keep those twists and turns under the wraps as much as they can.

We also spotted Kushal taking good care of Jennifer. The two seemed quite friendly. Good for the show!


Image Source: twitter/jenwinget