Yeh Rishta Kya Kehlata Hai SPOILER 25th July 2023: Muskaan Consoles A Heartbroken Abhir; Abhimanyu Finds Out Akshara-Abhinav Couldn't Afford The Surgery
In the upcoming episodes of Yeh Rishta Kya Kehlata Hai, Abhimanyu and Abhinav sing a lullaby to emotional Abhir and Akshara so that they can get a peaceful sleep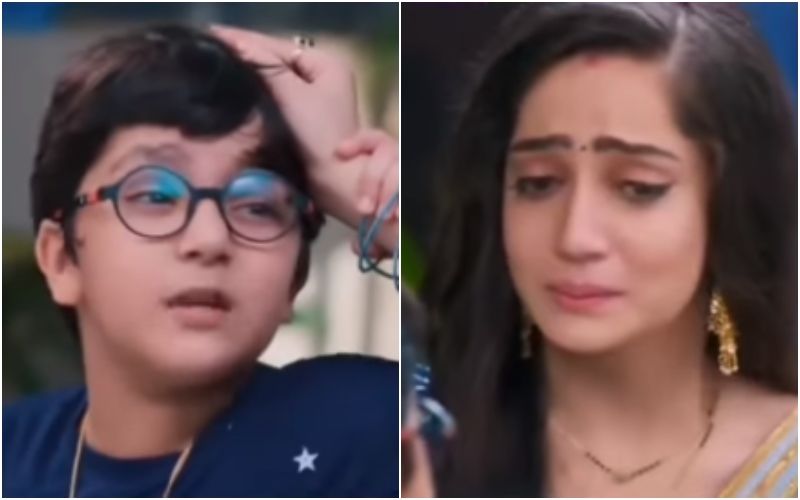 Over the past 15 years, Star Plus' show Yeh Rishta Kya Kehlata Hai has enjoyed a huge fanbase. Currently starring Pranali Rathore, Harshad Chopra, Shreyansh Kaurav and Jai Soni, the show is one of the few that often top the BARC ratings because of its high voltage drama. The current plot of the show has left the viewers divided as Akshara is forced to leave Udaipur and return to Kasauli after Manjari takes away all the rights she has on Abhir.
Muskaan reaches out to meet Abhir, who questions her on why his mother is missing. She consoles the kid and explains to him that she has returned to Kasauli with Abhinav, leaving Abhir emotionally distraught. Abhir starts questioning why his parents left him all alone with the Birlas. While talking to Abhimanyu, Abhir points out that he must have been a burden on Akshara and Abhinav as they couldn't afford to pay for his surgery. This leaves Abhimanyu shocked and he decides to talk to Akshara about the same.
ALSO READ: Yeh Rishta Kya Kehlata Hai SPOILER: Abhinav Takes Akshara Back To Kasauli; Abhir Goes Missing From Birla House
As the episode comes to an end it will be seen that Abhinav and Abhimanyu will sing a lullaby for Akshara and Abhir respectively to soothe them to sleep. If reports are to be believed, in the upcoming episodes, Abhir will run away from the Birla house so that he can return to Akshara and Abhinav. Kairav might even call the cops on Abhimanyu and Manjiri for not being able to take good care of Abhir.
With Akshara gearing up to take back Abhir custody by becoming a lawyer, it will be interesting to see how the future episodes pan out. Will Manjiri successfully separate Abhir from his parents? Will Abhimanyu finally notice his mother's manipulative ways? Will Abhir ever get the chance to meet his parents? Fans have been eagerly waiting to know how the show proceeds further.
Image Source: Instagram