Yeh Rishta Kya Kehlata Hai SPOILER ALERT 23rd June 2023: Abhinav Tells Abhir The Truth About Abhimanyu Being His Father
In the upcoming episodes of Yeh Rishta Kya Kehlata Hai, Abhinav will decide to tell Abhir that Abhimanyu is his blood father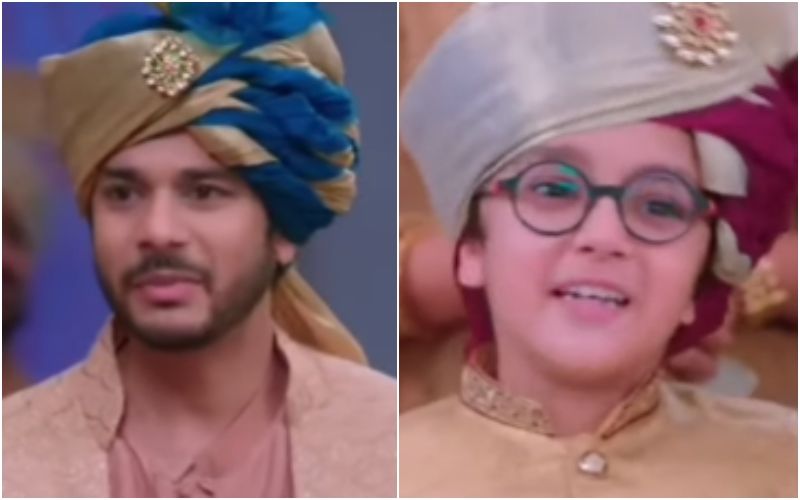 One of the longest running shows on Indian television, Yeh Rishta Kya Kehlata Hai has entertained the audience for over a decade now. Starring Pranali Rathore, Harshad Chopra, Shreyansh Kaurav, Jai Soni and many more in pivotal roles, the makers of the show have kept the fans hooked to their tv screens with the interesting plot twists and storylines. The current plotline centres around Goenka, Sharma and Birla family coming together to celebrate Kairav and Muskaan wedding.
In today's episode it will be seen that Abhinav's anxiety regarding the wedding will keep growing. Akshara will assure him that Kairav and Muskaan are happy with their wedding preparations. She will ask him to go check on the food arrangements as she can't see him getting stressed. In the midst of it all, Akshara will be then called to perform the gathbandhan ritual. She will take Aarohi with her as they equally love Kairav. On the other hand, Surekha will be seen taunting Abhinav about the cold food, which will make him rush to oversee the arrangements.
ALSO READ: Yeh Rishta Kya Kehlata Hai SPOILER ALERT 22nd June 2023: Akshara-Abhimanyu Discuss Telling Abhir's The Truth, Abhinav Overhears Them
Further in the episode it will be seen that as Akshara waits for Abhinav's return, Abhimanyu advises him to watch his sister getting married. Suddenly due to a power outage, the venue gets dark. Seeing this as yet another opportunity, Surekha will again taunt Abhinav of not having paid the electricity bill. Abhimanyu will come to his defence and decide to go fetch a generator. Akshara will decide that the families should use the flashlights of their smartphones to create a serene ambiance.
ALSO READ: Yeh Rishta Kya Kehlata Hai SPOILERS 21st June 2023: Abhinav Breaks Down In Akshara's Arms As He Fears Losing Her
When Abhinav decides he needs to talk things out with Akshara, he overhears Abhimanyu requesting an urgent conversation with his wife. He will follow them and get to know that Abhir knows that he is not his real father. A heartbroken and emotional Abhinav will decide that it was time for Abhir to finally know the truth. After reliving his flashback memories with Abhir, Abinav, along with Abhimanyu and Akshara, will gather all his strength and reveal the truth to the kid.
According to the new promo released by Star Plus, in the future episodes it will be seen that Abhimanyu will be given Abhir's custody, leaving Akshara and Abhimanyu emotional. It will be interesting to see how the future episodes of the show pan out.
Image Source: Instagram