Barkha Singh On Co-star Tanuj Virwani: "He Was Hungover, I Was Sick And It Was Not At All A Good First Meeting'- EXCLUSIVE VIDEO
Murder Meri Jaan actress Barkha Singh gets candid about the show, meeting Tanuj Virwani, her co-actor for the first time, transitioning from YouTube to OTT, and more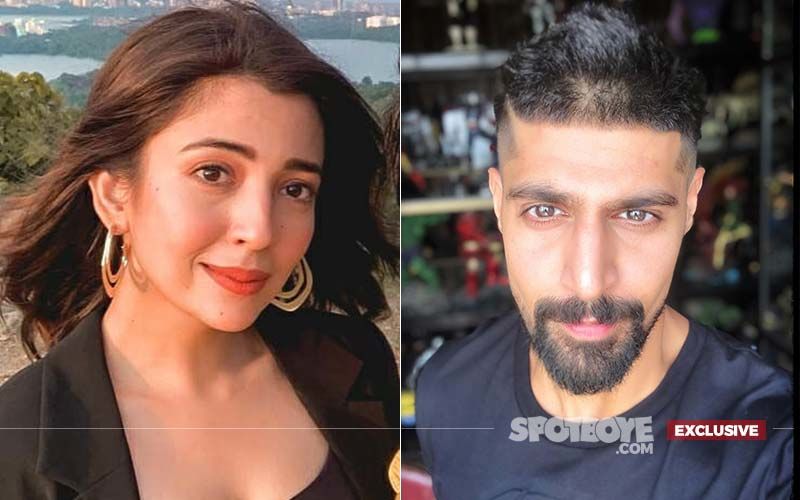 If you are a digital consumer and you don't know who Barkha Singh is, you are definitely living under a rock. A Youtuber, an influencer and an actress, Barkha is best known for her show, Please Find Atttached, and is all set for her latest quirky Disney+ Hotstar show, Murder Meri Jaan, which released its first episode today and has her playing a con woman. In an exclusive conversation with Spotboye.com, the actress gets candid about the show, meeting Tanuj Virwani, her co-actor for the first time, transitioning from YouTube to OTT, and more. Read excerpts from the interview:
Murder Meri Jaan looks very quirky and fun. Tell us something about it that will intrigue the audience?
It is a show I am super excited about. It is a story about this super cop, Aditya and a con woman Sonal, who end up getting married due to some situation. The commissioner then hires Sonal as a freelance consultant, so, here is this cop and a con woman getting together solving crimes and trying to figure out their marriage at the same time. It is a lot like a comedy of errors and also situational comedy. There is some intelligent crime solving, interrogation and a lot of masala. It is a complete entertainment package.

Your character Sonal is a con woman, but did you find any relatability between her and Barkha?
For people who don't know me, I am a very mischievous person. Even my parents keep telling me to grow up, and on that mischief level, Sonal and Barkha are very similar. But while preparing for that character, I liked to believe that I am a person with high morals and integrity, so to get into that mindset of a con woman was the biggest challenge. When you have ulterior motives, even while listening to a normal conversation your reaction won't be the same. So, it was a great learning experience and very fun.

Was it freeing being able to do things as Sonal which you couldn't as Barkha?
That is something we have a privilege of doing as an actor. You cannot give justice to any character until you lend it a part of yourself. We do get to live our fantasies through our characters and through Sonal, I got to hold a gun and learn to shoot. And it was liberating doing some things as Sonal which Barkha wouldn't do.

Your co-star in the show is Tanuj Virwani. He usually does intense roles. So, was he the same on set?
Even though people have seen him as a brooding and serious guy, in real life, he cannot sit still at one place for more than 30 seconds. Even in Murder Meri Jaan, he is a serious, no nonsense cop, but before and after action, he does a full 180-degree flip. As a co-star he is very supportive, a team player and brutally honest.

Interestingly, Tanuj came on board just two days before we started shooting in Bhopal. So, we didn't have any workshops and never met before that. When we went to Bhopal, I got food poisoning and Tanuj had just flown in after wrapping up another show and he was extremely hungover. When we first met, we were so dull and low on energy while saying hi. He was hungover, I was sick and it was not at all a good first meeting. I was just thinking who is this person speaking so much and how would I romance him on screen. If you would ask him, even he would say his first impression would have been who is this mareli. But as we began shooting, we had a lot of fun and we pulled a lot of pranks on each other. It was such a hectic schedule so having a fun environment with fun co-stars like him and Sharat Sonu, was amazing.
Since you play a con woman here, did you watch any similar films or shows for inspiration?
As an actor, you keep watching things and picking up nuances. But strangely, most films that I saw had predominantly male con artists. Even a franchise like Oceans, had all male con films except the last one. So, when I was approached for Sonal's character, I got really excited. Conning someone on screen seemed exciting and I always wanted to do that. I watched quite a few films in general as I did not want to be influenced by just one character. I took some nuances from each, added it to my own and put everything on the table.

Your audience is more used to seeing you in lovey-dovey shows like Please Find Attached. How is this show going to be different for them?
The kind of show is very different firstly. While I have done a character like Pinky, that was batshit crazy, in Netflix's House Arrest, Sonal has a lot of layers. Even a top cop hasn't figured her out. So, her layers are what make Sonal stand out and different from whatever I have done before.

Murder Meri Jaan marks your first major project as a solo lead. Did it feel any different?
Not really, as personally when I get on board a project, I give it equal importance, integrity and hard work, irrespective of scale, actors or makers.

You come from a community of digital creators. How has the attitude of the industry towards digital creators, as experienced by you first hand?
I do like to believe that there is a lot of mutual respect. There have been a lot of times when we have had film stars on our platform to promote their films and push it out. There is this symbiotic relationship that exists now due to the increasing influence and power that social media personalities have and that's why there is a lot of mutual respect. I am thankfully able to enjoy the best of these both worlds.

From short videos to major shows, you have been on diverse mediums, does your approach change with each?
It actually remains the same as a project is a project irrespective of where it's going to come. For me, the medium doesn't matter, the project does.

So, any other future projects that you have in the pipeline?
There are a couple of very interesting projects. But I can't talk about them now. I was actually supposed to shoot for them right now, but had to cancel due to Covid. Hopefully, we'll be able to start that soon.





Image Source: Instagram/barkhasingh0308/tanujvirwani