Charu Asopa On Pregnancy: 'My Due Date Is Around Sushmita Di's Birthday And I Am Excited For It'- EXCLUSIVE
Charu Asopa and Rajeev Sen announced that they are on a family way, recently. We got talking to Charu about her journey so far. Here's what the actress said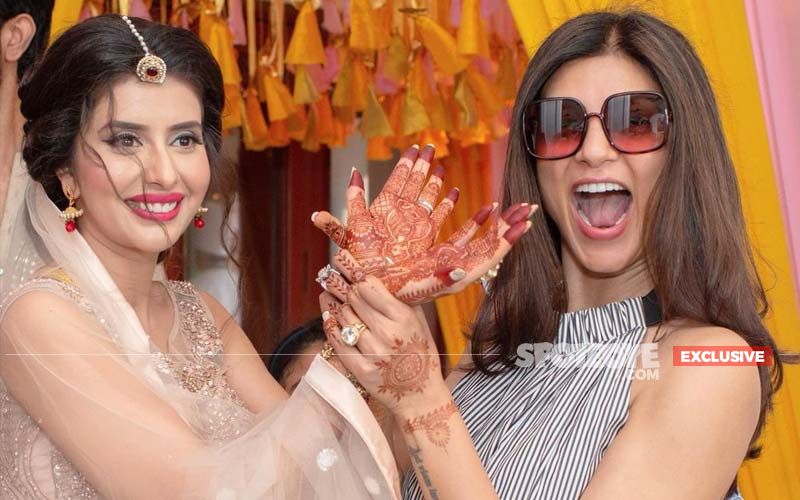 TV actor Charu Asopa recently shared good news as the actress is expecting her first child with Rajeev Sen. Charu uploaded a video of her on Instagram and fans in no time spotted her baby bump and started pouring in congratulatory messages in the comment section. Within a few minutes of confirming the good news, Charu announced her pregnancy to the world.
Now in an exclusive chat with SpotboyE.com, the actress has finally opened up on her motherhood journey so far;
You kept the good news under the wraps for quite some time...
In my initial weeks I was feeling very sick. My blood pressure had gone really low. Due to which I used to have no energy in my body. I used to puke and faint also. So before I tell it to everyone I myself wanted to get sure with the fact that the baby is safe and healthy. Thankfully the baby was always ok. It was me who was not really well. So, I decided to share the news once everything got alright. And post my first trimester sonography when I found everything ok I announced the world.
Were you nervous during your first sonography?
My first sonography was done in the sixth week when for the first time I heard the baby's heartbeat. I was really thrilled. The feeling of having another human being inside itself is a blessing. And it was an amazing feeling. I can't express those feelings as I got goosebumps and had tears in my eyes.
How did Rajeev react to the news after learning he is soon becoming a father?
Rajeev was very confused after hearing this as he was not expecting that I would suddenly come and share the good news with him. So when I told him he was shockingly surprised. But he was really very happy after that. I shared this news with him at midnight around 12:30.
Then?
Then we started calling our loved ones to share the news and all were so happy and emotional ki unke expressions record karne waale the. Especially our parents and Sushmita Didi.
Do you ever panic because of the ongoing pandemic situation?
Honestly, I was scared of being pregnant in this pandemic because my doctor had clearly told me that if I contract the virus in the first trimester we won't be able to treat you. So, you have to be very very careful. I wasn't keeping well so my immunity was also weak and recovering with low immunity becomes extremely difficult. In the second and third trimester still there is a scope of treatment.
You have flown down to your hometown, we hear?
Yes, I came down to my hometown and still remember while I was coming here I was so cautious. I was wearing a double mask not touching anything. Still the moment I entered home I had an emotional breakdown that finally I am at a place where me and my baby will be safe.
What was the reason for going to your hometown in this condition?
Rightnow I am in Bikaner, Rajasthan which is my hometown. Here we have a big garden where I can actually breathe fresh air. I feel nauseated with the food smell and thankfully here I have a place to escape as in Mumbai houses are not that big and then this lockdown also doesn't allow you to go out. Although here also I am not stepping out of my own house but I definitely have space to take a walk and feel open. I am eating healthy food of course. Having fresh cow milk daily. I feel it was the best decision to come here in this lockdown.
How much are you enjoying the attention these days?
Not just my family but my friends are also equally excited for the baby and giving a lot of attention. They keep texting and calling me from time to time to know about me and that definitely makes me feel good. But the kind of love and attention my fans, followers and subscribers of my YouTube channel are showering on me is also amazing.
Are you having any pregnancy cravings?
I am not having any cravings, in fact I don't feel like eating much. Sometimes I feel like eating only simple food. I feel sick with the smell of food actually. I am forcefully eating only for the baby otherwise.
What changes are you experiencing within yourself?
I am experiencing changes mentally and physically. Like sometimes I am too emotional. There are mood swings happening. Everyday I am experiencing something new.
How is your sister-in-law Sushmita Sen taking care of you?
She is continuously in touch with me and keeps asking about my and baby's health. She is so excitedly waiting for the baby. She only recommended a doctor when I was in Mumbai. Now that I am Bikainer, I keep consulting that doctor as well while I am showing myself to doctors here. My due date is around Sushmita Didi's birthday so that thing is making me even more excited as whatever we get blessed with a girl or a boy is going to be amazing just like her. As Didi is someone who is unbiased, follows her principles and I really respect her for that. I want my baby to be like her.
Image source: Instagram/asopacharu