Jennifer Winget: I will definitely greet Bipasha and Karan Singh Grover if I bump into them
The talented, beautiful and vivacious Saraswatichandra actress spoke to SpotboyE about her new assignment, ex-husband and lots more...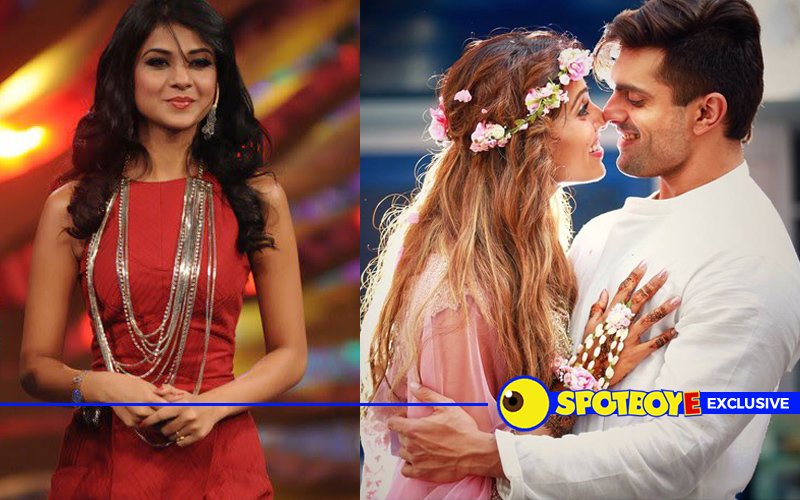 Jennifer Winger is coming back with a vengeance in your drawing room as she has landed a very important role in Sony's upcoming show Behad. As she tells us, "I will start shooting by end of this month," we take the opportunity to talk to her about her return, and of course, her ex-husband Karan Singh Grover. Excerpts from the interview:

You were away for a long period...
Yes, but why should I take up roles that don't motivate me? I did a film and then took a break. I was travelling a lot, especially very often to Goa, where I have a house of my own. Behad is something very challenging. I am playing a grey character for the first time. I have played a good daughter, a good wife, and wanted to do something radically different. I know this sounds cliché but that's only the truth.




Elaborate on your character in Behad.
She is not a vamp per se. She is someone who has lost a lot of things in her life and will go to any lengths to protect what she's left with. She is good with everybody but she has certain obsessions which come into play. It's gonna be an intense portrayal.

What about your look in the show?
We are trying out different looks but haven't zeroed down on the final one yet. But there will be something white in every outfit she wears. She just loves white.

Over to your film Phir Se, which is directed by Kunal Kohli. Are you disappointed that it has not yet seen the light of day?
Not at all. It will hit theatres one day. It was an amazing experience. The release date is not in my hands. No regrets.




Are you going to meet filmmakers for roles?
I haven't done that till now and I don't know if I'll ever do it. I think your work speaks for yourself.

That's fine in TV, but movies can be a different ball game altogether...
I haven't chased anything in life.

Are you satisfied with your career so far?
Extremely. Every character that I've played has given me recognition and appreciation.

Do people recognize you on the roads?
Yes, they do. And I quite enjoy that. We live for our fans, and if fan following comes your way, then why not?




Recently, Kalki Koechlin was groped in a crowd outside National Awards Ceremony in Delhi (NATIONAL SHAME! Kalki groped outside National Awards ceremony, May 5)...
What happened with Kalki was very unfortunate. Thankfully, I haven't had any such bad experience. The security around me has been good, the people have been sensible.

As an artiste, what did you feel about the Shilpa Shinde controversy? Have you ever signed an exclusive contract with a channel/producer?
Of course, I have. And I have stuck to it. If you are doing a show as the main lead, I don't like to lose focus. However, I really don't know what transpired between Shilpa and the channel (&TV) and producer (Binaefer Kohli) in question.




The interview will be incomplete without your take on Karan Singh Grover's marriage with Bipasha Basu...
I wish them all the good luck, marriage is a beautiful relationship.

Didn't it hurt?
Not at all. We have one life, things happen and people move ahead. We shouldn't mull over the past.

Social media is going berserk with statements that Karan marries every 4 years (Shraddha Nigam in 2008, Jennifer Winget in 2012, Bipasha in 2016). Any piece of advice for Bipasha?
Why would I have a piece of advice for her? I wish them years and years of togetherness and happiness.




Any bitter feelings towards Karan?
Absolutely not. Karan and Bipasha are two beautiful people and I wish them a beautiful life from the bottom of my heart.

Will you say 'Hi' to them if and when you bump into them?
Why not? We are not children, are we? They are nice people and I am a nice person too.




Do you think you married Karan in haste? Do you regret the marriage?
I do not regret a single day in my life. I do not regret anything in my life. Life is full of experiences, they come and go and you learn from them, and move ahead. It's life, things are meant to go up and down. Everything can't be hunky-dory every day.




Has your failed marriage made you wary of men? Once bitten, twice shy?
Arre, nahin yaar. I don't live in the past. I love my life right now. I know my future is beautiful. The fear of death shouldn't stop you from living.

Are you open to falling in love and getting married again?
Definitely. Like I said that marriage is a beautiful thing, so is love. Everyone must experience it.

As I conclude, let me ask you if you're into spirituality? You were quite philosophical in the interview, especially in its second half...
(Laughs) I haven't been to mountains to sit and meditate, but I believe in being good. If you are good to people, they will be good to you.


Thumbnail Image Source: fillyz & instagram/bipashabasu