Khatron Ke Khiladi 11 Contestant And Singer Aastha Gill: 'During Any Stunt, Rohit Shetty Sir's Voice Comes Like The Voice Of God'-EXCLUSIVE VIDEO
Paani Paani singer Aastha Gill, who is currently shooting in South Africa for Rohit Shetty's Khatron Ke Khiladi 11, talks about her experience on the show, the host and more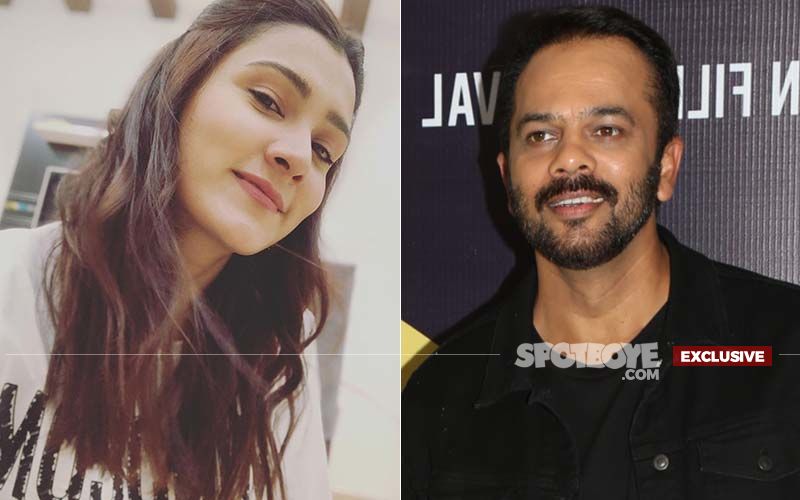 Aastha Gill recently came up with a single with Baadshah, Paani Paani, featuring Jacqueline Fernandez. The song is trending on YouTube and has already crossed 82 million views. Meanwhile, the singer is currently in South Africa, participating in the Colors' reality game show, Khatron Ke Khiladi 11, hosted by Rohit Shetty. In an exclusive conversation with Spotboye.com from South Africa, Aastha gets candid about her experience on the show, Rohit Shetty, future work and more. Read excerpts from the interview:

First of all, even if for KKK 11, you got to travel during Covid. How was that experience of travelling in such times?

Irrespective of whether I win or not, I will always be grateful and thankful for this experience. It's not as easy as every third day we have a test and even before coming, we had to do a lot of tests. We are blessed, but it's not easy.
And how is your KKK 11 experience going?
It's so much fun and I never thought that I could do all of this. Now, I have said that from now onwards, in every video of mine, I will do at least one stunt (Laughs). The adrenaline rush I get after doing stunts is amazing, and the sleep you get after that is the best.
You are facing your fears on a daily basis there, which was your biggest fear before you set off for the show from here?
My biggest fear was creepy crawlies. I was that person who would get disgusted and scared even if an ant would walk on my body. But now, I will go back as a tigress.
All ex-contestants from KKK have highlighted how important is the contribution of Rohit Shetty in their journey. How has your experience been with the filmmaker?
Not just for me, but for everyone, when you are doing any stunt, his voice comes like a voice of God. In that situation, you need a lot of motivation to build up the courage to face any stunt, and at that time, he would say it so effortlessly, that you can do it. When he shows so much trust in me, a person who doesn't know me so well, I just feel that I know myself so well, so I should be able to do that. So, his words are so motivating and he can judge a person just by looking at them. And he calls me a sherni.
And how was he off the camera?
He is so fun yet so disciplined. Because of Covid, we cannot go really close to each other. We have to maintain social distance and put on our masks when the cameras aren't rolling. So, even in this scenario, Rohit sir makes us so comfortable that it feels all will be okay soon.
In previous seasons we have seen people using singing as a distraction to lighten the mood. You are a professional singer, so did you use your singing skills in high tension moments?
I tried but all my singing went out at once after I looked at the stunts (Laughs). During that time, all that comes out of my mouth is "Mummy, Papa".
All the contestants have been sharing amazing pictures from South Africa, and it seems you have all bonded well. So, who has become a really good.
Friend of yours amongst all the contestants?
I can't name people because I have literally bonded with everyone. For some strange reason, it has become a rule that after a shoot, everyone comes to my room to hangout. I am the Aastha 'Chill' of the group, so everyone chills with me only. Arjun Bijlani is my neighbour here and we have a common door between our rooms, so when we open it, it becomes a whole suite. So, everyone comes to party in our 'suite'.
So, professionally, what's next for you in music?
I am working on a couple of collaborations as I want to work with other artists and I feel this is a good time to do that. I worked on a single before leaving from India, but due to a lockdown, half of the things were left in between, so I will complete that after returning, and then start working on my next music video. I am working on a song with Maninder Buttar and a lot of people from Punjab. I am also planning a girl collaboration, which I will announce once it is in place.
Do you have any dream collaboration that you want to do?
My dream collaboration will be with Sunidhi Chauhan ma'am because she is my idol. I am trying to make that happen somehow, let's see what happens.
Maybe she can be in your girl collaboration that you are planning…
I will do another stunt if that happens (Laughs).
Which actresses would you like to give your voice to next?
I haven't given much thought to it, but I would love to give my voice to Alia Bhatt and Tara Sutaria. There are so many more names but I feel it would be unfair to others if I take any one name.
You and Priyank Sharma are such good friends, who have successfully collaborated on Buzz and Saara India. Is there any new single with Priyank in the pipeline?
I would love to collaborate with him a million times, that is how close I am to him. Before coming to South Africa, I spoke to Priyank and we were planning a couple of things together, let's see how it pans out.
You have been in front of the camera in your music videos. Any plans of becoming an actor?
I never thought about it, but someone recently asked me this too. After doing all these stunts, I feel like I can do everything, so I will definitely try my hands at it. If it happens, good, otherwise too, no issue.



Image source: SpotboyE archives, Instagram/itsrohitshetty/aasthagill