Nausheen Ali Sardar Lashes Out: I'm Not A Bit*** Person, My Pictures Were Used Without Permission
Nausheen Ali Sardar aka Kkusum, who recently got trolled for her 'photoshopped' pics on social media complains, "They (trolls) pushed me into a corner and let my anger out. I am a very peaceful person. Let me be peaceful, don't make me angry. It really annoys me and affects my health. I was pretty earlier, I am pretty now"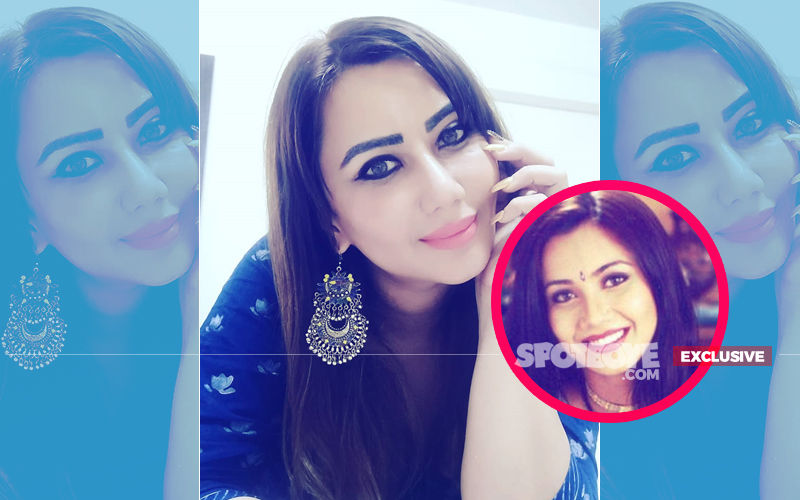 Nausheen Ali Sardar popularly known as Kkusum to avid TV viewers will be making her comeback on TV on August 15 with the show Aladdin. Unfortunately, just days before her big return to the small screen, the actress made headlines for something very different, and not pleasant, entirely. The lady got trolled for her heavily photoshopped looks on Instagram. "Her cheeks are fluffier, her eyeliner is stronger and her pics are bathed in beauty filters that make it a task to separate her nose from the rest of her face," read a report. Other reports were less kind. Nausheen is anguished and has since deleted all her recent pictures. We got in touch with the lady and find below excerpts from her exclusive interaction with SpotboyE.com.

The audience still recognises you as Kkusum
I know and it's a big problem. Every now and then people call me Kkusum like it's my second name. And unfortunately, they want me to see the way I used to look that time.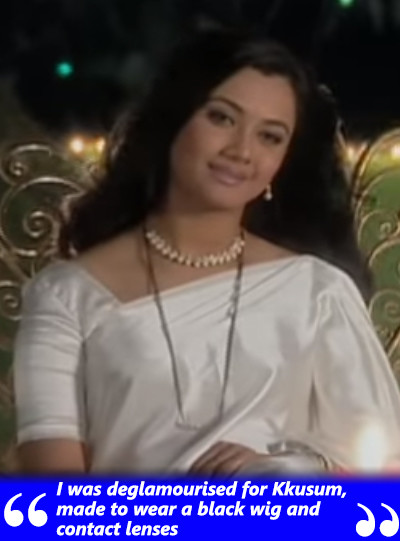 Nausheen Ali Sardar As Kkusum

As in?
People don't know this fact but I was deglamourised for Kkusum. I was a teenager then I was made to wear a wig of black hair. I have brown hair personally. Initially they asked me to wear black contact lenses but later on they were ok with my natural eye colour, which is brown. Then I used to do tan makeup, to look dark. And all this just because my character demanded it. I was a girl next door after all and I have to look like one. Though, everybody in my family is very fair and pink.

People still want to see you as Kkusum, you know…
Yes, they do and I don't understand why? It's been so many years now. We keep changing.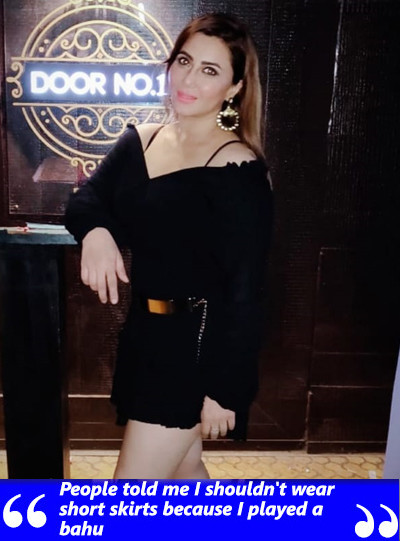 Nausheen Ali Sardar Speaks Her Heart Out

Does it bother you?
Of course, it does, it restricts my freedom. I remember if I would wear a short skirt even during Kkusum days people would come to me and say, "Why are you wearing such clothes? They don't suit you. You are a bahu and a daughter." So now also, they don't like if I am wearing a plunging neckline or short dresses. They just don't realise, in real life I'm different from the character I played on screen.

I am a different person in real life called Nausheen, not Kkusum.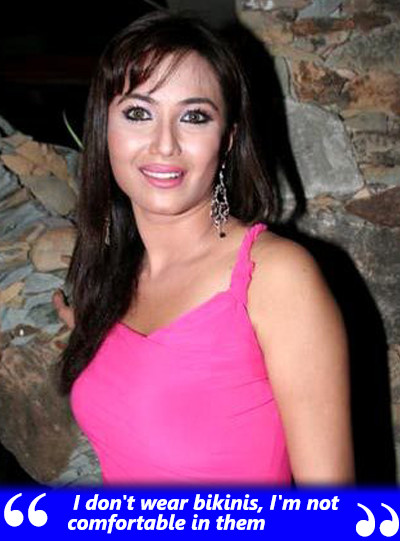 Nausheen Ali Sardar Is Not Comfortable In Wearing A Bikini

How do you like to dress up in real life?
I think I carry everything with grace and class. I don't wear bikinis that is something in which I am not comfortable at all. But at the same time I like wearing my maxi dresses. I like wearing short flared skirts. I am totally a western wear person. But if it's a festival like Eid or an event like wedding I wear traditional clothes.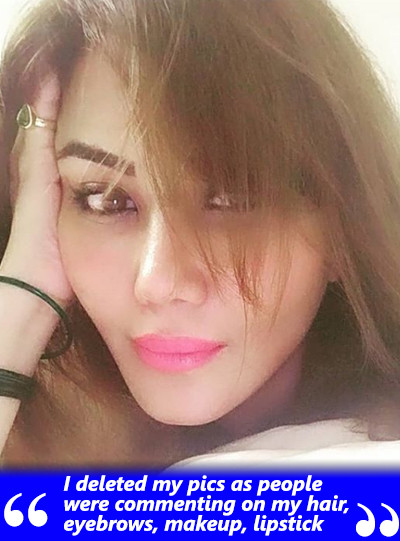 Nausheen Ali Sardar Deleted Some Of Her Instagram Pictures

You posted few pictures of yourself on Instagram, then later deleted them, why so?
It was my initial reaction. It was like Newton's law of action and reaction. I saw my pictures being used without my permission. And on that people were busy writing their own opinion. I didn't even realise it until my Instagram followers started increasing and I was shocked like in such less time so many numbers. I was like - Ye kya ho raha hai? Press main kuch aaya hai kya mere bare mein?

As a person I don't get newspaper at home because I feel negative and depressed when I read someone died somewhere, somebody got raped somewhere. So, I just avoid it and may be that is the reason I don't get to know what is happening in the world. And then when I saw people were leaving comments on my pics and my followers were increasing – I was like I am not getting into it. So that moment I just thought let me delete my pictures.

They were writing about my hair, also that my eyebrows are too thick, there is too much makeup, my lipstick colour is too bright. I got too irritated and that's why I deleted my pictures.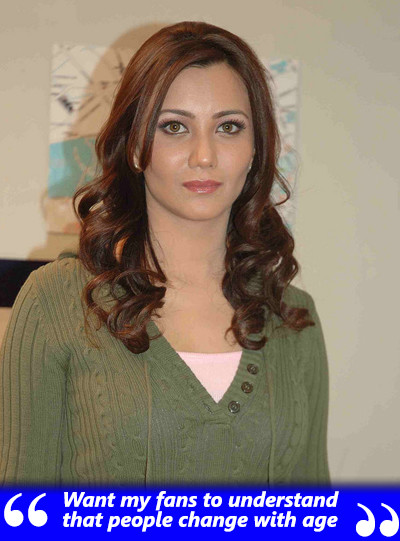 Nausheen Ali Sardar Talks About Her Fans

But now you sound all right. You did give it back to the trolls in a way
I am not a bitchy person. But my pics were used without my permission, they (They were writing about my hair, also that my eyebrows are too thick, there is too much makeup, my lipstick colour is too bright. I got too irritated and that's why I deleted my pictures. They (trolls) pushed me into a corner and let my anger out. And I don't understand why they would do that? I am very peaceful person. Let me be peaceful, don't make me angry. It really annoys me and affects my health. I was pretty earlier, I am pretty now as well. It's just that people change with age. And I want them to understand that.

Actors are usually happy when their social media following increases
I know but I don't understand why? I also keep getting calls asking me to pay a certain sum so my followers would increase. But why do I buy them? Why to have a fake fan following? Someone has written also that Nausheen has less followers. But I have joined Instagram one year ago and I think whatever followers I have are my genuine fans, I have not bought them. Mujhe logo ko dikhane ke liye kyun karna hai yeh sab?

You made a statement few years back that you don't want to do negative characters, however in Aladdin aren't you playing a villain?
I never wanted to play a negative role honestly. Because you have to get into your character for 12 hours everyday. Suppose you playing a negative bahu or negative saas, I personally believe the vibrations take a toll on you. I may do it for a film as it demands limited time but when you do a negative character for 1-2 years (for a TV show), you ultimately start thinking negatively.

Now about your question, I feel a fairy tale is completely different from Saas Bahu drama. In TV we are still stuck in seedhiyon par tel girana, khaane mein kuch milana. And I think it's misleading the audience also. It's simply putting things into their head. I don't think so what they show happens in every household.

Do you like fairy tales?
I am crazy about fairy tales. Because I grew up with the Cindrealla and Snow White story. Basically, I love magic. In fact my personal favourites are Netflix' Once Upon A Time and Team Wolf. I love anything which has mysterious supernatural powers.

Any message to your fans?
I am coming to you as Mallika, a powerful queen. And my look in the show is extremely different so don't get shocked (laughs).



Image Source: instagram/nausheenalisardar, urbanasian, keywordlister, ohcelebrity