Paras Chhabra's EXPLOSIVE INTERVIEW: "How Stupid Is Akanksha? You Are Brooding About Your Breakup With Heavy Makeup On, I Couldn't Stop Laughing!"
Paras Chhabra is currently looking for his companion on national television but after Bigg Boss 13, there is a lot he needs to speak about. We met him for a candid chat and touched upon all the controversial topics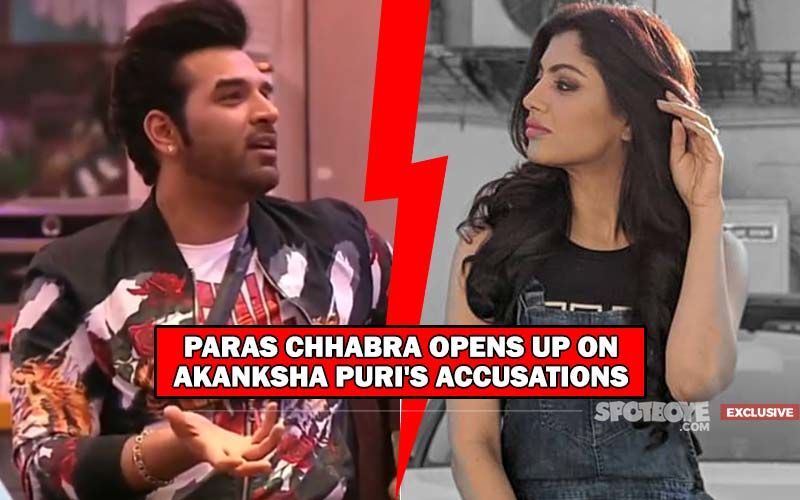 Although Paras Chhabra is busy finding his ladylove in his Swayamvar- Mujhse Shaadi Karoge but the man has a lot of unanswered questions to deal with too.
Post Bigg Boss 13, his transition to the next show was quick and swift but SpotboyE.com caught him for a candid chat and spoke to him about all the controversies which made headlines during his stay in the Bigg Boss 13 house.
Excerpts from the conversation and our VIDEO INTERVIEW with him below:

After Bigg Boss 13, now you are making headlines as you're looking out for a life partner on national television. Didn't you feel any hesitation for it?
I was in two minds initially thinking if this show will also be like the previous Swayamvars we have seen on TV, but then the makers explained the concept to me and it was tad different. So, I agreed for it.
Your mother has said, "Teri waali, teri mummy hi laayegi" So, what if she doesn't like the girl you choose in this show?
There is no one above my mother. If I don't like someone but my mother does, there are higher chances I may get married to her. But if I like someone and my mother doesn't like her, then I will not marry the girl. So, I have to make sure whichever girl I choose. she has the qualities of my mom's choice.
What are the qualities she is looking for in her daughter-in-law?
My mother will definitely look for someone who will give me same amount of love and care which she gives me. Also, she knows that I love good looking girls, so vo sundar ladki hi pasand karengi.


Too much female attention inside the house right now. How is it going handling so many girls?
I remember when the makers had approached me for this show, I told myself, "itni ladkiyon ko kaise sambhalunga. Mahira ko ghar ke andar sambhal nahi paa raha. Bahar pata nahi kya ho raha hai." But then I thought that let's take it as a training. If I really want to find a companion, then let's do it.
Coming to Bigg Boss 13, fans are upset with your decision of choosing of the Rs 10 lakh bag and walking out...
I know. I have read those comments too but it is definitely because they wanted to see me as a winner. What happened at that moment was that I was looking at everyone trying to gage who will pick the bag and walk out but then I noticed everyone is confident enough. And I wasn't getting a positive vibe about myself at that time, which eventually turned out to be true. So, I feel my decision was not wrong. At least I got something before Salman Sir said, "Aapka safar yahin khatam hota hai."
Now to the biggest controversy which made a lot of headlines while you were inside- Akanksha Puri. Have you guys met after your eviction?
Jo bina bile itni baat kar raha hai, woh milne ke baad aur kitni baat karega? So, it's better she stays away from me.


But you had promised Akanksha's family that you will to marry her post the show?
I really don't know what all she has spoken behind me. If I would have made any such commitment to her family then they must have surely come ahead to talk about it. But after whatever I saw in the video where she is talking all nasty things about me, even if I would have told her family that I'll marry her, I wouldn't have.
You still have a tattoo of her name on your wrist...
Yes. I haven't got the time to get it covered. But the first thing after this interview, will be that. I will go and get it covered.
Akanksha has always maintained that it was your strategy to go and fake relationship inside with a girl to strengthen your game...
If it was my strategy and she knew about it, then why has she reacted this way? If it was a planned thing to aisa reaction aana hi nahi chahiye tha. Aur jo cheez planned nahi thi usse planned dikhakar aap kya proof karna chah rahe ho? In fact, I was laughing at her video interview, where she is behaving all heartbroken due to our breakup and while doing that, she has heavy makeup on- how stupid was that looking!


We were expecting Mahira and you will date post the show. The way you used to convey your feelings to her, was so strong. But nothing of that sort happened. Was all that a drama?
Mahira and I are very good friends and in friendship feeling of love automatically comes in. So, we will be friends forever. I also got to know that Mahira has said in an interview that, "chhatis aayengi chhatis jaayengi teri waali to teri Mahira hi laayegi." So, if my mother and friend both are on the same page what else can I ask for- two important women in my life are finding a companion for me.
Jasleen Matharu's guru, who she was linked to romantically as well, Anup Jalota is not in favour of you and thinks you were two-timing inside the house. What do you have to say on that?
I don't know anything about Jasleen Matharu's past and whatever Anup Jalota Ji is saying about me is his thought process. But at the end of the day it's Jasleen's decision if she wants to marry me or not. I don't think he should intervene.


Parag Tyagi was upset with your comment on Shefali Jariwala's closeness with Asim Riaz. Did you clarify things with him after coming out?
I said that statement because I really didn't like the view. A man is standing shirtless and usko jaakar meri bhabhi hug karti hai. But my intention was not so I don't know how it came on camera. Maine us baat ko avoid bhi kar diya tha but Devoleena ne uska mudda bana diya tha jaan bujhkar. Jiske baad mujhe bolna pada haan maine aisa bola. But then by the end of the show, Shefali spoke about it and understood my point of view.


Image Source:- instagram/akanksha8000/ parasvchhabrra