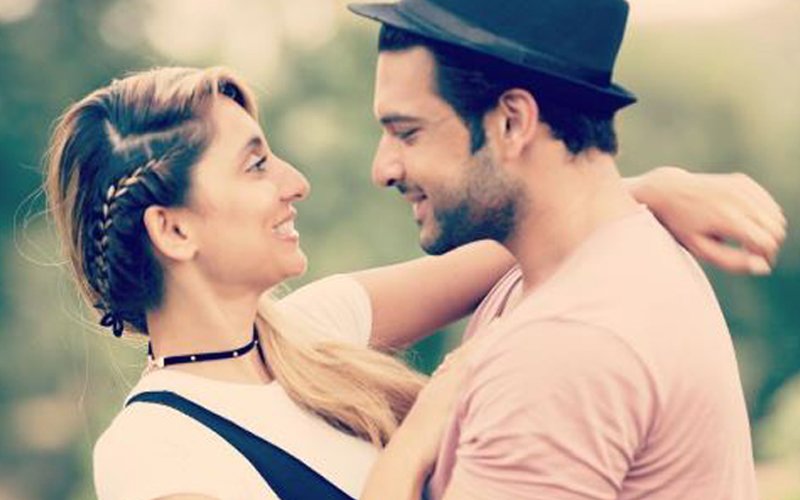 Real life jodi Karan Kundra and Anusha Dandekar are playing love gurus to other couples on MTV Love School Season 2. But are they up to the job? To find out, SpotboyE.com put them through a round of questions. In between stolen kisses and flirty looks, Karan and Anusha, spilled the beans on their love life. Excerpts:

What makes you two the perfect love professors?
Karan: I think we are the perfect couple!
Anusha: We are mature now (Laughs) Though my mom and dad would laugh at this statement. Both of us had relationships in the past and we have learnt a lot. Be it good or bad, it has been a learning process. Everybody should embrace a break-up and move on. Karan and I were pretty sorted in our heads about our wants. We found each other and we don't want to change each other.

How would you describe your journey of love?
Anusha: Our journey has been of a great friendship. We were never friends but when we got to know each other, we became friends during the relationship. And we have lot of fun and he does things like this (Karan plants a kiss on Anusha) and he is very naughty. We travel a lot, hang out a lot and the funny thing is, we are not sick of each other. There are some relationships where you need space and want time out for yourself, we didn't have such a moment.




When you are not together, you are flirting on social media...
Anusha: We didn't wake up one morning and declare our love for each other on social media. It was a gradual process. People call us up and tell us we give them #couplegoals. Apparently we are getting many couples into trouble as they want to be like us. Be the truth is, we don't pose for a pic. It's just natural. Everybody should just chill out.
Karan: I know! People are sick of us (Laughs). This is my first relationship which is sorted.

Are you saying, there are no insecurities in this relationship?
Karan: She doesn't have any insecurities but I do. It starts with trust issues. But then we got to know each other, our parents also got involved and now we are clear in our heads.
Anusha: Basically he was afraid that I will leave him.
Karan: Which I still am. Yeh ladki mujhe chhod degi.




Who fights the most?
Anusha: Oh! Him! He has issues when it comes to expressing himself and I used to be mad. But then I got to know him and now I ask him very nicely. But he is very moody.
Karan: I am just intellectual.
Anusha: We do fight and have our share of disagreements. But we get over it quickly.
Karan: Pehle puri band baja degi, then she will make me say sorry and then things calm down.
Anusha: Men are very manipulative, they make women feel crazy. He is the one who causes everything and then blames me.

What's the most romantic thing you two have done for each other?
Anusha: I told him I love puppies and in five days I found a pup (Monster) on my doorstep.
Karan: For her, her doggie is more than a child. When Monster is around, she loses her focus. She keeps staring at him.
Anusha: What if he eats something bad. It's mom instincts. Now tell them what's the most romantic thing I have done for you.
Karan: We were shooting in a palace in Jaipur and it's in a jungle and I don't know how she managed it but she threw a surprise birthday party for me. She got cakes, arranged everything, got me the exact watch which I had longed for. I didn't have a clue because she told me she's gone out for a shoot.
Anusha: I got six cakes for him in different shapes – a beer bottle, Harley Davidson and many others. I tried hard to hide all the gifts from him.




One thing you want to tell each other...
Karan: I don't hide anything from her. I might forget to tell her day-to-day things like feeding her puppy.
Anusha: Please get rid of your mood swings and don't use gaalis in the morning.

Do Anusha Dandekar and Karan Kundra pass the eligibility test for becoming love professors? What do you think?