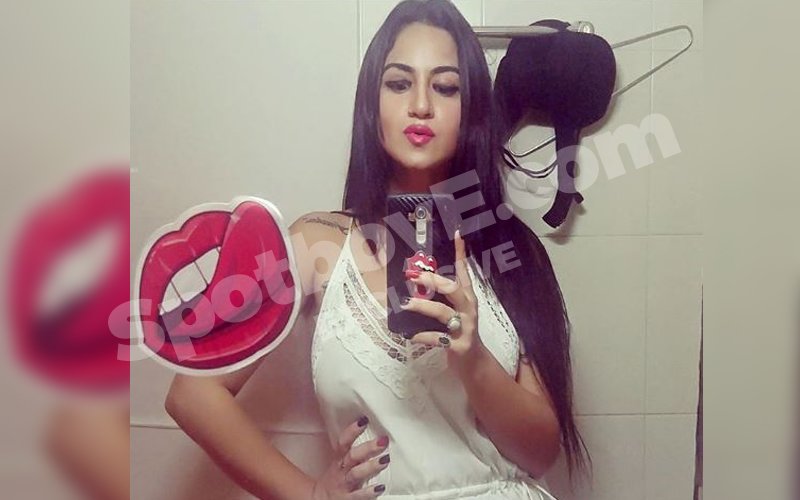 Recently, the Censor Board of Film Certification (CBFC) was at it again, when it snipped a bra scene from Katrina Kaif-Sidharth Malhotra's upcoming movie, Baar Baar Dekho. Not only that, the Board also asked that a reference of the porn character Savita Bhabhi in the film be chopped as well. Ex Bigg Boss contestant Priya Malik (seen in Season 9), who has always spoken her mind, retaliated by posting a braless picture of herself on her Instagram account and captioned it: "Because wearing a visible #bra would be indecent. #FreeTheNipple."

The time is right to talk to Priya about her bold move. SpotboyE.com caught up with her on the phone, last night. Excerpts from the conversation that followed:

What made you put out your braless picture on Instagram?
I have always stood up for social issues, especially when it comes to discrimination. I was shocked to learn that the CBFC has decided to chop off a bra scene from Baar Baar Dekho. I was headed for a TV debate on the Baar Baar Dekho scene. I wore a strappy dress and my bra was showing. I said to myself that the Censor Board might object against it, so I took off my bra. So yeah, I went to a national news channel without wearing a bra – something that the CBFC might have considered 'not sanskari'. I wanted to prove a point, sometimes action speaks louder than words. So I even went ahead and posted a pic of mine in that dress on social media – but never expected it to go viral. In fact, it has been recognised by the Free The Nipple Movement, whose premise is 'If a man's nipple is okay, why is a woman's nipple sexualised?' I am vocal on social media and I shall remain so. If we don't speak up about what is right and what is wrong, then why are we here? Honey, you can't stop me, even my sanitary pad has wings. Tomorrow even if I walk naked on the streets, it doesn't give any guy a right to say that I am inviting rape. Teach men not to rape rather than teach women what to wear (pauses).



Image Source: instagram/priyasometimes

Go on...
Incidentally, this was the same day when a temple in Ujjain declared that girls above 8 years will not be allowed inside their premises if they're wearing jeans. Frankly, I fail to understand that how is it fine if a man can do a dance wearing only an underwear and get away with it, but it's a problem if a woman's bra is seen in general public? I myself have been told by men and women if and when the strap of my bra is visible. First of all, one should be glad that I am wearing one. For, we do it by choice and not by law. Please don't tell women what they have to wear, every woman's body is her own business and not yours. The CBFC took a very regressive step in cutting off the bra scene in Baar Baar Dekho. I even thought they were wrong when they made noise against Udta Punjab, which was a film trying to create awareness about the drug problem.

What kind of response have you got on social media?
Overwhelmingly positive, but there has been a share of men who are saying obscene things.

Did your husband have any objection to you going braless?
No, he simply asked me if I would be able to pull it off. And when I replied in the affirmative, he said 'More power to you'.

What was your Dad's reaction?
He posted my braless picture post on his Facebook wall. We are a very progressive family, and I must add that my Dad's gesture came to me as a big compliment.

Do you wish to take this viewpoint of yours further?
Yes, I may organise a silent protest by end of this month.


Image Source: instagram/priyasometimes

What do you think of the present scenario in our country?
Doesn't look like we are in 2016. We are becoming very regressive. Didn't the 1995 release Dilwale Dulhania Le Jayenge have a bra scene? They youth are coming forward, no doubt, but public figures too need to take this up. Doesn't the Censor Board of today not know that women wear bras? We need to change from within.

What's your take on CBFC?
The Censor Board should be called Nonsensical Board. If a porn character is not mentioned in a film, will we become a better society? No, we would become a better society if men and women change the way they think and let the women be. The CBFC should stop being the moral police.

Did you hesitate for a moment before you headed to your TV debate without a bra?
I follow my own gut and instinct. I spoke to my husband about it. He said, "Are you sure that you'll be able to do it?" When I told him 'yes', he simply said, "More to woman power" and asked me to go ahead and do it.


Thumbnail Image Source: instagram/priyasometimes