Shweta Tiwari's Friend Anuradha Sarin Breaks Silence On Abhinav Kohli: 'He Forcefully Tried To Enter Her House In May, We Had To Rush To The Police Station'- EXCLUSIVE
In an exclusive conversation with SpotboyE.com, Shweta Tiwari's close friend, Anuradha Sarin, the grabs of whose chats Abhinav posted on Instagram, has come out to defend Shweta and reveal shocking details about Kohli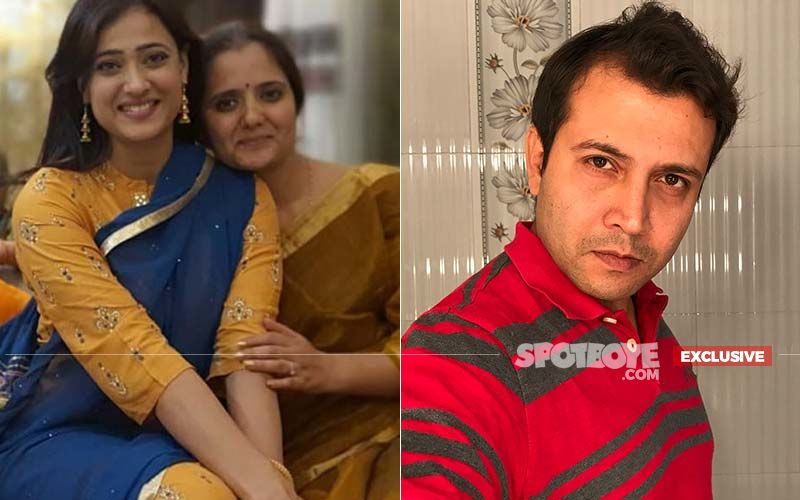 Since June 9, Shweta Tiwari's estranged husband Abhinav Kohli has flooded his Instagram timeline with posts calling himself a victim and also alleged that the actress is not allowing him to meet his son Reyhansh. In a few of his posts, he also posted some incomplete screen grabs of a conversation of Shweta's friend, Anuradha Sarin, with a netizen slamming Kohli.

Though Shweta has kept a silence on the matter until now, we spoke to Anuradha Sarin, who shares a bond with her like a sister. Excerpts from the conversation:
Tell us about the screen grabs of your chat which Abhinav has leaked...
So, Abhinav usually makes fake accounts and starts sending personal messages whenever somebody comments good about him on the posts where he is slamming Shweta. Yesterday, he did something similar with me and messaged me with an account and started a conversation that 'Aapne acche se maari Abhinav ki'. He took a screen grab of our conversation and posted an incomplete grab from the point I am saying, 'morcha sambhal lena' to portray that I am instigating people against him which is not true. And that's why I decided to expose him and share the conversation from starting.
Go on...
There are so many people who have texted and shared his audios with me that this is how he ask them in person to write about Shweta. And he has been playing this dirty game for a month now. Also, he tells them to go and comment on his Instagram so that she comes back to him. Let me also tell you that he has been writing personal messages to Raja as well.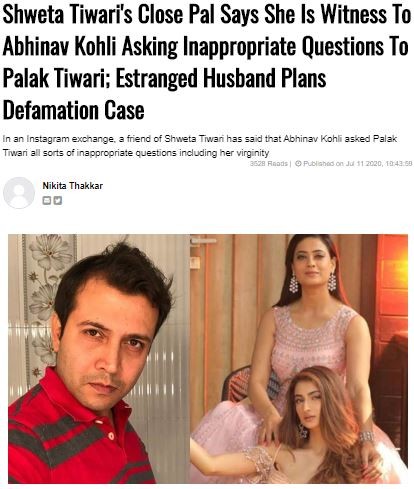 What did he message Raja?
He messaged him- 'Raja, Shweta did wrong with you and today she is doing similar things with me. Main bevkoof tha jo uski baaton mein aa gaya.' He tried his best to provoke him so that he can prove that Shweta was the culprit in both the marriages.
Then what is keeping Shweta quiet on the matter?
Shweta is a private person and doesn't want to discuss it in the media. But I can't stay quiet anymore because this man has crossed all his limits. This man is so disgusting that he has given dhamki to Shweta saying, 'Agar tu media mein jaayegi tera hi naam kharab hoga kyunki teri dusri shaadi hai meri to pehli hi hai. Main prove kar dunga media mein ki tu galat hai' and I guess that's what he is doing now.
He is misusing her leniency. Being stubborn fir kids' well-being is not wrong. Anyone who supports Shweta, he starts doing their media trial also. The way he did for me, yesterday, by commenting on my personal life.
Honestly, I am not being vocal because it's about my friend. I would have taken a stand for any woman who would be through this.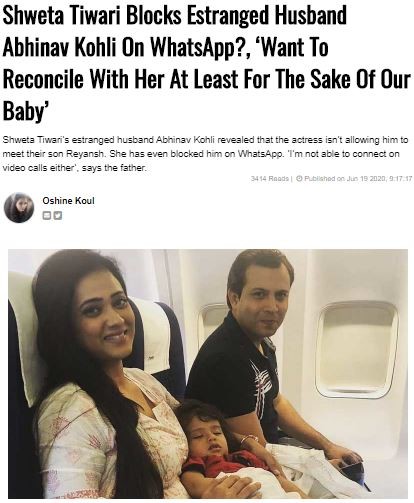 Has Shweta blocked him and stopped him to meet his son?
Shweta has not blocked him and if he is putting all these allegations why can't he just prove it by sharing a grab of it? And about Shweta not allowing him to meet Reyhansh, tell me which mother will allow a person like him to enter her residence when he comes and does big tamasha there. Also, there are messages where Shweta has asked him to speak to Reyhansh on video call. The High court has also passed the judgement that all divorcee partners will have to see their kids on video call till lockdown. So, why is he creating so much negativity?
During the lockdown, in the month of May, he tried to get into her house forcefully, abusing, banging the door not even considering that Shweta's parents are old. Her father is a heart patient, he has got his heart surgery done. We have recorded all his acts. His wrongdoing left no other option for us than running to the police station (Samta Nagar).
What happened there. Did Shweta take a legal step against him?
He is so shameless that even after behaving this cruel he had the guts to tell Shweta in front of me, her brother and police that 'Ghusunga iske chhat ke neeche, iske bed par sounga main'. Shweta has unfortunately faced a lot in her relationships and that's why she wants to deal with things in a different way now. And this man is thinking she has gone weak and will not reply to whatever he says or does.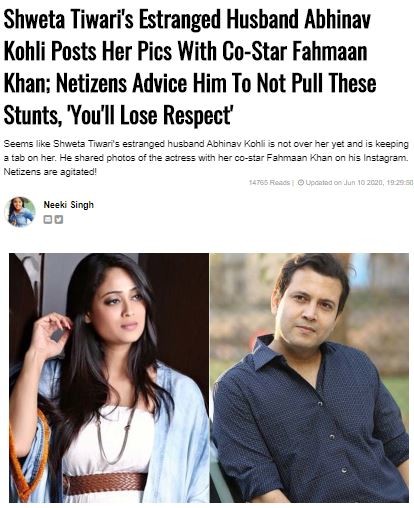 He posted a video of Shweta with her co-star Fahmaan Khan which escalated the matter even more...
So, Shweta's phone was dead due to over usage of sanitiser. And as the lockdown was on, she couldn't buy a new one or get it repaired as everything was closed at that point of time. In fact, we also used to get in touch via Lovu or Auntie's number. So, Fahmaan knew someone who could repair it and hence he had come to collect the phone.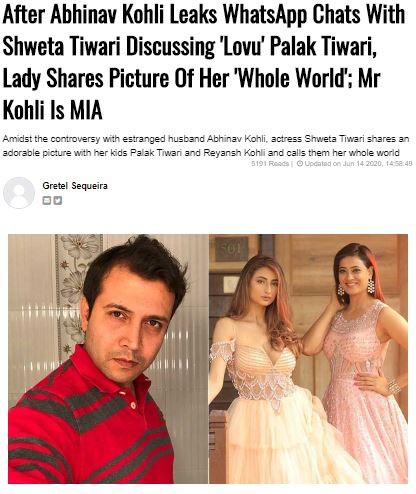 What has been Abhinav's equation with Palak?
He keeps saying that he has brought up Lovu (Palak Tiwari). Let me tell you that it was Aunty (Shweta's Mom) who has done everything. And this man tried every stunt to send Aunty out of that house but she never left Lovu because she was worried for her.



Image Source: instagram/anuraddhasarin/abhinav.kohli024