Tina Datta Lists Issues Staring In India's Face, Lok Sabha 2019 Polls: Unemployment, Rape, Violence, Poor Roads, Corruption
Jaanvi Chaudhary From Daayan is opinionated on the on-going polls. Mumbai goes to polls, tomorrow. We brought youy chats with Sudha Chandran, Divyanka Tripathi, Shubhangi Atre in this regard. Here is Tina Datta unfiltered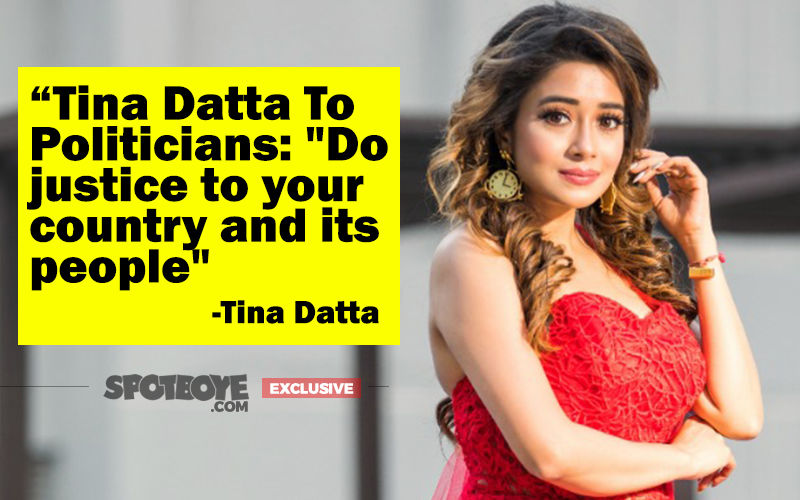 Jaanvi Chaudhary From Daayan is opinionated on the on-going polls. Mumbai goes to polls, tomorrow. We brought you chats with
Sudha Chandran
,
Divyanka Tripathi
,
Shubhangi Atre
in this regard.
Sudha Chandran had told us,
"I want to tell my fans that this is their fundamental right and nobody should lose it. We are electing our people for our benefit and one vote can play a major role. Don't get influenced by anyone. And, please vote wisely and don't waste your vote by selecting NOTA (None Of The Above)."
Shubhangi had insisted,
"Voting is very important, our vote decides our future for the next 5 years. So, I request all my fans to not take it the polling day in their region as a holiday but rather go and cast their vote for the right candidate of their choice."
We now get you
Tina Datta
voicing her mind that what troubles her in our country and whether she plans to vote this time or not.
Are you gonna vote?
Yes.

From?
Kolkata.
Please continue...
Vote for the right person.

If you contested, what changes will you strive for?
Ensure a toilet in every household.
Ensure access to safe and potable drinking water.
Increase the doctor-population ratio.
Achieve the target of doubling farmers' income.
Issues that stare India in the face?
Unemployment, poor roads, no discipline in traffic, corruption, rape, violence.

What you see in a politician before voting for him?
I look at his track record of the work he has done.
Message for the politicians?
Do justice with your country and its people.


Image Source: Instagram/dattaatinaa