Varun Sood: No Matter How Much They Hide, Priyank Sharma And Benafsha Soonawalla Are Lovers
In an exclusive chat, Ace of Space contestant Varun Sood spills the beans on his love for Divya Agarwal, ex-girlfriend Benafsha Soonawalla's affair with Priyank Sharma and much more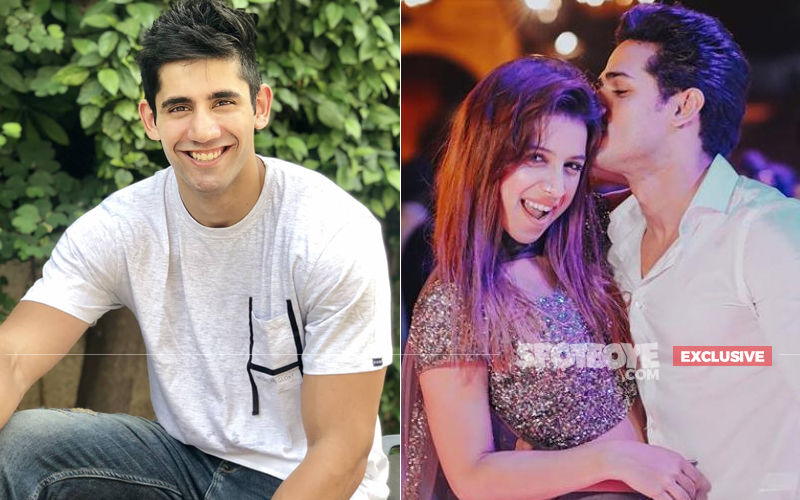 Ace of Space contestant Varun Sood got candid with SpotboyE.com about Divya Agarwal taking the trophy home, and even thanked Chetna Pande to make him realise his love for Divya. He even spilled the beans on ex-girlfriend Benafsha Soonawalla's hidden relationship with Priyank Sharma and of course, the unfortunate incident of Danish Zehen.
Are you upset that you didn't win the trophy?
I feel bad that I didn't win the trophy after reaching at the top but I feel really good that Divya has won the trophy. I remember when we were entering the house, I told Divya no matter who wins between us it will be our victory. She has won and she was a very deserving winner. Because she played the game with her mind and heart. I did goof up many a times in the house and Divya was the one who used to correct me. So I think its a fair win for her and well-deserved.
What goof-up are you referring too?
My fight with Pratik Sehajpal. There were times when I lost my mind at him on the smallest of things. I took some impulsive decisions in games. And I feel all that could have been avoided as I didn't think rationally at the time. And she did correct me ki 'Pratik pe gusse nahi karo. Ye mat karo vo mat karo. Bahar logo ko nahi accha lag raha hai'. I was getting frustrated so she helped me a lot to calm out.
Congratulations! Who do you owe your relationship with Divya?
I owe Divya and my togetherness to Chetna Pande. If she wouldn't have been there I wouldnt't have got this realisation. The thing was when I met Chetna for the first time, I got attracted to her, then we became amazing friends. She understood me really well and I used to share a lot about Divya to her and she realized that it wasn't just friendship between us two. Chetna gave me the confidence to go and tell it to the world that I love her. She understood the whole situation and took it very maturely. And I am glad to have Chetna in my life as she was the main reason for my and Divya's togetherness.
What message do you have for Priyank Sharma and Benafsha Soonawalla?
I feel what Priyank did to her and what Benafsha did to me was wrong but it was all written. But I am glad that due to this Divya and me got to know each other. They don't deserve anymore appreciation from both of us but I will not deny the way they hurt me and Divya, made us realise each other's importance as we turned best of friends and then fell in love.
Have you read the open letter that Priyank posted for Divya and Benafsha came in his support?
I have blocked both of them from almost a year. And I haven't read about what all they have written and I really don't care what they are writing. I am done with them and want to stay away from them.
Benafsha Soonawalla's mother claimed that you and her daughter were never in a love relationship?
So Benafsha Soonawalla's mom wasn't aware about our relationship as she never disclosed it to her. But when Benafsha was in Bigg Boss house she herself revealed that she is dating a guy named Varun Sood. When she came out, she also did a live on Instagram and confessed that 'me and Varun are still together'. So it's funny how people contradict their own statements. But I don't know about that statement which her mom made, that's their family matter if she hasn't disclosed it to her. But yaa, we were into a love relationship.
When did you come to know about Priyank Sharma and Benafsha Soonawalla's affair?
I came to know about it 8 months back. No matter how much they hide, they are together we all know that.
Why did you guys, breakup?
The whole breakup happened because of Priyank Sharma. And I said the reason on the show (Ace Of Space) already.
Is your relationship with Divya for publicity sake or are you equally serious like her?
I knew Divya before this reality show so we are not a reality couple who did it for publicity. Divya is an amazing and caring person which made me fall for her. It is stereotyped that couples on reality shows don't last but there are people like Prince Narula and Yuvika Chaudhary. I think Divya and me will be the second couple who will again prove it to the world that relationships can last forever.
Are you planning to shift to Mumbai to stay closer with her?
Yes I am shifting to Mumbai in next 15 days for my work commitments and of course for her.
What are your next projects?
I am doing a web series with AltBalaji and hosting a few shows for MTV.
Danish Zehen is no more between us...
After shifting with Danish Zehen in the same room I came to know how much he had worked hard to reach here. The love people have given him is insane. The day Vikas Gupta told us that he is no more we all were shocked. After that we kept discussing him and now when we have come out of the house we realised that he has made us feel what the true meaning of going away is. Also, that there is no place for the hatred it's all about the love. And I will always love him.
Image Source:- Instagram/varunsood, Instagram/priyanksharma, Instagram/benafshasonawalla