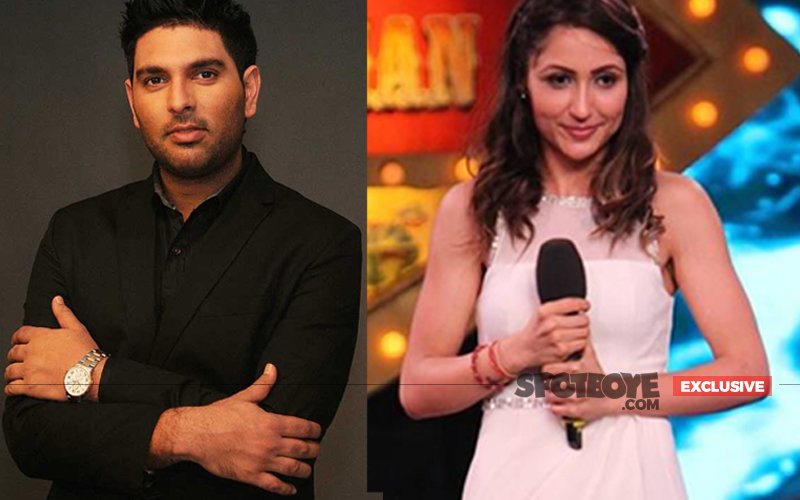 Your browser does not support the video tag.
So, here's the Dirty Story where a lady has thrown all caution to the winds. She is none other than the w/o Zoravar Singh- brother of famous cricketer Yuvraj Singh.

With a calm and composed mind, Akanksha Sharma performed various tasks and mostly remained unaffected by the atmosphere in the Bigg Boss 10 house. However, she was jolted when she faced eviction orders over the Diwali weekend. Meanwhile, a lot of loose talk had emanated about her in the world outside.

She has been complaining that she had a traumatic, sexless marriage with Yuvraj's brother Zoravar (the couple married on February 27, 2014) and are now fighting a battle for divorce. The divorce is said to have been filed on grounds of 'non-consummation of marriage'.

SpotboyE.com spoke to Akanksha at length to get her side of the story in detail:

You have been wanting to work in films and television. How has it been going?
I have been wanting to make it on my own after I ended my marriage with Zoravar. I have been going through every possible audition in Mumbai, but you know how the industry works. Either you compromise to grab your part, or some aspirants have already been booked.
Image Source: colors


You mean 'casting couch' is not your cup of tea?
I refused all offers which were based on 'casting couch'. If I have talent, I will get work. If not, it's not my scene. Fair na? But I was in advanced talks for a film which I let go because I got Bigg Boss in the meantime.

Now that you have been evicted in just 2 weeks, do you regret having turned down the film in question?
No, TV gave me much more than I imagined. The film wouldn't have garnered as much viewership as Bigg Boss.
Image Source: ravepad

Has Bigg Boss lived up to its standard this season? It slipped very badly last time out...
I think it has met with a setback of sorts as far as this season is concerned. Let me explain. These commoners you see on the show are not the same in real life. Their take on life is different. They are actually a bunch of very talented people. Their antics on screen are just meant to garner eyeballs.
Image Source: colors


Were you shocked when you were asked to leave?
I could not portray myself as I wanted. I was seeing issues in the house which I was not able to relate to, and hence could not react (pauses)> Meanwhile people outside were saying that I was addicted to drugs.
As long as I am not harming anybody's life and not addicted to it, what's the brouhaha about?
Image Source: colors


You said that your marriage with Zoravar did not consummate...
Yes, it did not. If it had, maybe I would have had a child and since I was being constantly nagged by my mother-in-law (Shabnam) to consummate my marriage , main toh phas jati na? I am not out to defame her, what she did in her personal time is her life; I respect a woman's choices.

It is difficult to understand that you were with him for 4 months and yet you'll never had sex...
Zoravar and I did not connect on any level- neither mentally nor physically. Wherever we went out, my mother-in-law tagged along. Suddenly she would say 'Haath pakdo, Kiss karo. Kya aisa hota hai kya?' These things are supposed to happen naturally.
My husband and I hardly spoke to each other, though I tried to coax him into sharing his problems if any with me. However, he would simply go to his mother and tell her everything that I was talking to him.
Image Source: colors


I still don't get it. Sex eventually happens in the bedroom even if it is an arranged marriage of two people who didn't know each other at all before marriage...

There has to be some comfort level and connect between a man and woman. He had to make me feel like a woman isn't it? He has to make me feel loved. I couldn't go and pounce on him and say 'Let's have sex'. He was supposed to be the man I should have fallen back on but...
Image Source: colors


Go on...

We slept on the same bed and kept pillows between us. And he used to snore very badly. So often, we ended up sleeping on different floors.
So he never made the first move...
That's right. It was so uncomfortable. I think I would be more comfortable in a friend's presence than Zoravar's. There has to be some attraction between two people which leads them to have sex. Zoravar could never man up to it. Meanwhile, my mother-in-law was forcing me to have sex with Zoravar. Sex is not a chore. Sex is not a responsibility. We are not living in medieval ages where sex is a compulsory product of marriage. What's the difference between prostitution and having sex against your wishes? I decided to leave the house after 4 months.
Image Source: colors


Did your parents understand your plight?

Not immediately. I explained to them that 'Main insaan hoon aur mujhe jeene ka haq hai'. But they wanted me to adjust. They did not support me initially. It was only due to the support of my brother that I could pack my bags and go back home.
Image Source: satics

Who filed for divorce?
My husband, but obviously under his mother's orders. Even my brother is a mama's boy but he has a mind of own.

Did Yuvraj intervene and try to save your marriage?

He has his own life and he is taking care of the entire family. I wouldn't run after him to plead that he should save my marriage.
Image Source: colors


Did he speak to you about it?
Yes he did, he once told me that he knows that his mother could get on my case and I should bear it a bit. But obviously he did not know the extent to which I was being harassed by her.
If I was listening to some songs and going for a bath a little late, she had a problem- itna that she used to call up my mother and complain about it.
If she went out of the house, servants spied on me and told me what to do and what to not do. They even took away my mobile. She even had problems with my WhatsApp DPs, imagine!
A 26-year old man goes out with his 23-year old wife to a party and his mother accompanies to drop them and even bring them back.
The man wants to play PS4 with his driver in his spare time and even wants to sit with the driver in the front. How will intimacy develop between him and his wife?
Image Source: colors


Did Zoravar not get frustrated when he had no sex in marriage?

Okay, let me tell you how his brain works. Once, we went out for coffee and he instructed me to not take any purse/money. We stopped at a petrol pump and he got the car fueled for Rs 1,000. We reached the cafe and there was a valet parking there. He turned around and said: Do you have some money? I said 'Noooooo'. Did you understand? He had come out of the house with Rs 1,000 and spent the entire 1,000 at the petrol pump! Honestly he is a very nice person and I don't want to say anything ill about him, but I hope you understand his thought process.
Image Source: colors


More about Yuvraj?
Yuvraj is a wonderful person. He is not a caretaker for sure, but he tells his brother jo chahiye woh dunga.
Image Source: ENT

Your mother-in-law's equation with her ex-husband (Yuvraj's father Yograj Singh)?
She has a very bad equation with him. When Yograj was said to be having cancer, she said, 'Achcha hua'. Who wishes like that for anybody especially when one's own son has been through that?

Thumbnail Image Source: masha & Colors