Alien Spotted In New Zealand? Woman Finds Strange Creatures With Worm-like Tentacles On Papamoa Beach-SEE PICS!
Kyley Morman shared the video of her bizarre discovery on Instagram and it immediately gained traction on social media, sparking a debate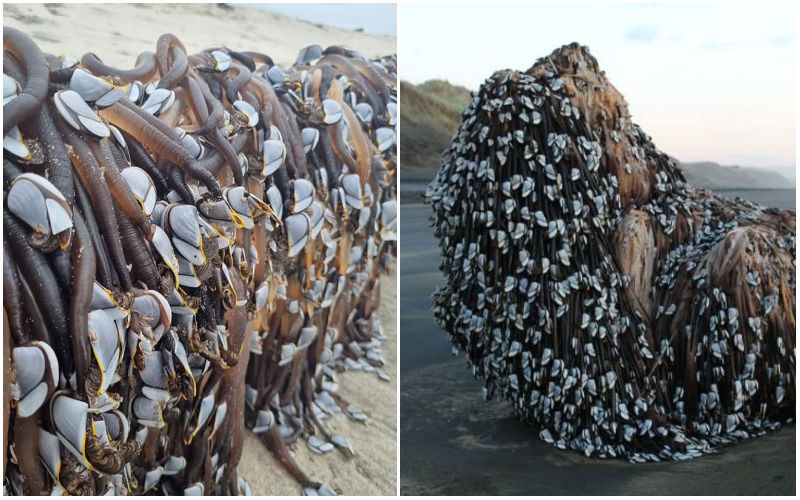 The universe is full of surprises! Much of the universe is quite a mystery to humans and we have been trying to unravel its secrets for a long time now. While planets and space objects have often piqued human interest, aliens have always topped the list when it comes to finding another life in the universe.

As per the latest reports, a woman in New Zealand's North Island spotted a bizarre 'alien' long that was covered with unusual sea creatures. The woman was identified as Kyley Morman and she made the bizarre discovery while she was on her morning walk on May 7 at Papamoa Beach on the Bay of Plenty.

Speaking to the New Zealand-based outlet, Stuff, the woman said that it was both amazing and gross at the same time. "It had worm-like tentacles and living creatures in the shells," said Ms Morman.
The unusual object was 5-metres long and entirely covered with dreadlock-like creatures.
Several other locals, like Anita Bethune, who spoke to Stuff, also said they were intrigued by the "alien-like appearance" and sought to know what it was.
A New York Post quoted experts noted that the users were right in identifying the strange creature. "Probably Lepas anatifera," Wilma Blom, marine invertebrate curator at Auckland Museum, told the outlet.
For those unaware, the alien-like creature is a species of barnacle in the family Lepadidae.
"They are eaten, particularly by Mediterranean cultures. However, I have never eaten them myself," Wilma Blom further said.
A Department of Conversation spokesperson told Stuff they were reasonably common around New Zealand. Fox Weather said each log appendage is a separate animal. The fleshy stalk or peduncle grows between 1.5 and 30 inches long and attaches to floating debris.
At the end of the stalk is the capitulum, which is the body covered by shell plates, as per Texas Parks and Wildlife Department.
Image Source: Instagram