British Athlete Flaunts Her Period Stain In New IG Pic From European Open Triathlon! Internet Applauds Her As 'Strong Role-model': 'Women Are Awesome!'
Emma Pallant-Browne shared a picture from the European Open triathlon of the Professional Triathletes Organisation (PTO) which was held on May 19 in Ibiza, Spain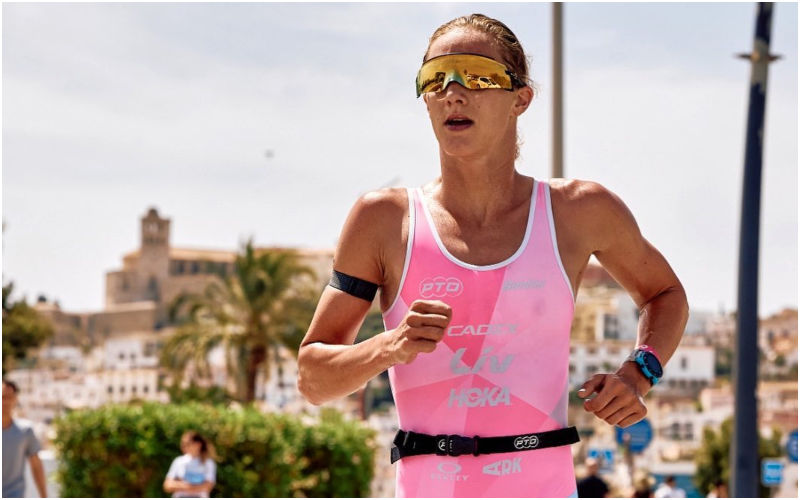 Some might opine that period stains are disgusting, however, a section of women have embraced it as a natural process and argued that they are no more disgusted by it. Well, the crusade to bring social change and get rid of the conservative thought process has seen yet another major contribution from athlete Emma Pallant-Browne. Her Instagram post is proof that women can no longer stop themselves from doing things just because of their periods.

The professional athlete participated in the European Open triathlon of the Professional Triathletes Organisation (PTO) on May 19 in Ibiza, Spain, and things did not seem to be in her favour as the event just so happened to be her period day.
Emma put up a brave face as she ran the marathon at the time of her monthly cycle and she even faced severe backlash for her viral photos which featured period-blood stains on her outfit.
She also spoke about the challenges of having a period while participating in sports. The 34-year-old also thanked people who celebrated women in sports in her elaborate post on Instagram.
Emma took the world by surprise as she posted a picture of herself from the recently held marathon which saw her running despite the blood stain. Her caption read:
"Celebrating the amazing women in sport and the equally amazing men who champion them. ❤️❤️ Humbled by the amount of messages I've had from both men and women (I am going to give menstrual cups another go) about the unglamorous reality of racing on your period. 💪 This is true female sport and the more barriers we can break through the better. For context (and hopefully this answers many questions) : I raced in a swimsuit because I over heat and pass out in hot races, on my period my body temp is also higher. I have a full length suit for the cooler races in dark colours but the light colours we were experimenting with for the cooling effect. It is dark at the bottom and at the back but my bike position has changed and now I roll more forward (lesson learnt for next years suit design). A lot of the photos you can't see anything, pouring water over yourself at aid stations does the trick and if it doesn't you end up with one photo like this but the idea to edit it means there is something wrong with it. If you wrote to me saying 99% of the women you know would be mortified at this then that is exactly why I am sharing this, because there really is nothing wrong. Its natural and coming from eating issues as an endurance runner when I was growing up where I didn't have my period, I now see it as beautiful. So if you have a photo like this, save it, cherish it, remember how you performed on a tough day because one day you might just be able to help someone else with it ❤️❤️ (sic)."
Emma Pallant Brown's post instantly went viral and users applauded the athlete for her bravery and thought-provoking attempt to bring in social change and accept 'period' as a natural process of a woman's body.
One of the users wrote, "Love this! I love having a period as it represents what we as women are capable of. 🙌🏼 And it's a sign that our bodies are strong and fully functioning!!(sic)." Another user wrote, "Women are awesome! The extra stuff you all have to deal with in life proves how badass all of you are. And honestly if I didn't read your caption I would've never noticed. As men we are oblivious to what y'all truly go through. I have 2 young girls and having strong role models like yourself, and many others, pave the way for their generation (sic)."
While menstruation is known to be a normal and biological process often faced by all women and girls, it continues to be used as a target for discrimination and humiliation. The onset of menstruation is called menarche and it can undermine girls' human rights.
Poverty and humanitarian crises can limit women's and girls' access to culturally appropriate, high-quality menstrual supplies and safe, private washing facilities, reports United Nations Population Fund.