BTS' V AKA Kim Tae-Hyung Dresses Like A Squid Game Guard, Hurts His Knee Doing A 'COOL' Gesture
BTS' V was seen wearing an entire red tracksuit and a black mask on his face at the SoFi stadium.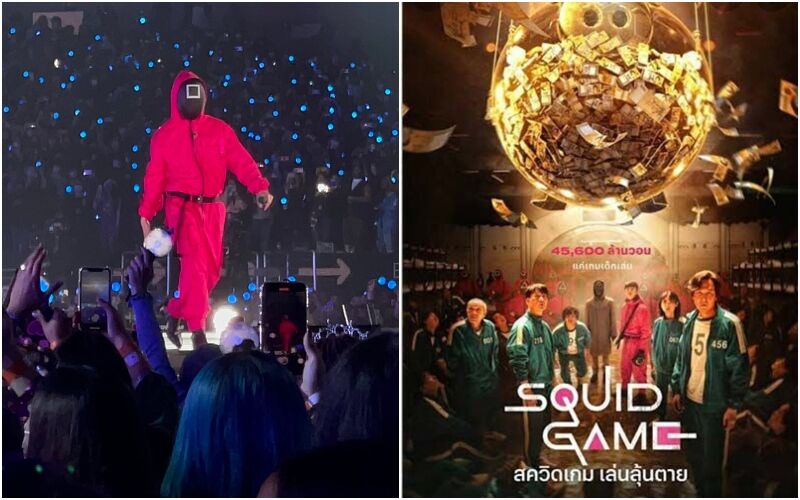 The Squid Game trend is far from over and it seems even BTS love the popular Korean Show.

As the K-pop boys perform their superhit songs at the Permission To Dance On Stage concert in Los Angeles, group member V aka Kim Tae-Hyung was spotted dressed like a Squid Game guard.
In the concert, V left fans stunned as he wore an entire red tracksuit and black mask on his face. Many wondered if Squid Game is also BTS' favourite as well and this has sparked discussions amongst ARMY members. They took to Twitter and appreciated the costume by V and mentioned that he looks cutest.
During the concert, fans even saw V exhibiting his cool style as he tried to swirl his mic. Unfortunately, the mic fell down from his hand and ended up hurting his knee.
Well, it seems the singer needs to work on stage gestures. In addition, the video of the incident is now going viral on social media.
Previously, during day 2 of the mega show, Jin turned into a Squid Game doll. Not just this, but BTS members were also seen playing the game of red light, green light with the ARMY.

This is the third day of BTS' Permission To Dance On Stage concert at the SoFi stadium in Los Angeles. The earlier two shows were also held at the same venue on November 27 and November 28.
During these concerts, the septet performed several of their super hit songs including Butter, Dynamite and Fake Love among others. The last show will be held tomorrow i.e on December 2.
For the uninitiated, Squid Game is a nine-part survival thriller set in modern-day Seoul, where 450-odd contestants play simple children's games to win a jackpot amount or die trying. While the ones clearing the games move forward, those who fail to complete the tasks die.
Korean drama Squid Game is on its way to becoming the most popular show on Netflix. The series has piqued the audiences' interest across the globe as they seem to be intrigued over the gruesome and gory story.
Image Source: Twitter/jiminsproducer/EDHA_INFINITE