Cardi B Gets Revenge As Concertgoer For Throws Drink At Her! Rapper Hurls Microphone At Fan During Performance
Cardi B's viral video has ultimately triggered conversations over the emerging practice of fans throwing things at their favourite performers while they perform on stage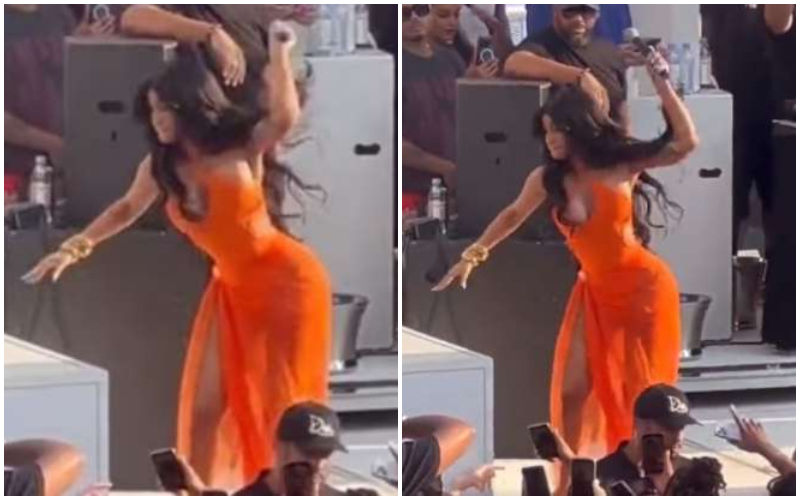 Cardi B has seemingly schooled the concertgoers who have repeatedly troubled artists by throwing things. Now, in a rather surprising turn of events, a video of Cardi B hitting a concertgoer with her microphone has gone viral. The viral video has ultimately triggered conversations over the emerging practice of fans throwing things at their favourite performers while they perform on stage.

Cardi B has a drink thrown at her onstage. She throws her🎤

2 things:

1. Cardi B encourages degeneracy, criminality & trash behavior. Don't be shocked when your "fans" behave the way you tell them to

2. The song didn't stop. Y'all listening to an iPad

https://t.co/NWjhf76ZK5

— Benny Johnson (@bennyjohnson) July 30, 2023
The incident occurred while Cardi B was performing briefly at Drai's Beach Club in Las Vegas over the weekend. A concertgoer tossed his drink at Cardi B in the middle of a rap rapper's performance, angering her.
In an attempt to get back the concertgoer's attention, Cardi B tossed her microphone at the unaware concertgoer without any hesitation. This event didn't stop her from finishing her act.
The incident went viral in no time and fans rallied to the cause of their favourite performer.
One user wrote, "She did what needed to be done! People need to stop throwing stuff at performers!" Another USER TWEETED, "This trend of attending female artists' sets just to attack them is disgusting and I hope everyone participating gets that energy BACK".
This isn't the first time Cardi B has used her microphone to give a cutting response to rude fans. During Wireless Festival in 2022, Cardi B reportedly hit a fan with a microphone multiple times.
Image Source: Instagram