DISGUSTING! Argentinian TV Host Santiago Cuneo Celebrates Queen Elizabeth II Death; Sparks Outrage For Insulting Her Majesty-REPORTS
Argentinian TV host and journalist Santiago Cuneo had a rather strange reaction to the death of Queen Elizabeth II and he appeared to celebrate her death in a clip that has since gone viral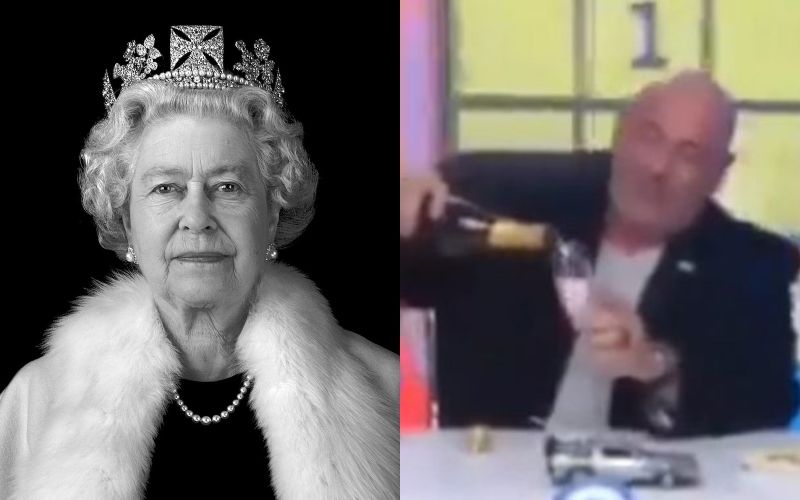 The Argentinian TV host has sparked outrage after he was seen celebrating the death of Queen Elizabeth II and welcomed her stirring demise by popping open a bottle of champagne!

The sad and unfortunate death of the world's longest-living monarch - Queen Elizabeth II sent tremors across the globe, however, it seems not everyone was saddened by her demise. The unfortunate demise was announced earlier this evening, with a statement from Buckingham Palace reading: 'The Queen died peacefully at Balmoral this afternoon, reported Metro.
'The King and The Queen Consort will remain at Balmoral this evening and will return to London tomorrow.'
Amid the saddening news, celebrities and politicians across the world have paid the late Queen a tribute as the nation mourns. However, journalist Santiago Cuneo had a rather strange reaction to the sad news and he appeared to celebrate the death of the Queen in a clip that has since gone viral.
The video featured him calling her an 'old woman' before toasting her death. Elsewhere, Cuneo said: "The right person has died," and "The old woman finally went to hell," quoted as saying by Metro.
I am Argentinian and this guy doesn't represent me. We are sorry for this loss

— Guille--VR|46 11JR (@GuillermoVule) September 8, 2022
Along with a picture of a Champagne bottle he also shared on Twitter, translated from Spanish: "The old bag of s**t died!!!! Immense and eternal joy!!!"
The viral video clip has spared outrage and disgust across social media as one user wrote, "A disgrace, what a lack of respect! He may not like the monarchy but he could respect a deceased person. Apparently you have to be rude to gain an audience, what a sad world. If this man was a little smarter he would know that the queen has no political power."
Really? Are you going to take seriously a guy that has a toy car on his table?

— Art🌐🇺🇦🇹🇼🟩♻🔄 (@art5790) September 9, 2022
Someone else wrote: "What a horrible thing… how much bad taste."
Cuneo is a politician and businessman as well as a journalist, and he was popularly known for hosting Uno Mas Uno Tres, which was broadcast from 2013 to 2018.
In the video, which has since been taken offline, he calls her an 'old woman', before toasting her death.
Meanwhile, several heartfelt and emotional tributes have been paid to Queen Elizabeth, with Paddington Bear tweeting: 'Thank you Ma'am, for everything.'
Fans were incredibly moved by the post, with many being brought to tears.
"Oh god, that's the one that did it," replied one fan, while another echoed the same sentiment by posting: "I hadn't cried until just now. I suspect I'm not alone. Along with the rest of the nation, I am deeply saddened to hear the news of Her Majesty Queen Elizabeth's passing," he wrote.
Image Source: Instagram/queenelizabeth