Drake Pays Tribute To Sidhu Moose Wala: Launches Merch T-Shirt With Late Singer's Face Embossed On It, Here How And Where To Buy
Drake announced that he'll be launching the merchandise T-Shirt with Sidhu Moose Wala's face embossed on them and mentioned that pre-booking has already begun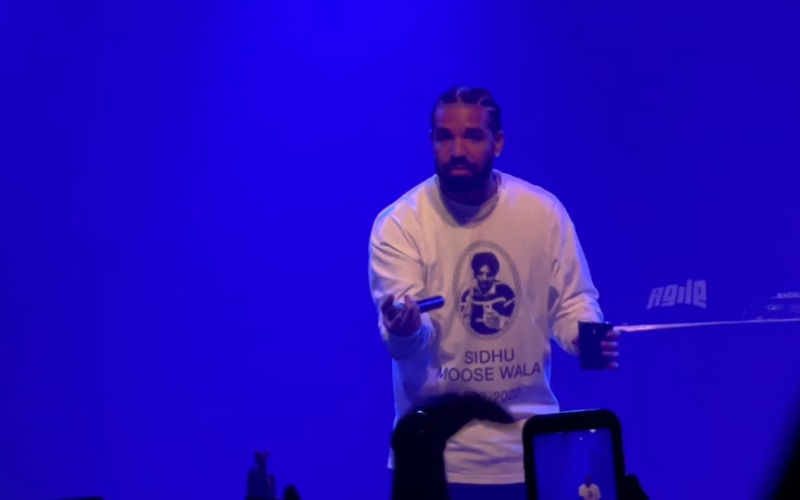 Drake is an award-winning international rapper and singer who is loved by everyone across the globe. He has ruled hearts for his hip hop and pop music. He shared a special bond with the late singer and rapper Sidhu Moose Wala. In a recent video shared by Drake, he mentioned that he'll soon be bringing the customized T-shirt with Sidhu Moose Wala's print on it.
Yes, you read right, Drake who has immense respect for Sidhu Moose Wala will be producing T-Shirts with the late singer's face embossed on them. He made this announcement on his Instagram handle in a video form. The video starts with the Candian rapper wearing the T-Shirt with Sidhu's face on it and some clippings of Moose Wala in his zone singing and dancing and ends with 'REST IN PEACE TO OUR FRIEND, Sidhu Moose Wala (1993-2022)'. The song East Side Flow played in the background of the video.
What a tribute!
Meanwhile, the proceeds from the sale of these T-shirts will go to the late Punjabi singer's family who can decide where to donate the funds. As per the reports, pre-booking of the T-shirts has already begun on Drake's official website. The T-shirt is priced at 65 USD which converts to around Rs 5,000.
Interestingly, last week Drake adorned the same tee while performing at a concert in Toronto. He said, "I'm here tonight, grateful, just as a kid who grew up wide-eyed. I'm a fan; I'm one of you tonight. I'm grateful to be from the greatest city in the world". This gesture has won fans' hearts.
Earlier, at the time of Sidhu Moose Wala's death, Drake had also expressed grief on social media by posting the story in his honour.
Image Source: Youtube