Ex-pornstar Mia Khalifa Seduces Fans As She Tears Open Condom In The Sexiest Way Possible! Netizens Say 'Do You Want To Spend A Night?'
Mia Khalifa uploads a video of herself tearing a Durex wrapper with her teeth and fans couldn't think of a better place to be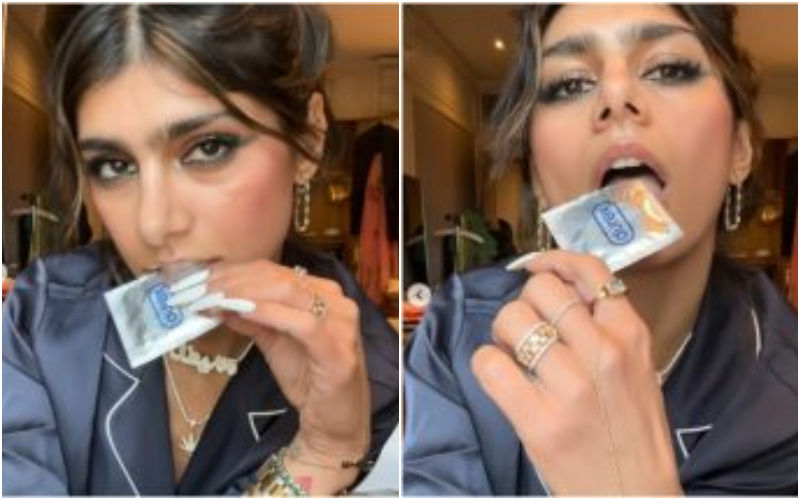 Mia Khalifa needs no introduction! The former pornstar has never shied away from discussions around sexual relations and exploring sexuality. The adult film star has now set Instagram ablaze with a recent post which featured her opening a condom with her teeth.

Later, she also uploaded a video of herself tearing a Durex wrapper with her teeth and fans couldn't think of a better place to be.
Mia took to her Instagram handle and shared a picture of herself in front of a mountain of condoms and a video that saw men begging for her to 'message' them. Her caption read, "Mia Khalifa surrounded by 200,000 prophylactics sounds like a punchline, but I assure you it's fashion. Pure genius is being pushed out at Glenn Martents' Diesel. I'm so honoured to have seen this collection in the flesh" Thank you so much for having me!"
Documenting the fashion show on her Instagram story, she even posted a video at the end which would instantly catch everyone's attention.
It comes as Mia showed her attire off in front of a red-lit stack of condoms, posting the image to her story. Mia, who was spotted in front of the contraceptive mountain, captioned the image with the Lil Wayne lyrics: "safe secx is great secx so you better wear that latex cause you don't want that late text that 'oh I think I'm late' text," DailyStar reported.
Image Source: Instagram