Former Boxer Abid Khan Expresses Gratitude Towards Farhan Akhtar, Vijender Singh, Manoj Kumar As He Fulfills His Dream Of Coaching Children
A video of former boxer Abid Khan, who worked as an auto driver, went viral a few days ago. Now, as Abid has returned to coaching children, he thanked Farhan Akhtar, Vijender Singh, Manoj Kumar for their support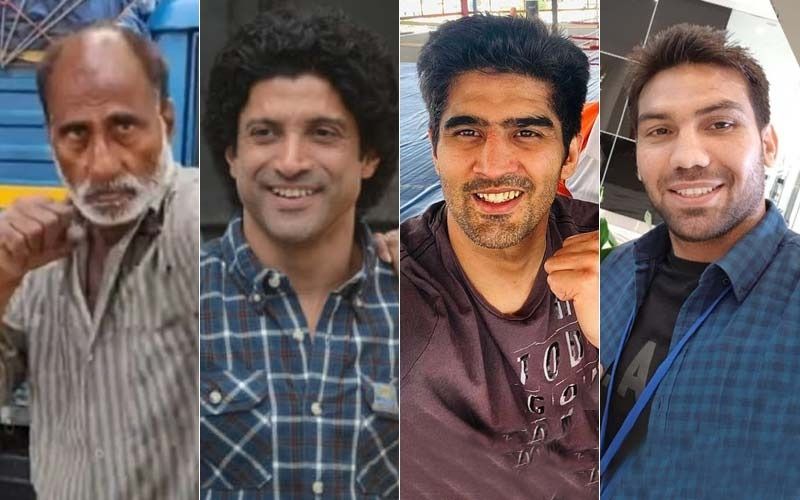 The story of Abid Khan, an alumnus of the National Institute of Sports (NIS), who now worked as an auto driver and loader at the Chandigarh grain market caught the nation's eye. From being an accomplished National level boxer and a qualified coach, to ending up as a daily wage worker, Abid's life story was a telling tale of the tragic situation of sportsmen in India. It was the lack of money and resources that didn't allow Abid to continue with his passion. Speaking about which, he had earlier expressed, "All these years made me believe that in this country, poor sports-persons only suffer. Boxing is for the poor and middle class, only the rich can play sports like tennis, badminton and cricket."
But destiny took a turn after a video of Abid's life struggles went online. Everyone took notice of this man who had to give up his dreams given the financial restraints. Well wishers like Farhan came forward to help Abid and put him back in the boxing ring, as a coach. Watching the video, Bollywood actor/director/producer, Farhan Akhtar too was moved by Abid's plight and he tweeted, "This is heartbreaking yet so inspiring to see how humbly this sportsperson has coped with unfulfilled ambition. Can you please share his contact details? @duggal_saurabh" Many others like boxers Vijender Singh and Manoj Kumar too came forward to help Abid.
People came forward to resurrect Abid's life. Backed by this mass support, Abid decided to pass on his knowledge to underprivileged children. He started coaching youngsters at the park near his rehabilitation colony flat in Dhanas, Chandigarh. Shared Abid, who is finally fulfilling his long lost dream of coaching children, "It's good to know that people like Farhan Akhtar, Vijender and Manoj have come to support me. I've always wanted to do this but never got the support and resources required. As of now, I'm happy that people have started recognising me. Farhan, Vijender and Manoj spoke to me saying that they would love to see boxing champions coming out of his coaching."
Thanks to social media, another similar story of a distressed homeless family had emerged online earlier and Farhan Akhtar had rushed to its rescue. Farhan helped a pujari's family in Varanasi by building them a home. This generous and kind act of Farhan came to light when Divyanshu Upadhyay, secretary of the NGO, Hope Welfare Trust, tweeted thanking Farhan for his noble deed. He wrote, "Thank you @FarOutAkhtar sir for listening to our appeal for a homeless Shiv Mandir Pujari and taking full responsibility to build his home. We are amazed to see your dedication past many months for regular updates of construction. The family won't sleep outside in cold anymore." Thanks to stories like these and people like Farhan Akhtar who help us restore our faith in humanity and know that there are some noble Samaritans who will help others in fighting life battles, and making their journeys easier.
जब ज़िंदगी में जीने का जज़्बा हों तों रास्ते बन भी जाते है और सहायता भी हो जाती है बस आगे बढ़ने की इच्छा हों, भाई @duggal_saurabh को भी आभार जिसने इनके जज़्बे को एक नई दिशा दिलाने में महत्वपूर्ण भूमिका दिखायी, अगर आप नहीं इनकी पहचान करवाते तों इनका सपना कभी पूरा नहीं होता। जयहिंद https://t.co/8gfhxR1NSP

— Manoj Kumar 🇮🇳 (@BoxerManojkr) April 16, 2021
Image Source: SpotboyE Archive, Instagram/Vijender Singh/Manoj Kumar, Twitter/duggal_saurabh