OMG! Julia Fox Went Grocery Shopping In Her Barely-there Underwears, Explains Her Avant-garde Daywear-SEE PICS!
Julia Fox took the streets dressed in barely-there looks, making herself impossible to copy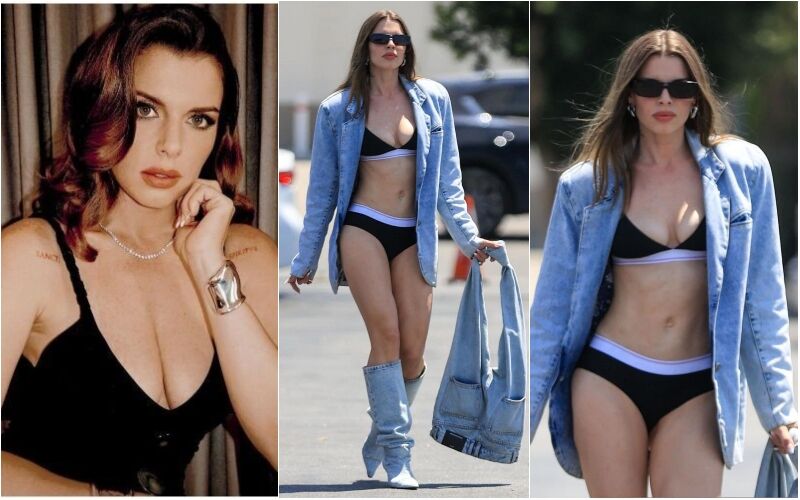 Julia Fox is yet again decorating the headlines after the conclusion of her roaring romance with rapper Kanye West. Previously, the former couple often grabbed eyeballs with their stylish appearance at multiple celebrity events and romantic outings. However, the Uncut Gems actress seems to be enjoying her single life and she made a rather daring appearance to the general store.

The 32-year-old actress took the streets dressed in barely-there looks, making herself impossible to copy.
Kanye West's former beau went grocery shopping in Hollywood clad only in a matching bra and underwear set, denim jacket and a purse constructed from a pair of jeans, all by scandal-hit designer Alexander Wang.
She completed the risqué look by wearing a denim jacket, denim knee-high boots and a denim bag, reported E! Online.
Well, it seems Julia has lost her touch with fashion sense, considering Kanye West is no longer available to help give her a stylish makeover. But, there's no denying, the 32-year-old actress exuded unshakeable confidence in her bohemian yet neoteric fashion sense.
As reported earlier, Kanye seemingly shared crucial fashion tips with the actress. Several fashion experts believed that Julia's dressing style seemed to be transforming and from the looks of it, West was taking all the responsibility for her fashion choices, just as he previously did with his estranged wife, Kim Kardashian.
The actress' steaming outfit garnered mixed reactions on Twitter as one fan tweeted, "Oh sure, when Julia Fox goes grocery shopping in her underwear, she's a fashion icon. But when I do it, I'm 'no longer welcome in Whole Foods,'" while another wrote, "julia fox is hot and all but that is unsuitable to be going grocery shopping in."
Shortly after her outing, several pictures and videos of the actress sporting the avant-garde daywear went viral on social media. Later, the actress explained her attire on her Instagram Stories, writing, "I just think that if it's socially acceptable at the beach it should be the am everywhere lol."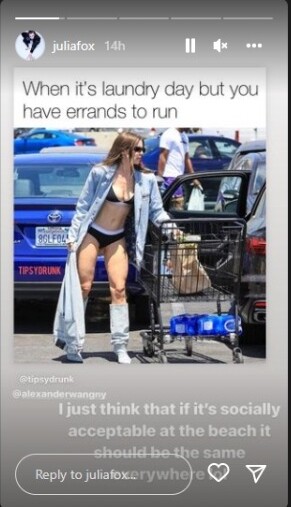 This isn't the first time that Julia has raised eyebrows on her casual outings. Lately, she has been on a hot streak, and the actress was recently spotted in a white Hanes tank top fashioned into a top and miniskirt, gothic black thigh-high boots and perilously tailored bandeau tops.
Image Source: Instagram/juliafoxstyle