Kareena Kapoor Khan IGNORED Fans On Flight: Claims Infosys Co-founder Narayana Murthy! Internet Reacts 'That's Why Nobody Will Remember Her'
Narayana Murthy recalled the incident and claimed that he did not appreciate Kareena Kapoor Khan's behaviour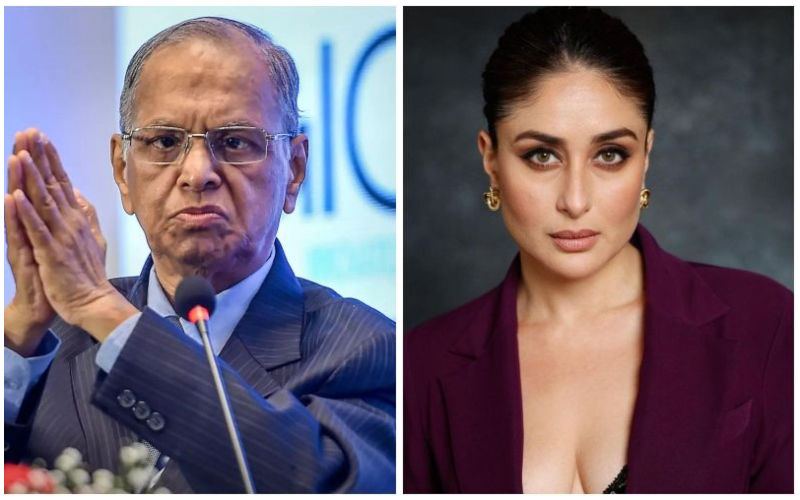 An old video from earlier this year, featuring Infosys co-founder Narayana Murthy has gone viral and it has sparked discussion amongst the netizens. The newly resurfaced video shows the Infosys co-founder criticising actor Kareena Kapoor Khan for ignoring her fans during a flight.

During an interaction at IIT Kanpur earlier this year, Narayana recalled the incident and claimed that he did not appreciate Kareena's behaviour. Now, a slew of social media users reacted to Narayana Murth's remarks about Kareena and some even claimed that his remarks are justified.
In the video that has been doing rounds on the internet, Narayana Murthy shared, "The other day I was coming from London, and next to me was Kareena Kapoor, sitting in her seat. So many people came to her and said hello. She didn't even bother to react. I was a little bit surprised. Whoever came to me, I stood up, and we discussed for a minute or half a minute – that's all they were expecting."
On the contrary, Sudha Murthy, Chairperson of the Infosys Foundation, rushed to Kareena's defence while her husband criticised her. She said, "She has a million admirers. She must have been tired... Murthy, a founder, a software person, will have maybe 10,000 (fans), but a film actor will get a million."
Narayana Murthy then said, "That is not the issue. The issue is that when somebody shows affection, you can also show it back, in however cryptic manner you can. I think that is very important. These are all ways to reduce your ego, that's all."
Many praised Narayana for his remarks, and one Instagram user said, "That's why nobody will even remember who Kareena is just after her glamour is gone. On the other hand, people are and people will remember you even after hundred years from now."
A person also said, "Just proves that education and upbringing and family background play a major role." One more said, "First time I agree with Narayan Murthy and disagree with Sudha Murthy." Another person said, "He said it and Sudha Murthy tried to be diplomatic here."
Interestingly, one user recalled her experience of meeting Kareena and shared, "She used to be my favourite actress until 10 years ago. We were on the same flight. All I said was 'hello' all excitedly, and she called the crew and made it look like I was harassing her. I had not even asked for a picture. I have never felt so humiliated. I have never seen anyone turn ugly that fast in my head."
Kareena Kapoor Khan is married to actor Saif Ali Khan.
On the professional front, Kareena Kapoor has worked in films such as 3 Idiots, Bajrangi Bhaijaan, Jab We Met and Talaash: The Answer Lies Within.
Kareena's upcoming projects include The Crew with Tabu and Kriti Sanon, as well as Sujoy Ghosh's The Devotion of Suspect X and Hansal Mehta's The Buckingham Murders.
Image Source: Instagram