Kim Kardashian Accused Of Photoshopping Pete Davidson's Nose And Jawline; Enraged Fans Joke: 'He Got New Lips Too!'
Kim Kardashian has seemingly landed herself under public scrutiny for photoshopping her boyfriend's pictures on social media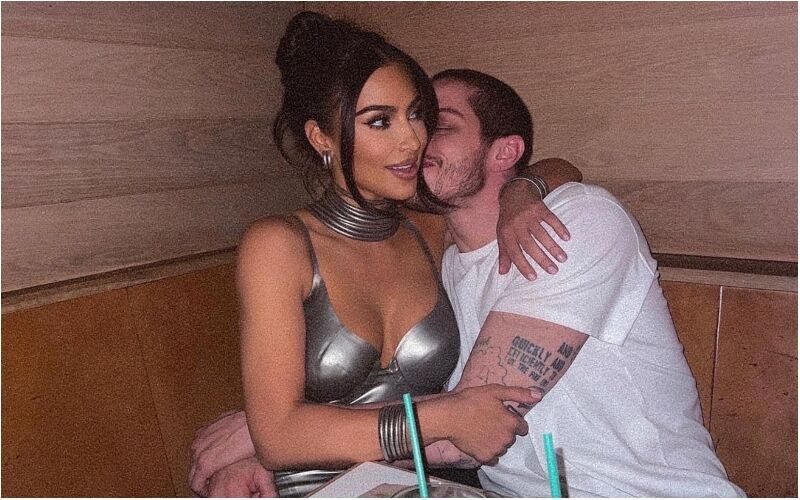 Kim Kardashian's photoshop shenanigans do not seem to end anytime soon and fans are often enraged with the reality star trying to fix everything just by editing. While her pictures with boyfriend Pete Davidson have caused a storm - after Kim shared their PDA moments on Instagram - many are questioning the authenticity of these pictures.

However, this time Kim seems to have landed herself under public scrutiny for photoshopping her boyfriend's pictures on social media.
Well he has been with the Kardashians for a minute so it's possible he had a little work done. 😂😂😂😂

— Sandy (@Sandy_GKB) April 14, 2022
The accusations first appeared on the Instagram page @ProblematicFame. The account's bio reads: "spreading awareness on how Instagram can impact beauty standards • posts are not accusations."
@ProblematicFame reportedly shared on its Story a now-disappeared collage of Davidson, which included a picture of the comedian looking to the side on 'Saturday Night Live' and a close-up of him from Kim's post.
The account wrote "reality" over the first photo of the 28-year-old and "instagram" on the other one.
The collage apparently tried to point out that Kim or her editing team allegedly tried to remove the bump out of Davidson's nose and also defined his jawline.
@ProblematicFame's post attracted a lot of attention online with a user tweeting: "Well he has been with the Kardashians for a minute so it's possible he had a little work done. 😂😂😂😂." Another tweeted, "I would cry if someone gave me a photoshopped nose job and jawline sculpting." "Did Kim photoshop him or did he actually visit her plastic surgeon 🧐," another user asked.
A user pointed out: "And cleaned up his bags under his eyes. He don't look like that photo lol." Another noted: "I think a little cosmetic dentistry too." A user remarked: "He got new lips too!" while a second added: "and lip filler 😳." "I just noticed the nose. Nevermind. It's obviously photoshopped," another tweet read.
The latest controversy comes in the light of Kim being accused of making inappropriate remarks about Kylie Jenner's body when she was pregnant with her second baby.
He got new lips too! 😭😭😭

— 𝓲𝓼𝓷𝓽𝓭𝓪𝓿𝓮𝓸𝓷𝓮 💜🌟🌸✌️ (@IsntDaveOne) April 13, 2022
and lip filler 😳

— ashley fabry (white) (@ashleyrosefabry) April 13, 2022
In the premiere episode of 'The Kardashians', the mother-of-four told her younger sister, "I think it's a boy," before continuing, "You're skinnier this way, you're prettier than you were last time," which left the 24-year-old and their mother Kris Jenner stunned.
Kris then asked: "How could she be anyway prettier?" Kim replied: "The girls take the beauty to give it to themselves. The boys know what's up and they let you be a little bit prettier."