Kim Kardashian and Pete Davidson's Romantic Date: Couple Feasts On Pizza & IceCream On Low-Key Outing!
Kim Kardashian and Pete Davidson were recently seen enjoying each other's company as they feasted on pizza and ice cream.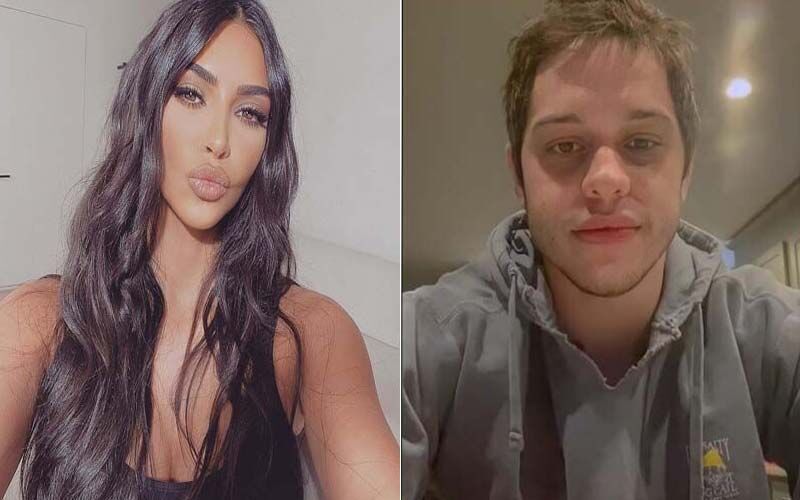 Kim Kardashian and Pete Davidson have been painting the town red with their love affair. While her ex-Kanye West appears to be trying really hard to make Kim jealous with his girlfriend Julia Fox, the SKIMS found and her new flame Pete Davidson seem to be strong keeping things comparatively low-key.

Just a few days after Pete and Kim were spotted at a strip mall, the couple were now pictured leaving pizza place Jon & Vinny's in Los Angeles.
Kim looked stunning with a mask and oversized sweater, as she showed off her famed derriere in a pair of tight-fitting leather trousers for the casual date night at the LA eatery. While inside, the loved-up duo tucked into two large pizzas and a salad, and sipped on Diet Coke as they sat opposite one another on a small table, mixing in with an unassuming crowd, reported DailyMail.
Upon finishing their pizza and pasta, they reportedly grabbed some ice cream from a local Rite Aid for dessert.
Lately, Kim and Pete may have been keeping things a little bit more low-key, and Kanye seems to be the reason for the same. The pair welcomed 2022 together and they rang in the New Year with a romantic vacation to the Bahamas together!
The comedian and Keeping Up With The Kardashians star spent a lot of time bonding with each other and their families over the Christmas holidays in December.
According to HollywoodLife, Kim introduced Pete to her kids, and they hit it off really well. "Kim thought that it was really cute how he interacted with them and that he tried to make her kids laugh and smile just as he does everyone he meets!" they said.
Earlier in December, Kim also got to meet Pete's mom Amy Davidson during a stay in Staten Island, which included a romantic dinner with friends and a movie date. Kim and Amy spent "several hours" together, and they also seemed to get along "really well."
Well, Kim definitely seems comfortable around Pete, from the looks of it, the couple might even take a step ahead.
Image Source: Instagram/KimKaradshian/PeteDavidson