Kim Kardashian Fans Suspect She Has REMOVED Her Butt Implants! Many Suspect Her Famous Curvaceous Booty Is 'SHRINKING'!
Kim Kardashian admitted to getting butt injections in 2016, and her physical transformation has been closely observed since then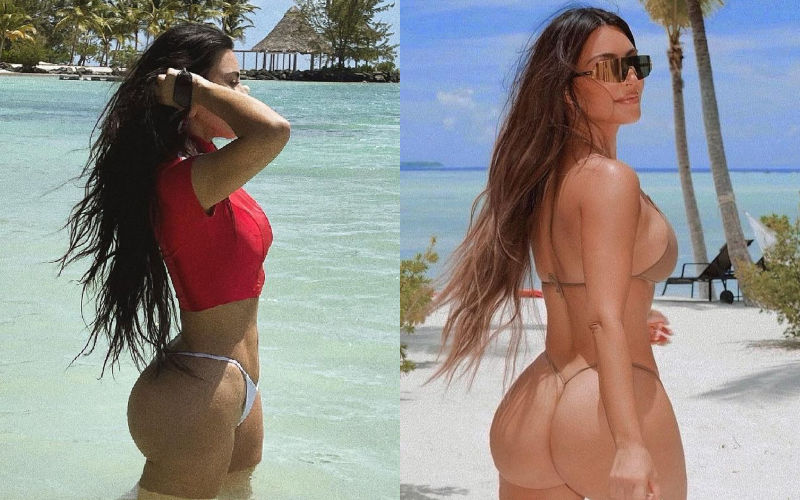 Kim Kardashian and her infamous cosmetic surgeries have often been talked about and they are undeniably one of the most prominently discussed subjects on the internet. While the reality star is popularly known for her prodigious derrière, fans suspect that she had her butt fillers removed.

The 41-year-old mother of four admitted to getting butt injections in 2016, and her physical transformation has been closely observed by her fans and followers. Now, it is being speculated that Kim's derrière is shrinking, and it has seemingly sparked concerns amongst her fans.
The speculations around Kim's curvaceous figure have raised multiple questions and fans wonder what happened to her famous booty.
Fans have been pointing out the shrinking derrière since 2018, however, her latest appearance with beau Pete Davidson strongly hints at the removal of her butt fillers.
The speculations sparked following the couple's recent dinner outing at the White House in April, which marked Kim and Pete's first red carpet appearance as a couple. Fans who had an eye for detail noticed and pointed out that Kim's buttocks seemed like they had and the fact that earlier images of Kardashian typically showed a larger derriere.
One fan could not believe and asked, "Photo shop fail?" Others reacted by saying, "They all got reductions", "It's very clear she did" and "Don't be fooled she's just wearing skims". Another user said, "And just like that BBL Kim Kardashian is over!"
Well, Kim's appearance in body-hugging outfits has seemingly made it easy for fans to notice her shrinking bottom. After she shared an image of her in leggings holding the youngest son Psalm, this speculation was fueled further.
Fans pointed out, "Did you shrink your bottom?", "I swear her bum looks so different" and "What happened to her booty?" A surgeon, Mark Ho-Asjoe, explained to OK! magazine, "Something has been removed. Either she has had butt implants taken out or she has had filler dissolved or liposuction to reduce the size of her bottom. The main difference with Kim's bottom is the emptiness at the top compared to photos of her before."
Image Source: Instagram